The Beloved Community of IV COVID Campaign
KCSB-FM is supporting The Beloved Community of Isla Vista in their COVID-19 messaging campaign. They are urging community members to take care of themselves and neighbors by wearing masks and observing physical distancing.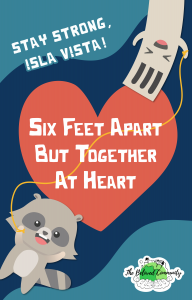 Among other things, the novel coronavirus messaging campaign will showcase colorful signs around the community with encouraging messages such as:
★ Heroes Work Here
★ Community Is Not Cancelled
★ Six Feet Apart But Together at Heart
★ I'm Staying Home For Those Who Can't
The Beloved Community has also designed stickers with similar messaging to be distributed by local businesses, embracing community solidarity and acknowledging that we are stronger together.
Below are public service announcements in Spanish, English, and Mandarin produced by KCSB with the voices of Christine Ho, Bryndon Madison, Hannah Ponsford, Humberto Rico and Jessica Vega. Tune-in to 91.9 FM or listen online at www.kcsb.org to hear the messages. Please distribute widely.