UCSB Reads on KCSB: Week 3 with Aaron Jones
On the third edition of "UCSB Reads 2021" on KCSB-FM (Thursday, February 25th), we welcome Aaron Jones, Director of UCSB's Educational Opportunity Program (EOP) and Interim Director of our MultiCultural Center (MCC). Aaron is reading When They Call You a Terrorist: A Black Lives Matter Memoir, Chapter 3: "Bloodlines."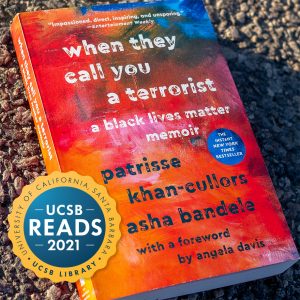 Every Thursday from 5:30-6:30 PM PT, "UCSB Reads 2021" on KCSB is broadcast at 91.9 FM throughout the 805 — and streams at the same time at www.kcsb.org.
Tonight's broadcast starts a bit early, at around 5:20-5:25pm, during KCSB's evening news show.
We also have a platform for on-demand streaming of every KCSB-FM program for a two-week period after its original airdate. You can find that player for each show by locating the playlist that corresponds to it on the embedded schedule grid on our official website, which is provided to KCSB-FM by our digital partner Spinitron.com.
A quick link to access on-demand streaming of UCSB Reads 2021 can be found HERE. This link always includes the two most recents editions of this weekly radio show.
The annual "UCSB Reads" program of the UCSB Library brings the campus and Santa Barbara communities together each year for dialogue about important topical issues while reading a common book. This year, KCSB-FM revives our own on-air tradition by sharing chapters from the UCSB Reads text as voiced by volunteers from the UCSB community.
When They Call You a Terrorist is a personal account of this contemporary movement for racial justice and Black lives, which formed after the unpunished killing of young Trayvon Martin in Florida in 2013, and gained new prominence last year after the police slaying of George Floyd in Minnesota.
Cullors' memoir describes her life as a Black, queer woman who was raised in Los Angeles by a single, hardworking mother. She recounts her own experiences with racism in the criminal justice system, as well as the origins of Black Lives Matter, which was recently nominated for a Nobel Peace Prize.
Relay any questions about this special radio program (or our time-shifting service) by emailing
advisor@kcsb.org
.