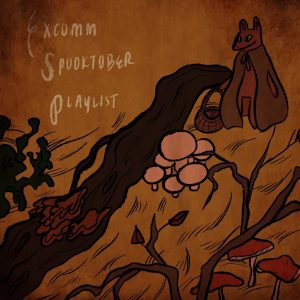 This month, our staff put together an October themed playlist for you to listen during your spooky tomfoolery! Read on to see words from our staff about why they chose the songs they did!
MARION'S RECS 
"Anemone" – Brian Jonestown Massacre
From the outset, the name "Brian Jonestown Massacre," draws the mind to the macabre events which took place in the Jonestown cult in 1978. This, in and of itself, might deem this song spooky enough to belong on this playlist. However, it seems that the band wanted to play on that "ritualistic" image through the prominent role that the tambourine plays in the percussive end of this track. The vocal realm is dominated by eerie, whisper-like vocals which are simultaneously compelling and unsettling for the listener. As a whole, the song's disjointed, almost out-of-synch style, transmits the feeling of waking up from a bad nightmare, yet being unable to remember exactly what happened. 
"Venus in Furs" – Velvet Underground
The lyrics of this song, as well as the name itself, always remind me of dressing up in a costume. The image this song draws to my mind is that of a weary woman in 1970s New York, getting ready for a night out at The Factory. She takes her time choosing the most outrageous outfit to gain the attention of the eccentrics of the New York club scene at this time. The instrumentals of this song are jarring, they make one feel as though they are stumbling through a sleep-deprived haze. Overall, this tune is an undeniably unsettling one. 
"Gimme Danger – Bowie Mix" – The Stooges 
This eerie tune reminds me of the movie "Badlands," which tells the true tale of Charles Starkweather and Caril Ann Fugate, a couple who went on a killing spree in 1958- it conjures up an image of a couple hiding out in a hazy desert. The song starts out slow, with prominent acoustic guitar playing picked-out chords. The vocals gradually ramp up throughout the song to match the instrumentals. By the time the electric guitar, which is passed through heavy distortion, kicks in, Iggy Pop's voice turns into more of a growl. By the end of the song, all of the components of the song meld together into a sinister conglomerate. 
JUSTIN'S RECS
"God's Light Burns Upon My Flesh" – Sematary 
Sematary, along with the rest of his "Haunted Mound" collective, is campy, Halloween-ified drill music. The influences are obvious and the sound is pretty straightforward, yet so much about Sematary's aesthetic – from the deep fried Pen & Pixel-esque album covers, VHS quality music videos of him dancing in the woods with a spiked club, and comically long list of occult song titles – is wholly unique and entertaining.  On "God's Light Burns Upon My Flesh," he plays the role of a nonchalant, dripped-out horror movie killer: "Cutter in my right hand, smoke in my left hand; Rocks on my damn feet, my face rock a skin mask." 
"Surprise" – The Garden
On the surface it's a song that takes first-person perspective of the Grim Reaper being cool as hell, but according to Wyatt Shears (one half of The Garden), it's an analogy for "pulling a fast one on someone who thinks they have you cornered." Sonically, there's just something inherently spooky sounding about that deeeep post-punky tuning Wyatt employs on bass. 
"Good Laugh" – Plastic 
Plastic, a synth punk trio from Chicago that released only one, 22-minute long album on Lumpy Rex back in 2017, is a band I randomly stumbled upon by browsing vinyl in KCSB's music library. The creepy looking album cover is what caught my eye and the sound perfectly reflects that. Good music to mosh in an abandoned laboratory to. 
"Fraken-Bitch" – Yona-Kit
It'd be wrong of me to not include at least one SKiN GRAFT band on my Halloween playlist. I'm surprised Yona-Kit isn't one of the more celebrated Pigfuck (I promise the link is safe) bands since they were attached to some pretty big names in the American underground scene – their lone album was recorded by Steve Albini and features supporting vocals by Melt Banana's Yasuko Onuki. 
AIDAN'S REC
STRESS – JUSTICE
This song has majorly scary vibes, owing to the combination of intense French Electro-House production and a sample of Night on Bald Mountain (arguably the most classic piece of spooky music). Listening to it can be a visceral experience so don't be surprised if a few minutes in you feel like you're being chased… 
DORIEN'S RECS
"HighVisibilityRainCoat" – BONES
I've first heard this song maybe 8 years ago, and when I found out that we were making a "Spooktober" playlist, I immediately knew that I had to include this one—that's how much it's stuck on me. The beat for this one is so damn haunting—full of eerie, winding vocals sampled from Orla Wren's already creepy Book of Frost. BONES introduces melody that perfectly accompanies GREAF's production, and the outro ups the walking alone at night vibes by 100000%.
"Radio Gra" – Unwound
Oh man. I honestly think the scariest part of this song is not the literal song, but the intro where we hear the lo-fi sample over and over again. The unconventional repetition gives me the heebie jeebies and now it's your turn. Like the BONES song I added, this one also has a haunting outro, where the instrumentation is stripped down and we're left with a slow burn of strings and synths. Unwound is definitely Halloween/October music—my favorite track on the same album is even titled "October All Over".
"EAT SHIT / OUT THE BBAG" – Ghoulavelii
So I stopped being emo and wanted to throw a fun one in. Ghoulavelii has been making the craziest blend of rap and hardcore punk for some time now, even before Playboi Carti's somewhat of a foray into punk with Whole Lotta Red. High-energy and full of confidence, this one sounds like you're getting chased through a haunted house while The Garden plays in the background. I'm also realizing that I just threw a vibe switch in an otherwise slow, creepy playlist. Sorry guys.
JACK'S RECS
"Frankenstein" – Swedish House Mafia ft. A$AP Rocky
Aside from the fact that the song is literally called Frankenstein, this song utilizes a heavy synth that is very reminiscent of that spooky halloween movie feel. The entire song is a creative play on the Frankenstein story of creation, with A$AP taking credit for, in essence, creating a career for others. The whole time the beat also throws in random little screeches and random sounds to fit the spooktober theme.
"Spookie Coochie" – Doechii
Right off the bat, Doechii just goes absolutely insane on this song. She constantly plays on words, phrases, and movies associated with Halloween, while at the same time talking her shit and boasting a little bit. The flow switches up effortlessly multiple times throughout the song and each time it gets you more and more into it. A funny and fun song that at the same time deserves a ton of respect for the amount of talent on display.
"I Got 5 On Us" – Luniz, Krayzie Bone, Damon Elliott
This is another take on the classic "I Got 5 On It," also by Luniz. Once again there is a lot of wordplay utilizing Halloween movies, themes, and phrases, but in a slightly different manner than Doechii. What is a little bit more intriguing about this song is the double meaning that can be placed on the lyrics. Although it can be seen as a Halloween song, it is also a metaphor for having the police chasing you, for "5" can be a reference to the cops, as well as the constant sirens playing in the background of the track. This song does a great job of tackling important issues by portraying reality as a scary world that can almost be paralleled to a horror movie.
CLAUDIA'S RECS
Yukiko-San by Midori
My ideal Halloween would be freaky and unpredictable with plenty of opportunities to get scared. Yukiko-San from Midori's 2008 album is an unstable adrenaline rush. Everything about this song promises an intense, aggressive, and scary fun time.  
Wada by Aurat
I've only recently started listening to Aurat. The LA band uses Urdu in their music, sung by Pakistani lead vocalist, Azeka. I like their experimentation, and exploring their approach to creating a culturally resonant sound for themselves has given me a lot more renewed curiosity about darkwave and post-punk as a whole. Wada would be my perfect soundtrack to a great Halloween filler-episode with friends :3
Soup by Issy Wood
I've been making a lot of soup now, and it's becoming a near maladaptive coping mechanism. The lyrics are pitiful and lonely, mixed accordingly to sound ghostly like a very sad kitchen spirit. Soup by Issy Wood is an essential last ingredient to your moody comfort cooking sessions.
Will'S RECS 
"The Horror"  RJD2
This indie hip hop classic sounds like a ludicrously fun meeting between DJ Shadow and Vincent Price.
"Tears" – Giorgio Moroder
Speaking of DJ Shadow, his song "Organ Donor" off the 1996 classic crate digger delight Endtroducing takes a root sample from the 1972 Giorgio Moroder track "Tears," an early cut by one of the godfathers of synth and disco which sounds like it could have been included in a giallo horror movie by Dario Argento. 
"October Night" – W.I.T.C.H. 
Zambian rock legends We Intend To Cause Havoc utilize echoes, shimmering guitar lines and funky drums for a song that will have you bopping along as you keep your head on a swivel for ghosts, ghouls, and trick-or-treaters this October. 
"Zombie" – Fela Kuti & Africa 70
While Fela's song was originally written to target the subservience of Nigerian soldiers and police officers beholden to corrupting influence of foreign petroleum interests, his excoriation carries all the urgency of someone facing a horde of the undead. 
"Dead Man's Gun" – Thee Oh Sees
Horror-punk/psych-prog master John Dwyer has many songs and records that could comfortably populate any halloween playlist, but "Dead Man's Gun" mixes creepy vibes and lyrics with explosions of jagged guitar and vocal yelps that would sound right at home in the climax of a horror movie.
"Little Fang" – Avey Tare's Slasher Flicks
While I generally dislike Animal Collective's music, the side projects of the individual members are full of gems like this song off the horror-themed one-off album Enter the Slasher House. Avey Tare and Angel Deradoorian (formerly of Dirty Projectors) trade catchy vocals about lupine skullduggery in such a fun way that you'll be muttering the refrain to yourself hours later.
DANIEL'S RECS
"YOUR SWEET LOVE" – LEE HAZLEWOOD.
Although Lee Hazlewood's "Your Sweet Love" isn't definitively considered a song for spooky season, the arrangement and lyricism of the track conjures an eerie discomfort, illuminating a possible unrequited love with stalkery undertones. Monsters and massacre aside, some of the most real fears encompass experiencing a possessiveness that disregards personal agency, a reality that many endure. The two songs below further explore these themes. 
"TONIGHT YOU BELONG TO ME" – PATIENCE & PRUDENCE.
Foremost, a cacophony of childlike voices singing in tandem with one another will ALWAYS be unnerving to me. That alone, sheesh. Patience & Prudence, god bless, continue to explore themes of possession and interpersonal toxicity with "Tonight You Belong To Me," popularized by its appearance in American Horror Story's debut season, Murder House. "I know (I know), You belong to somebody new, But tonight you belong to me." Like, yikes, demonic Kidz Bop. 
"I PUT A SPELL ON YOU" – ALICE SMITH. 
Wrapping up my recommendations is a cover of the classic "I Put A Spell On You." Originally recorded by Screamin' Jay Hawkins, Alice Smith's version deviates from Hawkin's grungy rasp and howls, approaching the spellbound song with a sirenical beckoning and bouts of crazed softness. For nearly seven minutes, Smith captures your attention, immersing you into a musically ritualistic seance to unearth a love unrequited through any means or magic necessary. 
BECCA'S RECS
"CYCO KILLER" – SKULL CULT
Really cool cover of Talking Heads Psycho Killer. This band brings a new meaning to the song title by performing a punked out version of a classic. 
"HOAGY'S REALITY" – MODERN BODIES
This songs makes me feel like I'm floating around in the meaningless soup of reality. It's a psychedelic version of what I would imagine haunted houses play in the background to make you feel out of touch with the outside world. 
"RABBIT PUSHING MOWER" – TOY
This is my favorite instrumental song I've ever come across. It makes me feel like I'm a little kid dressed up in my costume trick-or-treating again. It's so whimsical and reminiscent of a simple and happy time. Being dressed up, walking around your neighborhood, and asking strangers for candy is such a silly activity and this song is exactly what would play in my head while doing that.
LEKHA'S RECS
"DEAD FRIENDS" – RETCH
New Jersey is scary in and of itself, but Retch brings an even eerier take to life and loss on the east coast. That cloud-rap-esque style is pretty prevalent in most of his work, but this track, in particular, maintains that really nice formidableness in both instrumental and tone. 
"VICTIMS OF VOGUE" – HUS KINGPIN
This song belongs in a scary movie. I envision Dracula climbing some elaborate spiral staircase while listening to the instrumental. 
"MOURN AT NIGHT" – KA
Total no brainer. Surprised no one else included this track. Ka is an expert at dark, emotional production, and he executes yet again with this classic New York ballad.
"SPANISH MOSS" – OF THE TREES
I don't know much about Of The Trees, but I found this song and immediately thought it was unnerving, cold, and the right amount of techno without being corny. Perfect for Halloween and definitely a banger, too. 
"PARACHUTE ESCAPE/COUNSELING" – DA$H
Back into the throes of Jersey rap comes Da$H, another rapper that is – oxymoronically – pleasantly unnerving. Dissonant instrumentals and dark lyricism combine to create a pretty little rap ballad about death and excess.
"INCINERATE" – SONIC YOUTH 
Flipping the genre script almost 180 degrees here, Sonic Youth discusses much of the same nihilism as found on the former track. It's cool to see this thematic overlap between polar opposite genres + decades; hopeless, eerie, and a bit violent, the Halloween vibes are plentiful. And not to mention the "Rather Ripped" album cover looks like it's covered in blood. 
"BUTTERFLY EFFECT" – SHINICHI ATOBE
This track comes a bit further out of left field than the other ones, considering its Travis-Scottian namesake (if you will). But, like all the rest of my selections, it's chilling by nature and holds a twinge of sadness. Big accomplishments from an instrumental track, I think.
"MY GOOD GHOSTS" – MAVI
My Good Ghosts actually has nothing to do with Halloween. I put it in here because it's a good song and the title has the word 'ghosts' (hence, inherently spooky). I highly recommend, if you listen to nothing else on my recs list, you listen to this. Laughing so Hard it Hurts is objectively one of the best albums released this year, so I was looking for any excuse to put some MAVI in here. 
SAMUEL'S RECS
奇愛參部曲(STRANGE LOVE STORY TRILOGY)- THE MURKY CROWS
"親愛的密室殺人事件 (MY DEAR LOCKED ROOM MURDER INCIDENT)"
"我就是迷戀著妳即使妳已沈入湖底 (I AM JUST SO HOOKED ON YOU EVEN THOUGH YOU HAVE ALREADY SUNK IN THE LAKE)
"打包我的心當午餐吧寶貝 (PACK MY HEART AS LUNCH BABY)"
The Murky Crows is a band from Taiwan, and their first album is… pretty unsettling. My recommendation for the halloween spooky songs is the first three songs of the album, released as a trilogy called "Strange Love Story Trilogy." Each of the three songs tells a love story, but not just any love story: "My dear locked room murder incident" is about how the male protagonist saw the female protagonist dead, lying on a bed, and realized that they made a promise to fall in love after death, "I am just so hooked on you…" is about how the male protagonist sneaked into the female protagonist's dream and dragged her down into the lake, and "pack my heart as lunch baby" is about how the male and female protagonists eat each other's heart in hell after their death… The stories just seem straight out from a fever dream, but you can still feel the warmth of love in the melodies and lyrics. In fact, their lyrics are so well written that they almost looked like poems. The best part of a The Murky Crows' song, however, is the music video. The soul person of The Murky Crows, Li Zhongli, actually studied design and films during college, and all of their music videos are just incredibly dark and beautiful. They are one of my most played band recently, and I think that the trilogy really fits the spooky vibe of halloween.