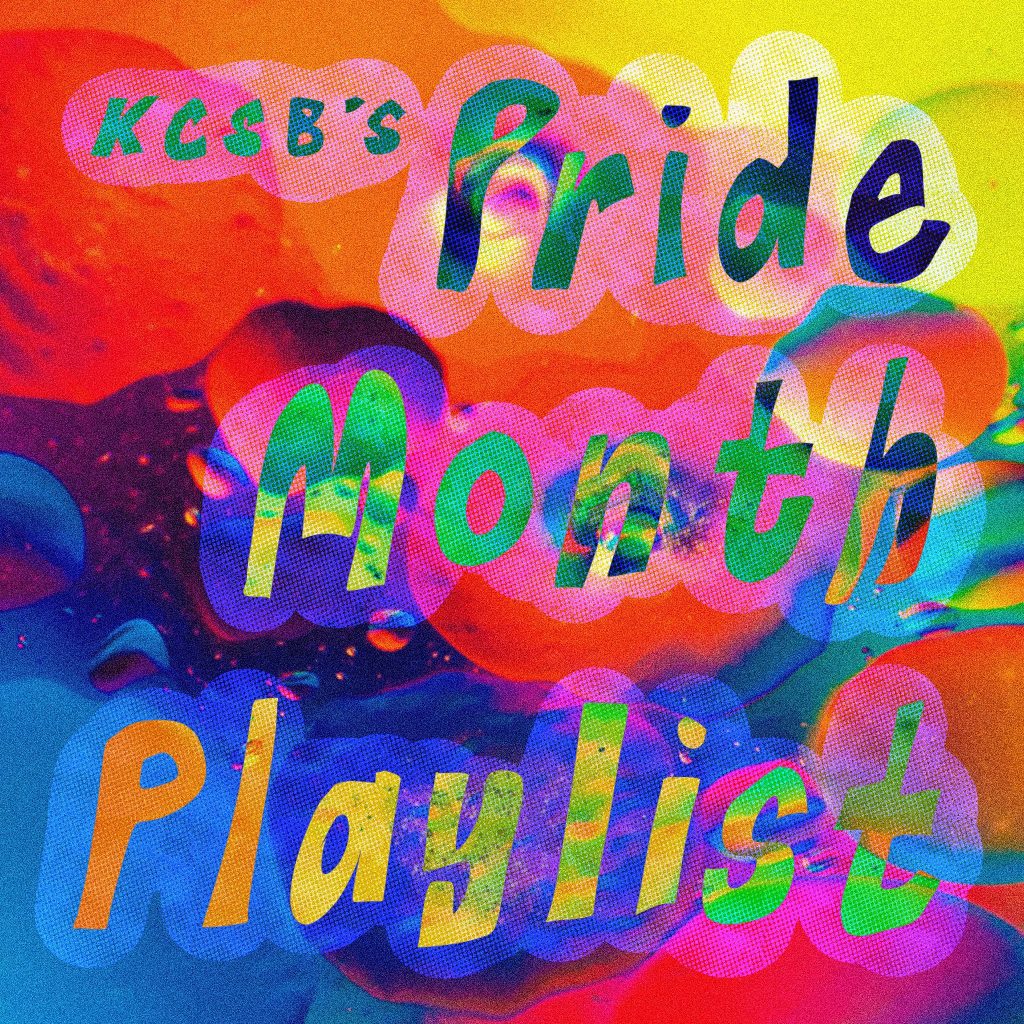 This Pride Month, KCSB wants to highlight some of the amazing LGBTQ+ talent that exists in music! The LGBTQ+ community has always been at the forefront of musical innovation, pioneering genres like disco, contemporary pop, and more! We hope to put you on to some new artists, as well as to shed light on some who have been historically overlooked! Spreading awareness of LGBTQ+ voices is important now more than ever. Enjoy the beautiful music made by people who identify as a part of the LGBTQ+ community, and take pride! 
MARION'S RECS 
"Main Title (The Shining)" by Wendy Carlos
Wendy Carlos is one of the most influential composers of the contemporary period. She composed the scores of iconic movies like Stanley Kubrick's The Shining and A Clockwork Orange. She studied music composition at Columbia University and assisted in the development of the Moog synthesizer. Carlos' influence is also due to the fact that she publicized her sex reassignment surgery in an interview for Playboy magazine- making an early figure for transgender visibility. In addition to her impressive professional and personal accomplishments, Carlos's music has undeniably left an impact on the musical score genre. This track in particular, with its baritone synthesizer sounds, strange vocal noises, and scattered chimes, is extremely effective at invoking the unsettling nature of The Overlook Hotel. 
"Go Bang" by Dinosaur L
Dinosaur L was a band fronted by gay cellist, Arthur Russell. Russell was a big player in the disco scene in New York during the 1970s, but he also musically accompanied Allen Ginsberg in some of his poetry readings. This song was composed in 1979. (Source, Pitchfork). The song is composed of a collection of syncopated and eclectic sounds- bongo drums, a siren-like vocal track, an sporadic electric piano, fuzzy electric guitar, a trumpet, and, of course, a man's voice singing "go bang!" I chose this track to signal to the LGBTQ+ community's influence on the genre of disco, a connection which is worth exploring deeper (you can start here).
"Hot Topic" by Le Tigre
This song by Riot Grrrl movement icons, Le Tigre, is a feminist anthem of both frustration and celebration. The song's lyrics highlight the names of feminist and LGBTQ+ heroes of the 90s and prior. They mention people like Ciba Matto, David Wojnarowicz, Aretha Franklin, Vivienne Dick, and they implore them to not stop producing their art and works. I absolutely love this song's history, and it's worth highlighting that some of the members of Le Tigre identify as part of the LGBTQ+ community. This entire album is worth listening to. 
DORIEN'S RECS
"Dear Nora" by Alien Boy
This is one of those songs that's so catchy and well put together, I can't imagine anybody ever not liking it. Seriously. Alien Boy's guitarist and lead singer Sonia Weber gives us the prettiest love song ever about finding love "in the way I always wanted." It sounds like holding hands, it sounds like euphoria (the feeling not the show dude), it sounds the like the bright blue sky. Shoegazey music at some of its happiest.
"Search Party" by Jane Remover
Jane's music is intrinsically personal. Her lyrics may center around relationships, self-reflection, and feeling lost, accompanied by some of the craziest mesh of genres and internet-reminiscent sounds. Search Party is so cool because it's so dynamic—it's like a live-representation of her emotions as they shift from different highs to different lows, and it's so cinematic because of it. I'm a sucker for melody and this song won't get out of my head no matter how hard I try. 
JACK'S RECS
"Touch Your Soul" by Dreamer Isioma ft. Merlyn Wood
A very talented artist best known for their song "Sensitive", Dreamer Isioma is an amazing, eclectic artist that makes some beautiful music. At first coming out as queer at 12, they eventually came to identify as nonbinary after a psychedelic experience in their late teens. This song mimics this type of psychedelic experience, combining elements of R&B, traditional African drumming, and a unique rapping style from Merlyn Wood (member of group BROCKHAMPTON) to make you feel like you're levitating while listening to the song.
"Body" by Syd
Although facing some criticism for having been in the group Odd Future, Syd is an openly gay artist who brings something really special to the music scene. Due to her dislike of the term "lesbian" she just identifies as gay herself, and in this song, she describes an intimate relationship with another woman. One of my favorite artists, period, she makes amazing music that fits into the chill, R&B type of aesthetic that I am usually drawn to. This is evident in both her career as a solo artist, as well as working with The Internet to make some of the most distinct and amazing music I have ever heard.
"Everything Is Yours" by Kehlani
Kehlani, an artist that catches many people's eyes due to both her musical talent, and her beauty. She has begun to become somewhat of a queer icon as of recently. Originally perceived as straight, then coming out as bisexual, and now identifying as lesbian, her experience is a great example of the confusion associated with people's sexuality. This song talks about her loving and missing her "shawty," knowing that things didn't work out, they probably won't work out, but still hoping there is a chance in the future for them to make it work, asking her to save her love for Kehlani in the future. Although it can be a little toxic, it is yet another great Kehlani song that I knew I had to share with y'all.
JUSTIN'S RECS
"Lifetime Problems" by Dicks
Dicks were a pretty formative 80's hardcore punk band who helped legitimize the Texas DIY scene of their era. Lead singer Gary Floyd was one of the first openly gay punk rockers ever, who built a legacy off of incredibly provocative, sometimes overly-edgy lyrics. 
"Turn to Glass" by Mope Grooves
The Pacific Northwest has a super rich history of good queer punk music thanks to staple labels like Kill Rock Stars and K Records. Mope Grooves is signed to neither of those labels but definitely fit that ethos I guess. "Turn to Glass" is groovy, awkwardly danceable no-wavey stuff. 
"Valerian 1 & 2" by Memory Leaks Onto The Rug
Form, released a couple of months ago through the incredible Georgia-based tape label Primordial Void, is a collection of jazzy, sample-heavy ambient/vaporwave/sound collage that was apparently recorded right here in Santa Barbara between 2018 and 2022. 
TYLER'S RECS
"She's Got Medals" by David Bowie
David Bowie is well known for playing with the constructs of gender identity throughout the many chapters of his career. "She's Got Medals" is a fun little ballad off his first album that foreshadows the casual way with which Bowie is able to toss aside gender norms to create his own identity and expression. I think this song is super catchy and highlights Bowie's whimsical writing style he was known for early in his career.
"My Song" by Labi Siffre
Labi Siffre is an incredibly talented artist known for his additions to England's Folk and Pop scenes in the 70s. Born to a Nigerian father and a mother of mixed descent, Siffre received backlash both for his race and open identity as a gay man. Siffre met his partner Peter John Carver Lloyd at the age of 19, and they remained together for 48 years until Lloyd's death in 2013. Just 8 years earlier, in 2005, they were finally able to enter into an official civil partnership. Siffre's story is told through his music, wherein the echoes of many other experiences like his own can be heard. In "My Song", Siffre's distinctive vocals are joined by melodic folk instrumentation as he speaks his truth about upholding identity through hardship.
CLAUDIA'S RECS 
"B Who I Want 2 B" by Namie Amuro and Hatsune Miku
This cute pop song was produced by SOPHIE, rest in peace👼, for Japanese pop idol Namie Amuro featuring Hatsune Miku. Apparently Namie Amuro used to be in a group called Super Monkeys when she was little. And I just think that's super duper cute.
"Monk" by Alice Longyu Gao
I found Alice Longyu Gao in 2018, and I really love seeing how they've evolved. Their other favorite songs of mine are 100 Boyfriends and Make U 3 Me. 
"I'd love to hang out with my friends
But if I leave house, I will get nothing done
I vacuum my carpet and fold my laundry
Keeping my space clean reduces the risk of triggering my depression
I no longer enjoy drinking and smoking
I look silly when I am drunk
And I'd like to be calm"
My second favorite lyric is "AAHHHHHHHHHHHHHHHH."
"ICU" by Cakes Da Killa
Cakes Da Killa's music is proudly influenced by his roots in the New York ballroom scene. Such a bouncy, charismatic, and sexually magnetic song.
"crush!" by Redd
Redd has performed at the Biko Garage a few times now! I'm excited to see how their sound grows as they grow as a performer and producer :3 We need a non-binary Timbaland/pop star extraordinaire. 
BELLA'S RECS 
"Straight White Patterns" by Lavender Country
This album was made in 1973 and it is the first known queer themed country album! Lavender Country is based out of Seattle and has had a rotating group of members though the lead singer/guitarist, Patrick Haggerty, is the one constant member. Haggerty is an interesting guy, after the band broke up in 1974 he ran two unsuccessful political campaigns in Washington and continues to work as a gay rights and anti-racism activist. Their lyrics are revolutionary for the time and have inspired many queer folk artists to write explicitly about their queer experiences.
"Escape From Planet Earth (CHI)" by thanks for coming
Rachel Brown, the forefront of this band, is nonbinary and often incorporates their identity into the lyrics. thanks for coming is such a cute band, their lyrics feel very nostalgic. This song feels so intimate and precious, it expresses how it feels to share the world with just one other person.
MARLEY'S RECS 
"Radio Song" by Leti 
Just some guy… singing one of the most beautiful songs ever. This song was recorded by Leti in the blue ridge mountains 🙂