KCSB LIVE-ON-AIR FUND DRIVE EVENTS!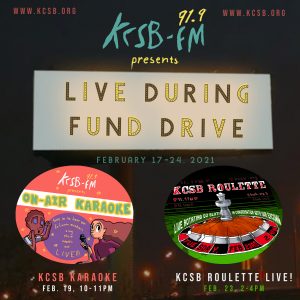 KCSB's annual fund drive is always full of special events and programming from our DJs, and this year we are keeping the traditions alive even with the constraints of operating remotely!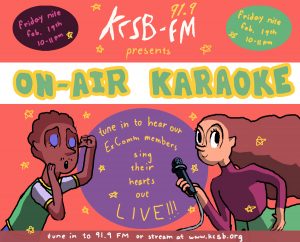 Tune in Friday night (February 19th) from 10-11pm here on kcsb.org // 91.9 on your local FM dial to hear our student staff karaoke their hearts out to their favorite sing-along tunes. Be sure to vote on your favorite performance on our Instagram story (@kcsbfm) too!🕺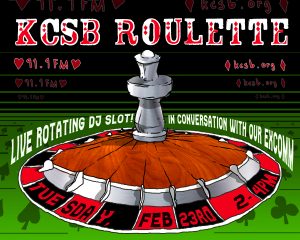 On day 7 of Fund Drive (Tuesday February 23rd) from 2-4 PM, they will be back for a live-on-air edition of KCSB Roulette to spin some curated mixes for you and discuss their experiences of working at KCSB through the pandemic, as well as what they love about about alternative, independent, and people-powered radio. <3
If you missed either of these events during Fund Drive, feel free to play them back on Spinitron for up to two weeks after they went live!
Click HERE for Karaoke (the first hour of Bay Area Type Beat), and HERE for Roulette's live broadcast!