KCSB Artists Playlist Series Presents: Ntu
In this installment of KCSB's Artists Playlist Series, the New York-based artist, Ntu, curates a playlist that channels the idea of "the happening": the feeling that music was recorded in a real place and time, as opposed to a vacuum.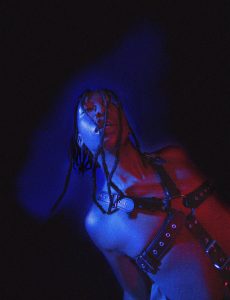 Photo Credit: Saint A
About Ntu

:

Sultry vocals, sputtering beats, and ethereal electronics comprise Ntu's cerebral brand of R&B and pop. The singer-songwriter and producer, raised in Virginia's northern suburbs, practiced commercial and contemporary dance as a teen. After discovering FKA twigs's "Papi Pacify" video on Tumblr, they began producing music on a school laptop. Subsequent studies of Toni Morrison and Frantz Fanon inspired literary and academic aspirations in the artist, and after moving to New York in 2017, Ntu channelled all these expressions into daring productions that evoke 90's R&B/pop adventurists like Janet Jackson and Björk and the more contemporary avant-garde like Kelela and Arca. The result is a compelling vision of R&B and pop that calls listeners into a headspace as much as a heart space. Ntu released their debut EP Perfect Blue on May 22nd, 2020 to critical praise from the likes of FADER, Resident Advisor, AdHoc, and Bubblegum Club. Most recently, they premiered their live set experience How to Daybreak: Volume I at Slut Island's 2020 virtual festival.
Playlist

:

"This playlist kinda has an A-side and a B-side. After listening to PJ Harvey's Rid of Me for the first time last year, I became obsessed with this idea of the happening (as my friend Mountain put it). I love that record and PJ Harvey as an artist because her music and vocal performances are so visceral; they express an almost primordial kind of blues music. 90s music recordings, across genres, tend to be my favorite because they employ a futurist's creative sensibility (with the use of samples, chops, fx, synths, genre-blending, etc.) and maintain the principle of the happening: that records are, above all, recorded moments in time. For me, that feeling is missing from a lot of records today (and even some of my own music); the feeling that the music was recorded in a real time and place, as opposed to a vacuum. So the A-side of this playlist are some reference tracks for my current project-in-progress with the happening in my mind. The B side speaks to my newish found love for dance music. I've always loved artists that write in highs, comedowns, and the yearning that takes place in between; dance music, to me, strikes a perfect balance among those elements. The B-side of this playlist are some reference tracks with that in mind. I wanna put a special highlight on my favorite Amapiano track I heard on the radio and at Sunday Best when visiting South Africa this past January: "AmaDM." It's like swimming down a pool at someone's party only to find an even more dope party at the bottom."

↓Check out the playlist below↓:
Tracklist:
1) Sugababes – Overload
2) David Bowie – Fun (Dillinja Mix)
3) Nine Inch Nails – Heresy
4) PJ Harvey – Man-Size Sextet
5) Sade – Like a Tattoo
6) Sting – I Burn For You
7) Meshell Ndegeocello – Wasted Time
8) Kate Bush – The Morning Fog
9) Arthur Russell – Let's Go Swimming (Gulf Stream Dub)
10) Rosie Gaines – Closer Than Close (Mentor Remix)
11) Björk – I Miss You
12) Samthing Soweto – AmaDM (ft. DJ Maphorisa, Kabza De Small, & Mfr Souls)
13) Goldie – Inner Life City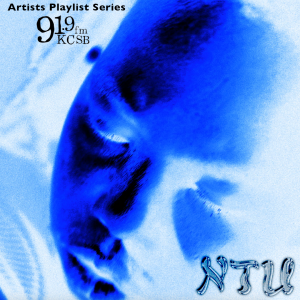 Photo Credit: Thomas Lange
Ntu's Bandcamp: ntu000.bandcamp.com/
Ntu's Instagram: @ntu000
Ntu's Twitter: @ntu000