March's Add of the Month: Floating Points, Pharoah Sanders & London Symphony Orchestra's Promises
KCSB's music department is sitting down each month to write to you about one album added to our music library that left a strong enough impression on them to be crowned Add of the Month. This month, Internal Music Director Yousef Srour goes in depth on Floating Points, Pharoah Sanders & London Symphony Orchestra's latest project, Promises, released on Luaka Bop.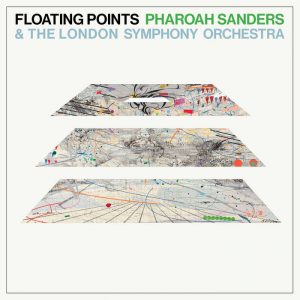 Image courtesy of Luaka Bop 
When I think of electronic music, I think of endless synth loops and drums spilling into each other, reverberating into a room packed to the brim with people who are ready to party. When I think of Floating Points, it's quite the opposite—I see a neuroscientist from Manchester, England.
Sam Shepherd, professionally known as Floating Points, studied at University College London, receiving his PhD in neuroscience and epigenetics. It was during his doctorate studies at UCL where he, over the course of five years, composed and produced his debut album, Elaenia, named after the migratory bird that strays away from its flock and reinvents itself in the world, taken away into the ecosystem of a forest. The music was synth heavy, it picks and prods with complexity, generously complemented by synthesizers and the deep wubs of a bass, sparked like the action potentials of neurons. There's pain in his older work, but what else would you expect from a student who focused his studies on such? In 2010, he co-authored an article in the Journal of Neuroscience titled, "Small RNAs Control Channel Expression, Nociceptor Excitability, and Pain Thresholds," as he was fascinated by RNA's role in pain pathways, and he parallels that with a sense of chaos within his music.
Crush is a monumental representation of such, with its first track, "Falaise," painting the sound of misaligned heartbeats; as you can see in the album art, the music progresses like waves, fluttering like a flock of birds who will never be able to synchronously flap their wings together. There's beauty and chaos in the misalignment, but more importantly, Shepherd recognizes that there's untapped emotion within that sound. He elegantly pairs his electronics with strings, adding an orchestral component that shapes his work as being the gateway to classical, and soon even symphonic. This boundary continues to be pushed with the heartwarming piece, "Requiem for CS70 and Strings" and continued with the sonic exploration that he titled, "Sea-Watch," with its wistful drifts into a space of light ambient progression, accomplished with droplets of bells, imitating the a raindrop in a still pond, creating silent commotion.
Promises, a collaboration with Pharoah Sanders, performed with the strings of the London Symphony Orchestra, is a third stream masterpiece that fuses jazz and classical music to define its nine-movement composition which travels to the depths of a mystical, fantasy world with twinkling lights and magic and spellbinding incantations. Pharaoh Sanders, for those of you who don't know, is a spiritual & free jazz tenor saxophonist. He's played with some of the greatest jazz musicians of all time (but to be quite clear, he is the great), from John Coltrane to Albert Ayler to Sun Ra. He hasn't recorded an album since his 2003 project, With a Heartbeat, but his influence in the jazz world has persisted, having achieved classic works, from Thembi to Karma. Now, at the age of 80 years old, Pharaoh has reentered the scene without missing a single beat. It's easy to juxtapose Pharoah Sanders' work with Floating Points—Shepherd is precise and cunningly brilliant with his compositions, whereas Sanders is abstract and guided heavily by emotion & instinct; Shepherd is only 34 years old, whereas Sanders recorded his debut album about 57 years ago. Despite their obvious age gap and different approaches, their connections to the mind and body lead them to create evocative pieces of music that expand upon emotional experiences that are rarely tapped into, a direct result of connecting the divine with the secular.
"Movement 1" begins with a cascade of electronic keys, strings, and an acoustic piano. They play gently on a loop, introducing you to what I call a magical fairyland (think of Alice when she woke up in Wonderland or Dorothy traveling through Oz). The notes play like a dream, drawing you in further and further with each loop. Pharaoh acts as your guide here. His shaky, free-spirited saxophone trembles – it's a masterful vibrato that continues to falter and you can't help but listen more and more intently to the storyteller. His saxophone leaves room for air in between each of its declarations, releasing an earthy timbre that grounds the piece in reality. Flowing into "Movement 2," the strings from the London Symphony Orchestra ascend, capturing the essence of the main characters, making sure we know and understand them before we continue this journey with them into the unknown. It's the equivalent of lifting off into space; entering the abyss, not knowing where you're headed, but appeased to know that it's somewhere that you've never been before.
Floating Points begins to slip into his element in "Movement 3," where we see elements of his classic electronica with sounds of his synthesizers twisting, altering their pitch higher & lower. The synths wiggle and bend, shifting your concept of Promises, for it no longer has dimension. It's constantly shape-shifting. Think of a cube that's so malleable that it can be molded into a sphere at times, a rectangular prism, a pyramid, and even resembling the shell of a sea urchin. The piece condenses & evaporates & remains fluid, all at once, throughout each movement—it lacks construction, but aside from Pharaoh Sanders' playing, it's simultaneously holistic & wholly thought out. "Movement 4" similarly allows for more experimentation, using vocal adlibs from Pharaoh Sanders, which were slowly hinted at during the ending of the previous movement. The voice is eccentric and completely unexpected, but Sanders is captivating with his giddy approach at performing an ascending, musical scale. To me, Pharaoh sounds oddly reminiscent of the adults from Charlie Brown cartoons, squabbling about the mundane. Perhaps these adlibs are best explained through their contrast with his saxophone, where his voice is much brighter and might be the voice of a side character of-sorts within the world of Promises, while his saxophone still acts as the spiritual guide, allowing us to encounter these figures.
By the time we reach "Movement 5," we find ourselves in a piece of trying, with both a certain hope and desperation to reach something—now, what that is, we're not sure. There's a subtlety that I find lacking in this movement, but that's only to highlight the definite estrangement that Shepherd & Sanders are trying to encompass within the piece—a discernment between free-form and technical skill that shows the dissonance that's tagged upon a trying mind looking for peace. The result is both riveting and telling of the emotional states of the protagonist of their story, and it's beautifully paired with soothing bells that tick and dribble in the background. Once the torch is passed to the arrangement's magnum opus, "Movement 6," Sanders' solos become more legato, as they were heavily accented in the movements prior. It's as if the strings begin to tell a tale of an explorer searching for passion, traveling the winds of the earth and beyond, slowly becoming more and more concerned that they'd never find meaning in their life. There's a slow uproar that continually builds, staying in a higher octave that isn't necessarily ear-piercing, but it is gut-wrenching, creating the sensation of uneasiness and curiosity. It's as if you're entering a foreign land & you're beginning to recognize that this land was once yours long ago, perhaps explored by your genealogy. It's as if you're reconnecting with a lover that you haven't seen in who knows how long. It's birth and rebirth; it's the end of an era, but the beginning of a life that you can truly claim as yours. The strings whir and stir, they rift in and out, and the only image that comes to mind is a war veteran going back to the fields in which he once fought, one in which he saw the loss of friends he had been once so attached to. The music is strained, but flutters as if it was free (not fully however, because Sanders' presence is missing). By the sixth minute, the music becomes more whimsical, but only briefly before the strings continue to climax and vibrate and crescendo and rise to the horizon—the last steps of a journey where you can only feel a sense of fulfillment if you reach the peak of the mountaintop.
"Movement 7" becomes more ambient, and you can sense that the tone has shifted a bit, as the loop that once helped keep the piece together begins to stray from its original iteration, played at a slightly higher octave, descending a little more sharply. This marks the return of Pharaoh Sanders' saxophone playing, but it's smoother and less frayed. Floating Point's electronica and soundscapes play more prominently, giving the arrangement a more space-like element, hinting at travel and the presence of the otherworldly. The instruments are more bubbly; the synths play like pianos but sound heavier; there's a feeling of pragmatism that lasts for just a few moments. What was once becoming more constructed and more geometric has become frantic. Sanders returns but more crazed than ever, clearly emotionally distraught and turbulent, playing ravagingly and unencumbered. The saxophone solo reaches a spiritual purgatory, spilling into a halfway point between the fourth and fifth dimension that sounds as if the piece is slowly dissolving into energy itself. The atmospheric synthesizers in the background are squirming and buzzing and bursting with light, an organ briefly jumps in and out, and an unforeseen lapse into psychedelia emerges from the musicians.
"Movement 8" and "Movement 9" conclude the peace with serenity, continuing the thematic riff that has structured Promises thus far, but sounding quieter and slower. The piano is much more grandiose, organs drift and stream back and forth, and the art becomes more evasive and less inviting. A darker tone completes the 8th track, almost as if it's an abstraction of what the music had always been at its core—hearty and revealing, but never needing more than the simple swell of electric key chords and synthesizers. Humming leads us into the composition's denouement, where the London Symphony Orchestra whispers, and the strings finally take their position in the foreground of the piece. The conclusion is much more symphony-esque, grabbing the entirety of the Orchestra's strings, but there's a sense of surprise and worry, hinting at a continuation of Promises—the second chapter in a collaborative effort between Floating Points and Pharaoh Sanders.
Album review by KCSB's Internal Music Director, Yousef Srour