May's Add of the Month: "Sweet Company" by Vicky Farewell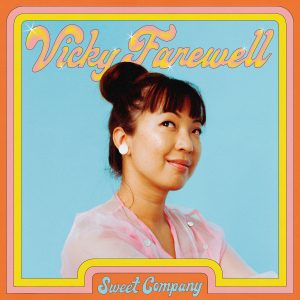 Sweet Company by Vicky Farewell
words by Jack McKinnon (KCSB Int. Music Director 22-23′)
May is Asian American and Pacific Islander (AAPI) Heritage Month! In observance of this month, the music department decided to buy and highlight some albums by artists that identify as Asian American or Pacific Islander in order to increase representation in our music library. In this specific blog, I will be focusing on one of the albums I personally added, Sweet Company by Vicky Farewell.
Vicky Farewell, real name Vicky Nguyen, is an Asian-American artist from Orange County, California. She is a songwriter, producer and classically trained pianist, and has worked with the likes of artists like Anderson .Paak, WILLOW, and Kali Uchis, all leading up to her own solo career that she began about a year ago. Before releasing her own music, she was able to acquire songwriting credits, and has contributed her skills as a pianist and vocalist to all of the aforementioned artists and more, getting her foot in the door, helping her get recognized for her amazing talent. Working with artists such as .Paak who believed in her, helped in contributing to her venture into a solo music career. Having been classically trained in music and venturing into the musical theory of jazz, she has quite the musical background. This only makes sense listening to Sweet Company. Not only does it blend a plethora of different genres, but the production of the tracks themselves truly showcase the talent that Farewell has. We can see this as soon as the album begins, with "Prelude" transporting us into an entirely new world that she has created.
"Prelude" introduces us to the album with a solely instrumental track that eases us into the dream-like world of Sweet Company. With its utilization of an ethereal flute and calming strings, one cannot help but be sucked in immediately. Once you've been sucked in, there's no going back, it only gets better. The album continues with the title track of the album, "Sweet Company." This infectious song talks about Vicky's admiration for a lover, talking of how perfect they are, and how lucky she is to have them in her life. This insanely cute song is hard not to love, and after a couple listens, you'll definitely be belting the lyrics alongside her. What I love about this track is that although it continues the silky, dreamscape feel, it features both a guitar solo, and even a synthy guitar later on in the track that makes it that much more unique.
The album follows this song up with "Kakashi (All of the Time)," which is an ode to the fictional character that stars in the popular anime, Naruto. Inspired by her binge-watching of Naruto during quarantine, "Farewell says her playful style allows her to blur the line between creating a fictionalized version of her own experiences and staying true to writing what she knows," meaning the song itself is very much up to interpretation. Although these first few songs are very cute and lovey, fitting well with their upbeat and joyful sound, the album as a whole still deals with her hardships faced during relationships as well, even if the tracks continue to have this joyous sound. This can be seen in the track "Are We Ok?" a little later on in the album.
"Are We Ok?" one of the most popular songs on the album, is a slight shift from the earlier portions of the album, delving into problems in a past relationship, prompting her to constantly ask, "are we ok?" with her partner not seeming to give a clear opinion on what he wants. This is always where I find music to be the most interesting, for Vicky, like many artists, discuss some of the most difficult and sad times of their lives in such a lively and catchy manner. In talking about this in an interview, she stated, "I think to tell myself that, 'Yeah, this was a sad moment, but I'm not sad about it anymore.' We've moved on already. It felt good to ride it out." I found this to be particularly intriguing, for I could never imagine myself being able to place a difficult experience in a positive light through song, but that is what makes her as talented as she is.
Sweet Company is a truly unique album, blending indie, R&B, funk, soul, and pop into a beautiful amalgamation of sounds and songs that will truly transport you into an entirely different plane of existence. If you do not float while listening to this album, I will truly be surprised. Through her use of many different synths, guitars, chimes, and beautiful piano playing, this debut album by Vicky Farewell is definitely something special, and I am excited to see what else is to come of her solo career in the future. I was fortunate enough to see her live as an opener at a Kenny Beats concert a while back, and I have been hooked ever since. Her persona, talent, and artistic vision is something else, and she is definitely an artist to keep an eye on.
I hope after all of this you decide to give this exceptional album a listen, for I truly believe it will lift your spirits, even if it's just a little bit. I knew after seeing her live and listening through her entire album that she had to be added to our music library and highlighted during our observance of Asian American and Pacific Islander month, for she is definitely a rare and distinctive talent that the world could benefit from hearing about. And with this review of Vicky Farewell's Sweet Company, I bid you all farewell, and implore you all to give the album a listen!