A Personal and Political History (and a Playlist) of Ukranian Experimental Music
On Monday April 4, "Selectric Davyland" welcomed Adrian Ivakhiv, Professor of Environmental Thought and Culture at the University of Vermont and Visiting Scholar at UCSB's Carsey-Wolf Center, to the KCSB studios (our first in-person guest in 2 years!) for a special broadcast presenting a deeply personal and political history of Ukrainian music from the 1980s to the present.
Over the course of an hour-long program of interviews and music, Professor Ivakhiv gives examples of contemporary experimental music from Kyiv, Kharkiv, Odessa, and Ivakhiv's own recordings from the Canadian Ukrainian diasporic scene in Toronto, with interviews covering moments in the political history of Ukraine, its regional cultures in post-WW II Soviet occupation, the impacts of the Chernobyl accident, and the immediate consequences of the current war. Below, Professor Ivakhiv provides KCSB listeners with a playlist of experimental music from Ukraine, featuring the tracks played on the show, as well as more by other contemporary artists and groups. You can also still watch a recording of his online presentation for the Germanic and Slavic Studies Department, entitled "Russia's Invasion of Ukraine as Turning Point" (presented live on Tuesday April 5th) by clicking on this link HERE.

PLAYLIST AND FURTHER LISTENING 
1) Vapniaky (the Vapniaks), a.k.a. Stalagmite Under a Naked Sky: 
"Ethnogenesis from an Etobicave," track 9 from AGAINST THE SKY (originally the B-side of a 1991, 90-minute cassette release called "Stalagmite Under a Naked Sky")
Recommended further listening: "Music from the Marble Cupola" (Gong-like psychedelic explorations featuring Shakti Yaga and the Space Hoarklers)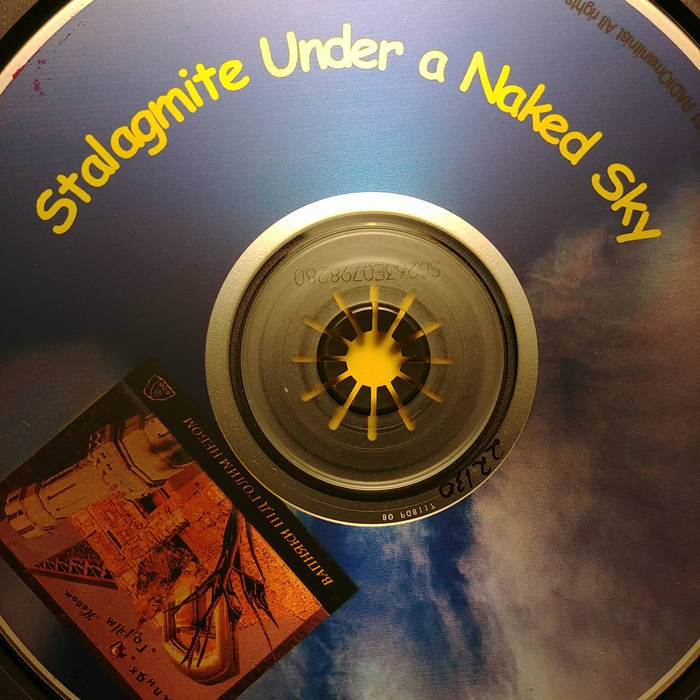 Against the Sky | Vapniaky (Stalagmite Under a Naked Sky) | Adrian Ivakhiv / vax
Against the Sky by Vapniaky (Stalagmite Under a Naked Sky), released 01 December 2019 1. Can opener 2. Arkan / Аркан 3. Dump Truck 4. Canine Twist / Псячий твіст 5. Music from the Marble Cupola 1–Initiation: 100,000 Mirrors. The Liquid Eye. Shakti Yaga Meets the Space Hoarklers (featuring Taras Shevchenko). 6. Music from the Marble Cupola 2–Wanderings: Forest of Bouncy Trees. Curious Wizardry. Stalagmites Hit the Road. 7. Music from the Marble Cupola 4–Underture: Mirrors Reprise. Elaborate Transmigration. Vision of Vyrii (Land of Milk and Honey). 8. Tide of Night
2) Vapniaky (the Vapniaks), a.k.a. Stalagmite Under a Naked Sky: 
"Atomic Land," track 10 from STALAGMITE UNDER A NAKED SKY (2020 edition), originally released in 1991. Cover of a song written and originally recorded by Ukrainian-Polish punk band Oseledets.
Recommended further listening: "Wistful boogaloo" (Night day time love), a punk anthem, track 8. Two of the other songs on the album, "Ragsong" (track 2) and "Nanny goatin" (track 6) made it to the charts in the city of Lviv, western Ukraine, @ 1992. 
3) Drevo: "Oi borovaya zozulina"
A spring ritual song from the Chernobyl Zone, sung by Ukraine's leading "authentic" traditional/folk ensemble of the 1990s.

4) Zavoloka–AGF (Kateryna Zavoloka, experimental composer from Kyiv, now based in Berlin):
"Korin" (tr. "Root") from NATURE NEVER PRODUCES THE SAME BEAT TWICE (2005) (The album consists of 50 mostly 1-minute or so pieces.)
Further recommended listening/reading: 
Korin

 by Zavoloka, released 28 November 2005 

5) The Moglass, from Kharkiv (eastern Ukraine):
"Asimuth Vibrating," from SPARROW LAKE album (2006):
Asimuth

 Vibrating by Moglass, released 01 August 2006 
6) 
Kadaitcha
 (from Odesa): "Datura" (2019)
(the title is the name of a poisonous, hallucinogenic nightshade) –
| | |
| --- | --- |
| | Datura by Kadaitcha, released 16 June 2019  |
FURTHER RECOMMENDED LISTENING:
Zavoloka (see above) with Dania Chekun – "Nad vodoyu" (Above Water)
| | |
| --- | --- |
| | ABOVE WATER by Zavoloka & Dania Chekun, released 10 August 2006 |

Dronny Darko (Oleg Puzan, from Kyiv) – "Heart of a Molfar" – "droney" ambient experimental music ("molfar" is the Ukrainian word for shaman or sorceror)
| | |
| --- | --- |
| | Heart of a Molfar by Dronny Darko, released 23 August 2021 1. Heart of a Molfar A Molfar transforms fire of the heart into unconditional love, which becomes a remedy in itself. Without love, a deep healing cannot occur. This is spiritual growth |