KCSB-FM Airs UCSB Reads 2021, Weekly Readings From: When They Call You a Terrorist: A Black Lives Matter Memoir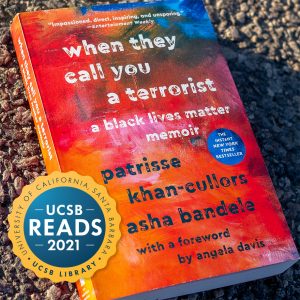 The UCSB Reads selection for 2021 is When They Call You a Terrorist: A Black Lives Matter Memoir, co-authored by Patrisse Cullors and asha bandele.
This annual program of the UCSB Library brings the campus and Santa Barbara communities together each year for dialogue about important topical issues while reading a common book.
Starting February 11th, KCSB-FM revives our own on-air tradition by sharing chapters from the UCSB Reads text as voiced by volunteers from the UCSB community.
Tune in to 91.9 FM every Thursday at 5:30pm to hear selections from When They Call You a Terrorist, a personal account of this contemporary movement for racial justice and Black lives, which formed after the unpunished killing of young Trayvon Martin in Florida in 2013, and gained new prominence last year after the police slaying of George Floyd in Minnesota.
Cullors' memoir describes her life as a Black, queer woman who was raised in Los Angeles by a single, hardworking mother. She recounts her own experiences with racism in the criminal justice system, as well as the origins of Black Lives Matter, which was recently nominated for a Nobel Peace Prize.
We invite you to volunteer as a reader during KCSB's weekly (prerecorded) "UCSB Reads" broadcasts. If you are interested, please e-mail Ted Coe at advisor@kcsb.org and we'll follow up to schedule a Zoom session in the coming weeks to capture each volunteer reading from a chapter (as long as one of about 30 slots are still available).
There will also be online talks, panel discussions, film screenings, exhibitions, and other affiliated events to explore the book's themes, culminating on Wednesday, May 12th, when Ms. Cullors will give a live virtual lecture that will be open to the public. More info can be found at library.ucsb.edu/ucsbreads2021.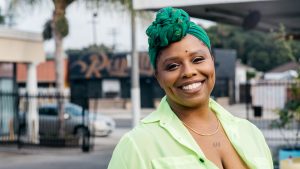 Photo of Patrisse Cullors, by Giovanni Solis
Tonight's readers on KCSB-FM are Executive Vice Chancellor emeritus Gene Lucas, who cofounded the UCSB Reads initiative in 2007 with the UCSB Library, and Alex Regan, the UCSB Library's Events & Exhibitions Librarian.
KCSB is a proud media sponsor of UCSB Reads.