UCSB Arts & Lectures presents Ta-Nehisi Coates
The following is a PSA about an upcoming virtual event with author Ta-Nehisi Coates, presented by UCSB Arts & lectures. This event is available to anyone, anywhere, and is available for ticket holders to replay for one week.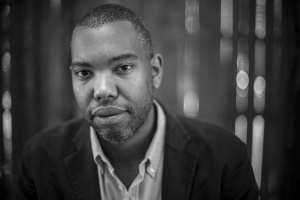 UCSB Arts & Lectures presents groundbreaking author Ta-Nehisi Coates in a virtual presentation as part of its acclaimed Race to Justice series on Tuesday, Jan. 12 at 5 p.m. Pacific. This presentation will be followed by an audience Q&A moderated by Terrance Wooten, professor in the UCSB Department of Black Studies. Ticket holders will be able to replay this event for one week.
Drawing comparisons to James Baldwin and hailed by the late Toni Morrison as "required reading," MacArthur Fellow Ta-Nehisi Coates has emerged as one of our most vital public intellectuals. He is the author of the National Book Award-winning Between the World and Me, as well as the acclaimed bestsellers Beautiful Struggle and We Were Eight Years in Power. His first novel, The Water Dancer, was released in September 2019. Coates is a distinguished writer in residence at NYU's Arthur L. Carter Journalism Institute and was a national correspondent for The Atlantic, where he wrote about culture, politics and social issues. He is also the current author of the Marvel comics The Black Panther and Captain America. HBO released an adaptation of Between the World and Me in the fall featuring an all-star cast including Oprah Winfrey and Angela Bassett that incorporates documentary footage from the actors' home life, archival footage and animation.
ABOUT TA-NEHISI COATES:
"Coates has become one of the most influential black intellectuals of his generation, joining predecessors including Ms. [Toni] Morrison, Professor Henry Louis Gates Jr., and Dr. Cornel West."
The New York Times
In his work as a National Book Award-winning writer and formerly as a National Correspondent for The Atlantic, Ta-Nehisi Coates has emerged as an essential voice for our times. His award-winning writing combines reportage, historical analysis and personal narrative to address some of America's most complex and challenging issues pertaining to culture and identity.
Exhibiting a preternatural ability for articulating the ways in which America's history has informed its current condition, Coates has been compared to James Baldwin and praised as "required reading" by Nobel Prize winner Toni Morrison. He addresses audiences across the country on urgent cultural topics, including discriminatory housing policies, mass incarceration, deleterious interpretations of history and his personal experiences growing up as an African American male in the United States.
Coates's 2017 book, We Were Eight Years in Power: An American Tragedy, is a collection of his writing from the Obama era, including never-before published essays. Since 2016, Coates has also written Marvel's The Black Panther comic books and has just begun writing Captain America.
Coates' debut novel, The Water Dancer, was an Oprah's Book Club selection and an NAACP (National Association for the Advancement of Colored People) finalist. He is adapting The Water Dancer into a screenplay to be produced by Harpo and Plan B Productions. His following 2015 book Between the World and Me was a No. 1 New York Times bestseller, as well as required or recommended reading at over 400 colleges and universities across the country. Structured as a letter to his teenage son, it moves from Baltimore to Howard University to New York City to Paris, addressing what it means to inhabit an African American body in today's America. Between the World and Me was adapted into a HBO special that aired in Fall 2020.
Coates grew up in West Baltimore and attended Howard University. He is a Distinguished Writer in Residence for New York University's Carter Journalism Institute.
RACE TO JUSTICE 
Race to Justice: This is a moment of reckoning. As a nation, we are confronting evidence of inequality that reaches every corner of society. Arts & Lectures has a history of bringing complex issues to the forefront. Now, we are spearheading an in-depth look at systemic racism from every angle, including abolition, underlying conditions, reparations, criminal justice and more. Interdisciplinary and cross-departmental, this season-long series engages leading activists, creatives and thinkers to expand our understanding of racism and how race impacts society, and to inspire an expansive approach to advancing racial equality.
Most virtual events are hour-long programs.
Race to Justice virtual events are FREE for UCSB students (registration required).
To register for this event with Ta-Nehisi Coates, which is free for UCSB Students and costs $10 for non-students, visit the event page here!

KCSB is a media supporter of this event.