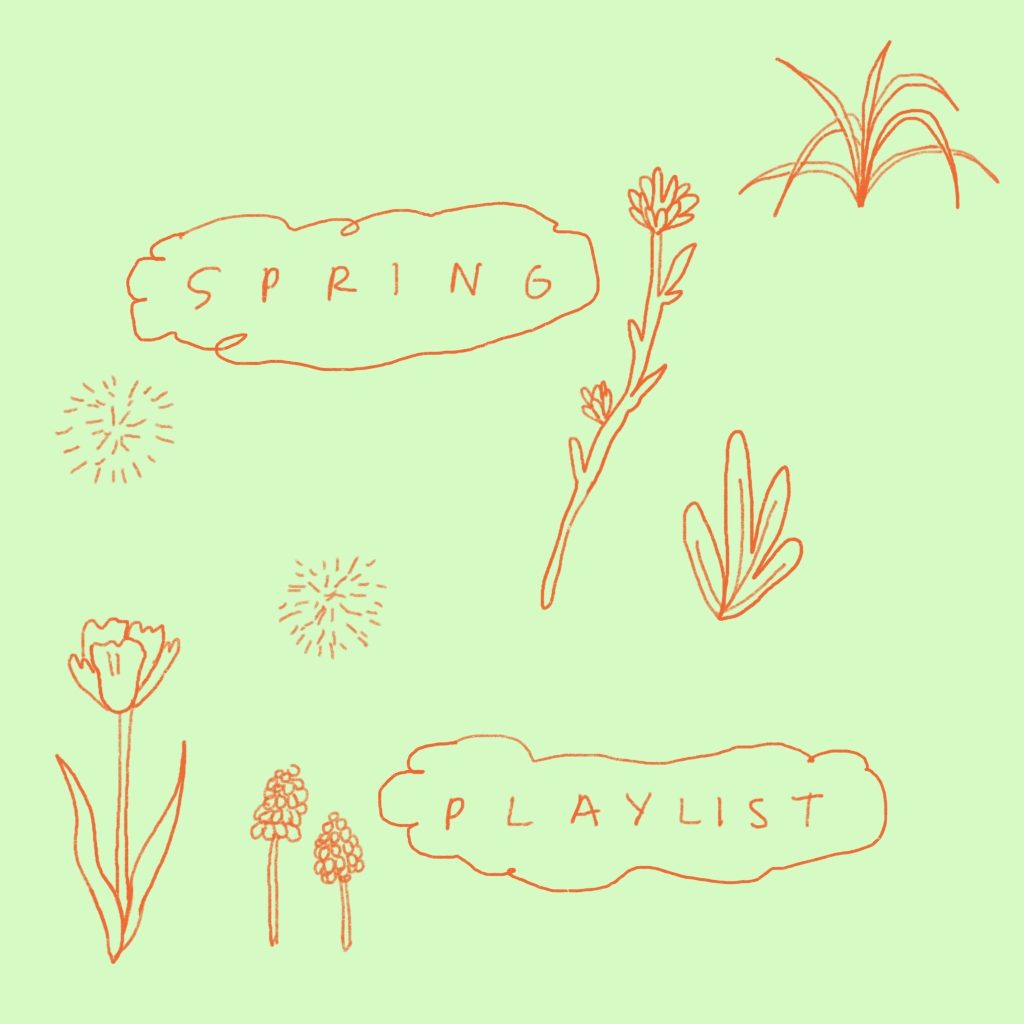 Spring has sprung, and Excomm is bringing you the best tunes to frolic in a flowery meadow to! Enjoy the songs that remind us of the season of blooming flowers, renewal, and growth! <3
JUSTIN'S RECS
"Snowy!" by Your Arms Are My Cocoon
This year spring break seemed to melt into the palm of my hand, as it pressed like butterfly legs against yours. One of my favorite EPs ever. We're all going to take our pain and change for the better this Spring, like a butterfly. IDK if it hurts to hatch out of a cocoon. I assume it does, but maybe not, though. 
"Breezin'" by Oneness of Juju
Any soul song with a flute in it is automatically Spring-coded. 
"Milk in the Sun" by Parker Sprout
Bright, jangly psychedelic rock, ideally listened to while stumbling around in a field. Milk in the Sun is a relatively recent addition to Moon Glyph's insanely stacked catalog of mostly warm ambient and electronic. 
DORIEN'S RECS
"Sacrifice" by George Riley
You know when you're having a good day and the sun's out? This song is exactly that. Her voice is so dynamic, and alongside Vegyn's colorful production, this track makes me feel like a little bug who only ever has to worry about what blade of grass he's gonna sit on next.
"i can't understand" by Sig.Carlito
The warmest "idgaf" anthem I could think of adding. Carlito is so good at finding melody, and every aspect of this song fits together so perfectly. Big time fav, blast this.
"Malaise" by Drug Drawer
The perfect song for doing things. Beach tunes. Throwing balls. Hammocks. Guitars. Basking. Small talk. Yup.
BELLA'S RECS
"Spring" – Saint Etienne
It's only springtime!!! This song is all about starting anew, a very springtime thing. The lyrics describe an obsessive lover trying to convince a boy to get over a heartbreak and begin a new relationship with her, telling him that he's too young to give up on love. Saint Ettienne's groovy french-disco sound and patchy backing instrumentals provide an atmosphere of nostalgia that reminds me of the colorful, flowery images from people hanging outside in the 70s. 
"Fantozzi – Valzer sulla neve" –  Fabio Frizzi, Franco Bixio, and Vince Tempera
Whenever I listen to this song I get so overwhelmingly happy. To me, this song conjures up visuals throughout. The song starts off with a crescendo that makes me think of birds taking flight. The swells of the string instruments and the waltz tempo remind me of those timelapses of plants growing, biking along the shoreline, eating lunch in tall grass. The song slows down near the end, procuring images of walking home on a warm night and falling asleep under the stars. Shoutout to my show co host Ava for introducing me to this song, it is too sweet.
"Come Sing Me Come Sing Me a Happy Song to Prove We All Can Get Along the Lumpy, Bumpy, Long and Dusty Road" – Bert Jansch
For me, springtime is when things start to matter less because it's pretty outside. Bert Jansch perfectly sums up the desire to forget all responsibilities and worries, and embrace "a world of love and joy." This song feels like laying in the sun. 
MARION'S RECS
"Corcovado" by Antonio Carlos Jobim
Nothing says spring quite like bossa nova. This track has a bossa nova rhythms, with the acoustic guitar to accompany it. However, the track also features a violin and a flute, which makes the song feel like a 1960s beach movie soundtrack- making this the perfect warm spring day song! Another aspect I love about this track is the melody- which I first heard on the Theo Katzman track" Lily of Casablanca," but comes from the original jazz standard "Quiet Nights of Quiet Stars (Corcovado)." While this version is only instrumental, I definitely recommend checking out both the versions I mentioned for some great lyrics! 
"A Spring Fantasy" by Herlin Riley
Herlin Riley is an incredibly talented jazz drummer. I first heard of Riley at the Savannah Jazz Festival, which I attended with my high school jazz band. Riley gave a few workshops to the band, and then had a show in the evening. During the show, Riley was drumming so hard that his shoe fell off; he then proceeded to put the shoe back on while continuing to play without missing a beat! This song is totally groovy but also very laid back, the rhythm is impeccable, and I love the melody. The title says it all in terms of spring! 
CLAUDIA'S RECS
"Perfect Day" by Rexy
My friend Kat made me dinner while this song was playing during Week 1 :3 
JACK'S RECS 
"Magnolias" by Leon Bridges
Leon Bridges is truly a special talent, and this song showcases just that. Being one of my favorite songs by him, it blends R&B, soul, and hip-hop so effortlessly through both the unique beat and his soothing vocals. I felt this song fit the Spring vibe perfectly, with Leon yearning for a girl's love as he imagines waking up next to her, treating her to everything she wants, with the smell of "fresh-cut magnolias" in the morning. This song is beautifully made, and even the Magnolia flower itself symbolizes Spring and the southern United States (where Leon is from), as well as perseverance, beauty, purity, love, and joy. All topics emphasized in the song and that can be linked to the feeling of Spring.
"Good Morning" by PJ Morton ft. Susan Carol
Once again, I feel like I associate Spring with cute songs, so here is yet another cute song. PJ Morton and Susan Carol sing of being so in love with someone, that they "can't wait to fall asleep, so [they] can wake up to [them] again." The entire song gives the energy of having a joyful dream, thinking about the one you love. This song just makes me imagine walking in the spring sunshine with that special someone, as you tell each other how much you appreciate all you do for each other.
"Since I Have A Lover" by 6lack
With this last song, we got another love story. 6lack becomes a little more vulnerable on this song, talking about the story of meeting the most amazing girl. From their first interaction, to their experiences over time, he touches on it all, reminiscing about the good feelings he associates with this girl. The beat emphasizes this message as well, with an upbeat and happy, ethereal beat that perfectly corresponds with his first time he met this girl, a time where his "feet just left the ground."
TYLER'S RECS
"Morgenspaziergang" by Kraftwerk
For me Kraftwerk's "Morgenspaziergang" has always taken place in a vibrant, spring meadow with a babbling brook and butterflies. In this sense, its setting makes it the perfect Spring song. It serves as the endpoint of the long journey on the cold, brutalist Autobahn while also serving as the finale to Kraftwerks journey in acoustic music, after which they would transition almost exclusively to electronic works. 
"The Gnome" by Pink Floyd
This one goes out to all the mythical creatures, sprites, cryptids, spirits and other assorted silly fellows who like to appear in the springtime. For a long time I was not a huge fan of Syd Barrett's sort of fantastical writing style, but after seeing Nick Mason perform some of his works in a concert at The Arlington last fall I began to gain a greater understanding of their appeal. In my interpretation, "The Gnome " lives in the realm of post irony – devoid of any deeper meanings beyond just a description of the life of Grimble Gromble and his contemporaries. Just a nice, silly, springtime song.
"Brazilian Flower" by Jean-Jacques Perrey
I recommend prancing or frolicking to this song. IMO the entirety of "The Amazing New Electronic Pop Sound of Jean Jacques Perrey" could go on this playlist so it was hard to choose just one song, but I like Brazilian Flower because it is catchy, succinct, and fun.