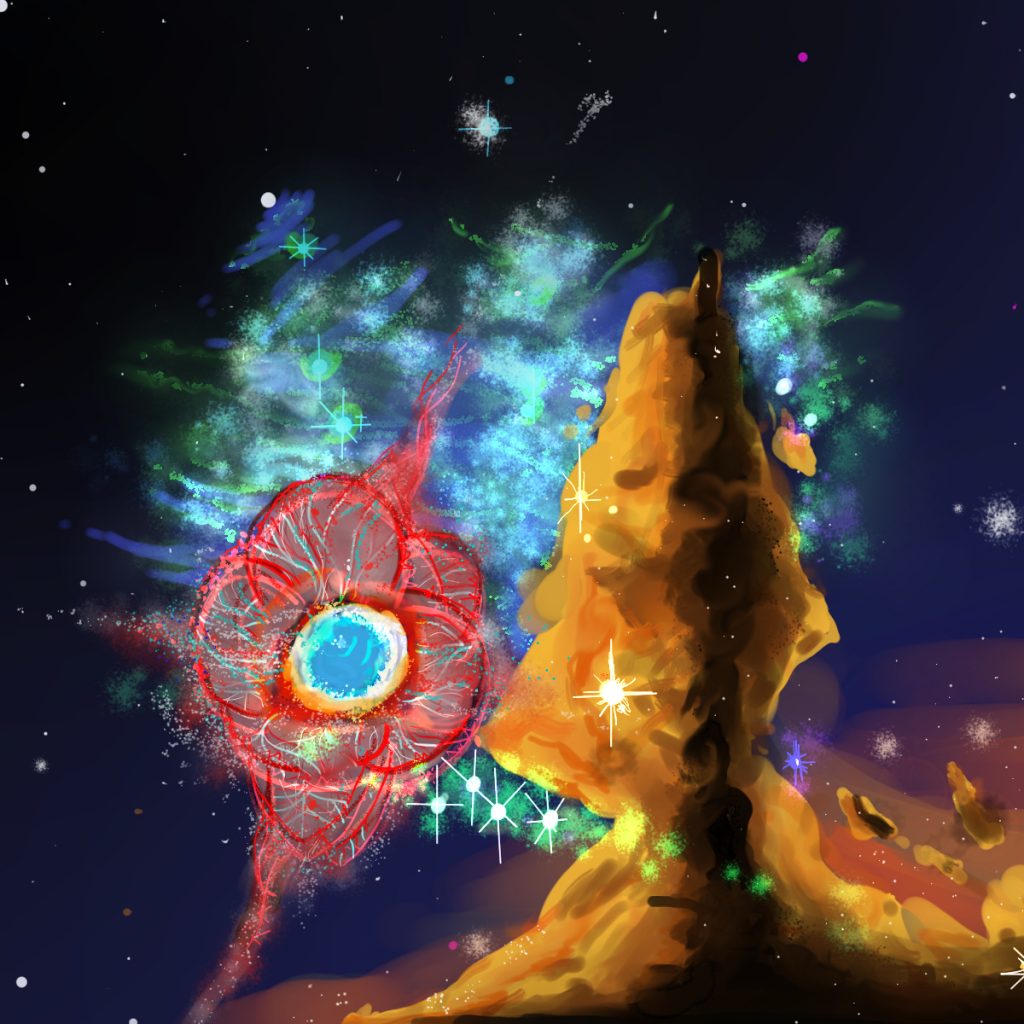 Enjoy this month's Spotify playlist, featuring the first songs played by the DJ's of the multiple new shows from our Winter 2020 schedule! Congratulations to all who made it onto FM! Artwork by Mauricio Collado, KCSB Publicity Ambassador. Listen to the playlist >>here<<!
1.  The Creek Walk – Alfred / Sundays 6-8 AM / Classical
A selection of classical and folk music that expresses themes of the natural world.
Song Choice: Call of the River – Linda Perhacs 
2. Banjo Time – Mae and Vicki / Mondays 12-2 AM / Americana/Folk
folk punk tunes with Mae and Vicki
Song Choice: Apes of the State  – Internet Song Pipe Dream
3. Bay Area Type Beat – DJ E4 / Mondays 2-4 AM / Hip-Hop
light entertainment show that plays up-and-coming Bay Area artists while discussing Bay Area culture
Song Choice: Symba – Kaepernick
4. Planisphere – Astral Plane Cowboy / Mondays  4-6 AM / World
International trippy tunes that make you want to fly free as a bird
Song Choice: Cheval Fou – La fin de la vie…
5. Spaghetti & Ragu – The Night Owl / Wednesdays 12- 2AM / Eclectic
A big bowl of pasta smothered in soul, funk and rasta. Mangia!
Song Choice: Agusto Martelli – King for a Day
6. SwampSnacks – Fairy King / Thursdays 12-2 AM / Electronic
a nightclub in the sky where you're all alone in a room full of people
Song Choice: Sidewalks and Skeletons – Elixir
7. The World is Ours Radio – DJ Magellan / Fridays 2-4 AM / Hip-Hop
Exploring scenes, trends, and ideas in Urban Music throughout time and space.
Song Choice: Lazy boy – in my hood 
8. World Music Tour – DJ Cowabang / Fridays 6-8 AM / World
World music chosen by international community of UCSB
Song Choice: The Cat Empire – How to Explain
9. Fast Food Soda –  DJ Minion / Fridays at 11 AM – noon / Electronic
Electronic music that will caffeinate listeners.
Song Choice: Andy Stott – Up the Box