May's Add of the Month: Mustafa's When Smoke Rises
KCSB's music department is sitting down each month to write to you about one album added to our music library that left a strong enough impression on them to be crowned Add of the Month. This month, KCSB's Internal Music Director Yousef Srour goes in depth on Mustafa's latest album, When Smoke Rises, released on Regent Park Songs.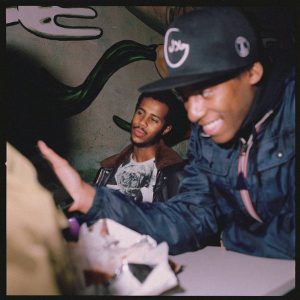 Image courtesy of Regent Park Songs
When Smoke Rises is a lush, inviting debut from the artist formerly known as Mustafa the Poet. Hailing from Toronto's Regent Park, the 24-year-old has found solace in telling the tales of the oldest and largest housing project in Canada. Growing up and exploring his artistic expression with the Halal Gang, including Smoke Dawg, Puffy L'z, Mo-G, and Safe, Mustafa's art has continued to traverse themes of existentialism and has a commitment to reshaping his community.
Arrested in 2018, and having to cope with a member of the Halal Gang, Smoke Dawg, being shot and killed the day after he made bail, Mustafa Ahmed has used his music as a way to maneuver through the complex emotions of grief and hopelessness. Mustafa knows that Smoke Dawg has not been the only one to suffer this fate—too many people have been lost to incarceration, mental health issues, and murder due to the maleffects of a system that was never built to uplift people of color, even across the Canadian border in Toronto. Mustafa had been immersed in the activities of his community, even being appointed as a member of Prime Minister Justin Trudeau's Youth Council. In an interview with Pitchfork, however, Mustafa shrugs it off, saying, "I don't give a shit about Trudeau." He explains, "I was young, naive, and thought that I was gonna advocate from the inside. But no one gives a shit about you, fam." Somber words from a worldview that has clearly been too wretched to instill faith in. As an outspoken Muslim artist, Mustafa finds guidance through religion. He's constantly questioning the world through Islamic tradition, understanding human nature, and on a constant quest for peace and soulful expression. His early days were spent around the mosque that his father founded in Regent Park as an immigrant from Sudan. 
Mustafa has created a name for himself within the industry, befriending artists such as Drake (no surprise, since the two are from Canada) and FKA twigs, and working with artists such as Usher and Camila Cabello. With his stripped-back, Carrie & Lowell-inspired folk sound, Mustafa centers his music around poetic abstractions marked by violence, grief, community, and death. Mustafa has taken a route that strays from his pop counterparts, working independently, under his own label, Regent Park Sounds, to tell the story of his projects. Using a mixture of secular and religious metaphors, he sings with a voice that is warm and bass-heavy, sounding like the sherpa blanket you wrap yourself in and the mug of hot cocoa that you sip when you're shivering cold on a winter night. Complementary to his voice, and almost in the nature of an imam, Mustafa's lyrics are draped with questions and pleas. "Stay Alive," the James Blake-produced track that brought into existence his space-age folk sound, screams of loss, vehemently praying for the people of Regent Park. Mustafa prays for no one in particular, but the object can range from Smoke Dawg, to the countless number of individuals captured by the prison system, to the families who are struggling to find a meal to put on their tables at home. "Stay Alive" is a call for community togetherness and a desire to find relief from his anguish through tangible change.
Chiefly produced by Frank Dukes, the strings of the album are reminiscent of the incredible jazz harpist, Dorothy Ashby, and her ability to tell beautiful narratives through the soft buzz of each of her harp's strings. Dukes accomplishes the same feat with his minimalistic production, showcasing Mustafa's sound of solitude and yearning; the effect is an album that sounds wildly intimate, as if Mustafa is confessing his fears and remorse to you, the listener. He asks, "What about heaven?" describing the "war outside" and having "a family to feed," as he silently murmurs, "I'm too young to feel this pain." It could be an album written by an older, more established artist, an artist who has had decades to experience so much pain and suffering, but instead it's hauntingly told by Mustafa at 24.
When Smoke Rises is a meditative body of work that pieces together a world run rampant with unrequited love, loss, and unrelinquished hopes, written in honor of his dearly departed comrade. Mustafa is the architect that attempts to pick up the pieces and change them altogether, wanting the best for Regent Park, attempting to uplift the city and see it flourish despite being overseen by councils and politicians that don't seem to care for its people. Mustafa the Poet is the mighty voice of humanity and reason. Let the syrupy, bellowing voice of Mustafa give you the space to introspect and see a world filled with hope and prosperity.
Album review by Yousef Srour.