Music Library RIYL Vol. 1
words by: Justin Africawala (22-23′ Music Librarian)
KCSB's music library is a somewhat unsettling place to step inside of. Mostly because it's pretty dusty and the lighting makes me dissociate but there's at least a lot of cool music. I took a bunch of vinyl and listened to them and then picked out the albums that appealed to my personal taste in punk and hardcore I felt were worth highlighting so you don't have to waste your time digging for the good stuff. And also because you probably can't since you don't know the secret password. The door code is four digits and starts with a '9' btw. The other three digits are the square root of the last FIVE digits of my social security number, rounded down.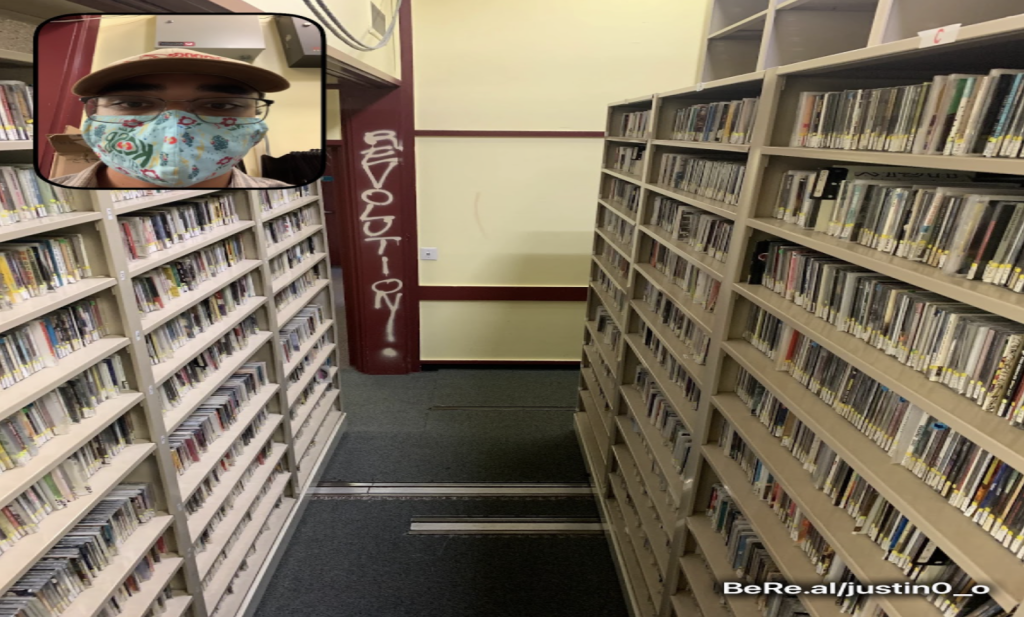 me "being real" inside the music library
---
BB Eye – Headcheese Heartthrob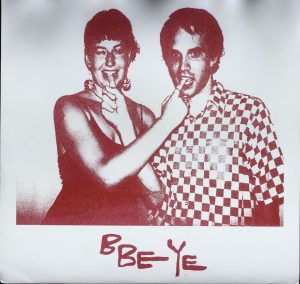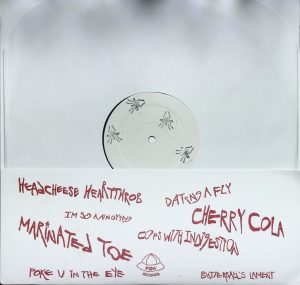 Headcheese Heartthrob is "Rotten New Wave from Hell" by (now inactive) weirdo Missouri punk duo Olivia Gibb and Martin Meyer, AKA BB Eye, released on both Fish Records and Lumpy Records in 2017. I think Fish dealt with the vinyl pressings and Lumpy with cassettes and digital stuff. Anyways, I searched their names on Google and Gibb and Meyer appear to be seasoned veterans of their local DIY art and music scene which warms my heart to see. Meyer is actually the creator of Lumpy Records and lead of the semi-popular hardcore/egg punk band Lumpy and the Dumpers, while Gibbs makes visual art that matches the spaz and charm of their outlandish music.
Apparently these two are from a town about an hour away from Kansas City called Knob Noster. I've never been or heard of the place but after listening to BB Eye I would say they perfectly encapsulate what I'd imagine a DIY punk band from a town called "Knob Noster" would sound like. Of course, music genres are often geographic. You may have heard of the California Sound of the 60s, the Dunedin sound of the 80s, 90s Memphis Rap, or 2000s Midwest Emo. Well the 2010s will always have Nosterian post-punk.  
RIYL: Being silly, punk that's both lowbrow and "artsy" like <Essential Logic, Ludus, Enjoy, Hellier Ulysses, Uranium Club>, the idea of putting beer in the water fountains at schools and parks, comparing any punk band that uses synth to DEVO
---
Plastic – Plastic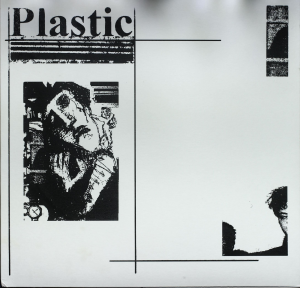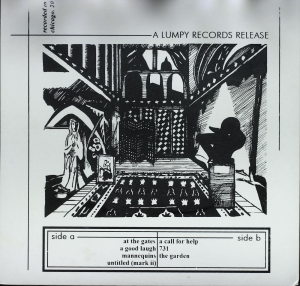 Like Headcheese Heartthrob, Chicago synth-punk trio Plastic's first and only album released in 2017 is another Lumpy Records release, although I somehow didn't recognize the connection until I looked both of them up on Discogs. I picked each out based purely on the merit of their album artwork, although I think the cover for Plastic more accurately reflects their record's sound. Or at the very least is more thematic. It's creepy, noisy, "gothy" punk rock that's surprisingly polished for a band with such an enigmatic aesthetic and background. 
The fact that Plastic has almost no listeners on Spotify or much internet blog coverage definitely adds to the enigma. I find it funny having to dig through YouTube comments on an unaffiliated channel that uploaded their album in order to uncover information about the band:

Shoutout to whoever the Lumpy Records stan was in our Music Department between 2017-2020. You definitely put me on. 
RIYL: The Danse Society, The Sound, using any of the following emojis: spider, spider web, chain
---
Space Streakings – Sexual Aesthetic Salon After School (Single & Comic Book Set) 7"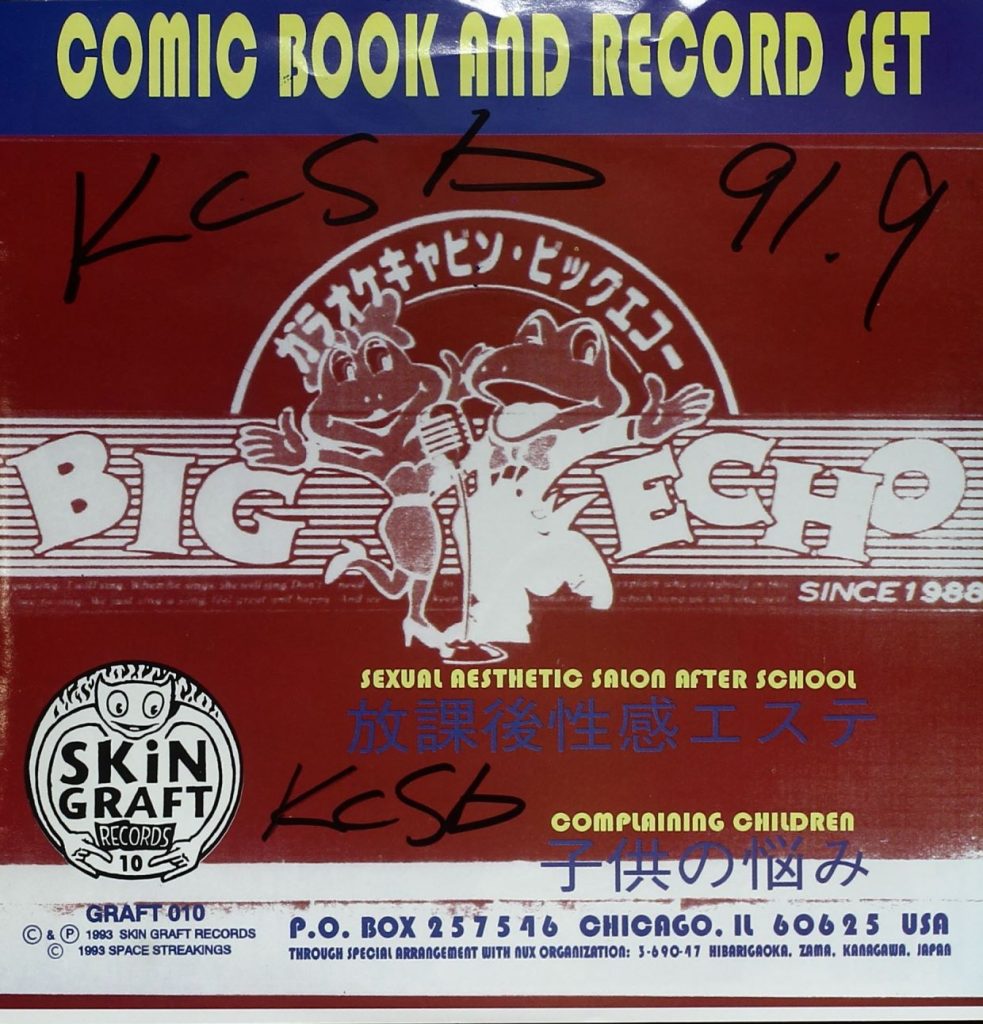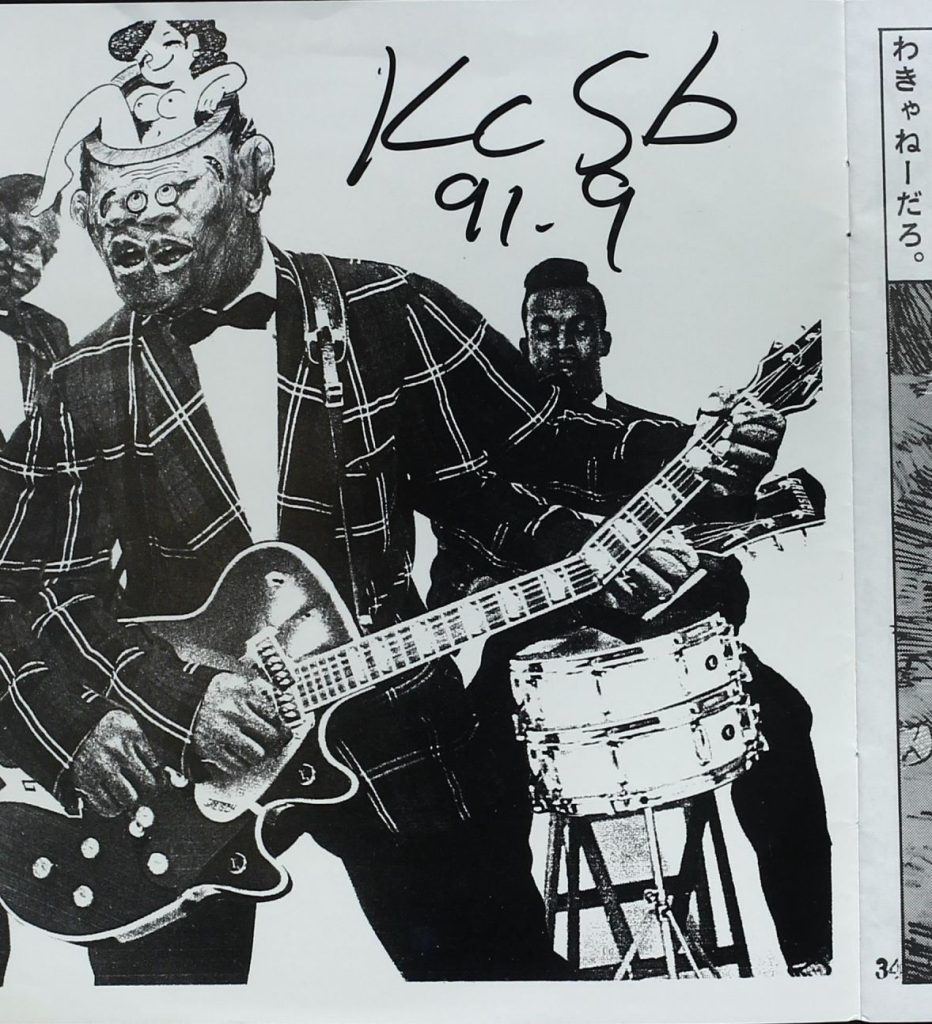 It's rare for a record that contains barely 6 minutes of music to have this much interesting lore attached to it. There's the incredible 10-page comic book illustrated by lead vocalist Kame Bazooka; the kaiju derived pseudonyms of each band member: Captain Insect, Karate Condor, Screaming Stomach, and the aforementioned Kame Bazooka; the fact that Mr. Bazooka earns their namesake by actually playing a bazooka horn; the connection with Skin Graft Records, Steve Albini, and KK Null, all legendary names in the realm of off-putting guitar music. Someone named Zoe Camp did a little writeup for Bandcamp on Space Streakings' 2018 compilation album and they describe the band's sound with wayyy sillier adjectives than I would ever think to use so definitely go check that one out. My final verdict: weird but danceable.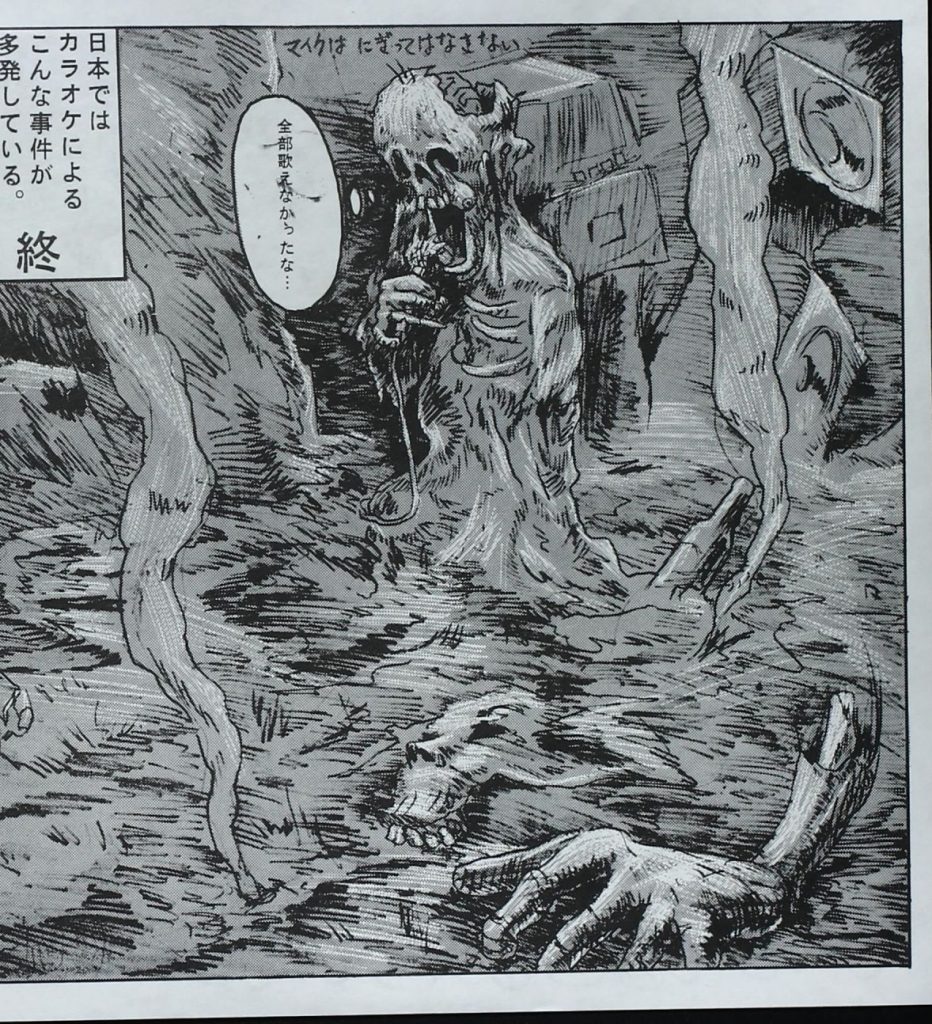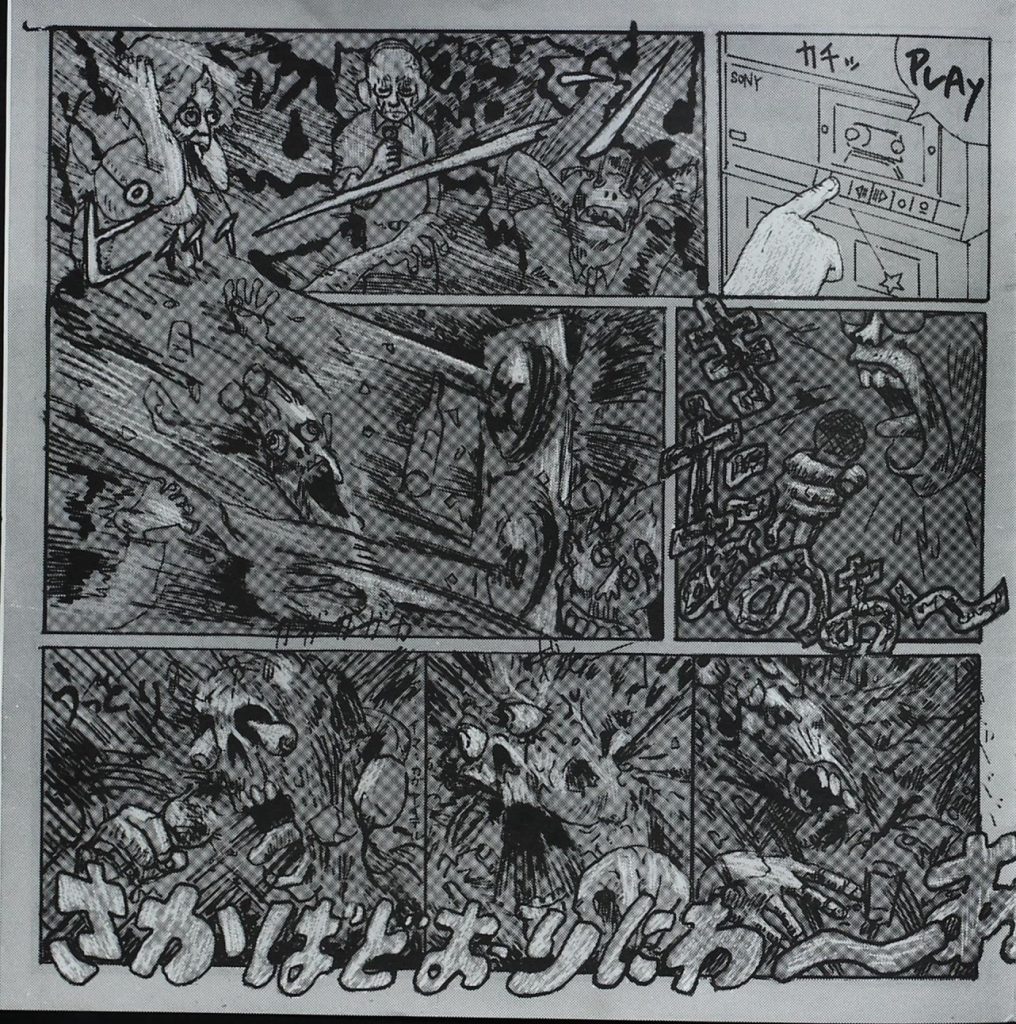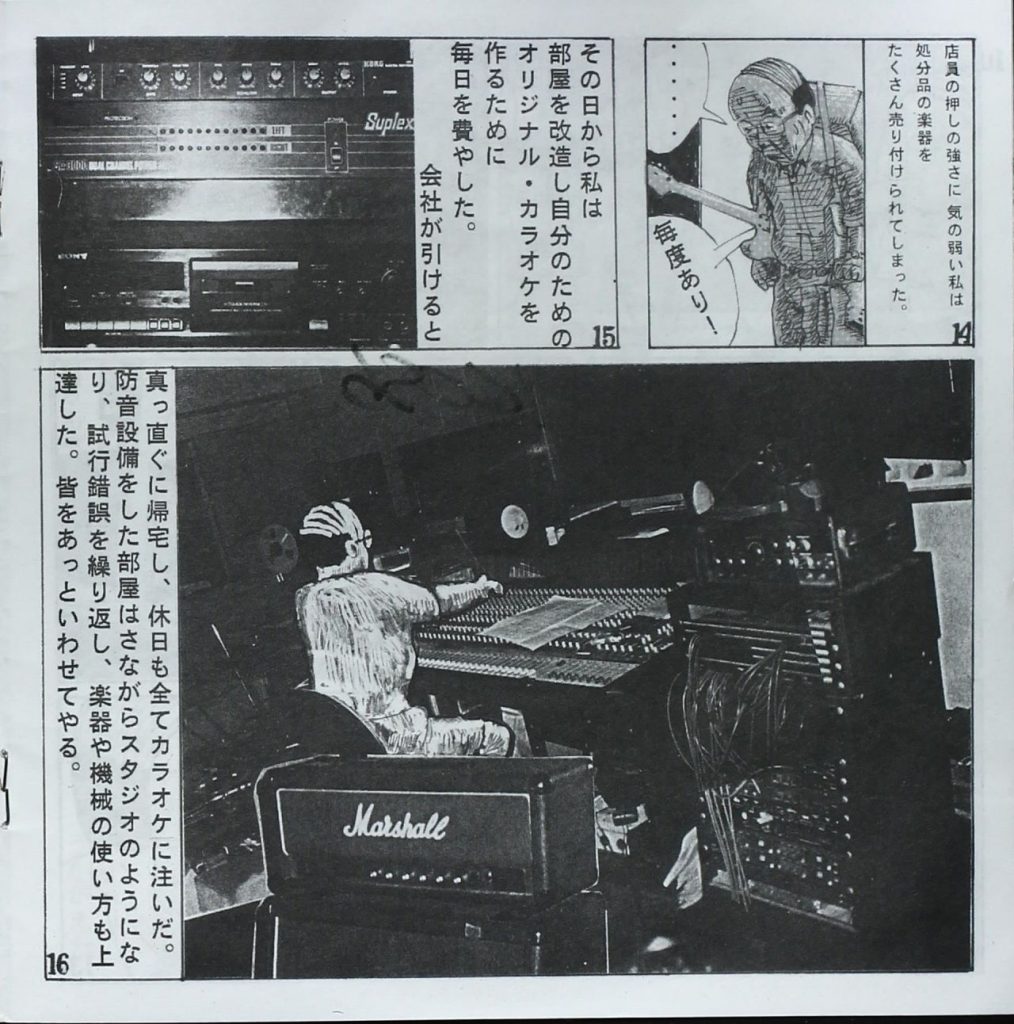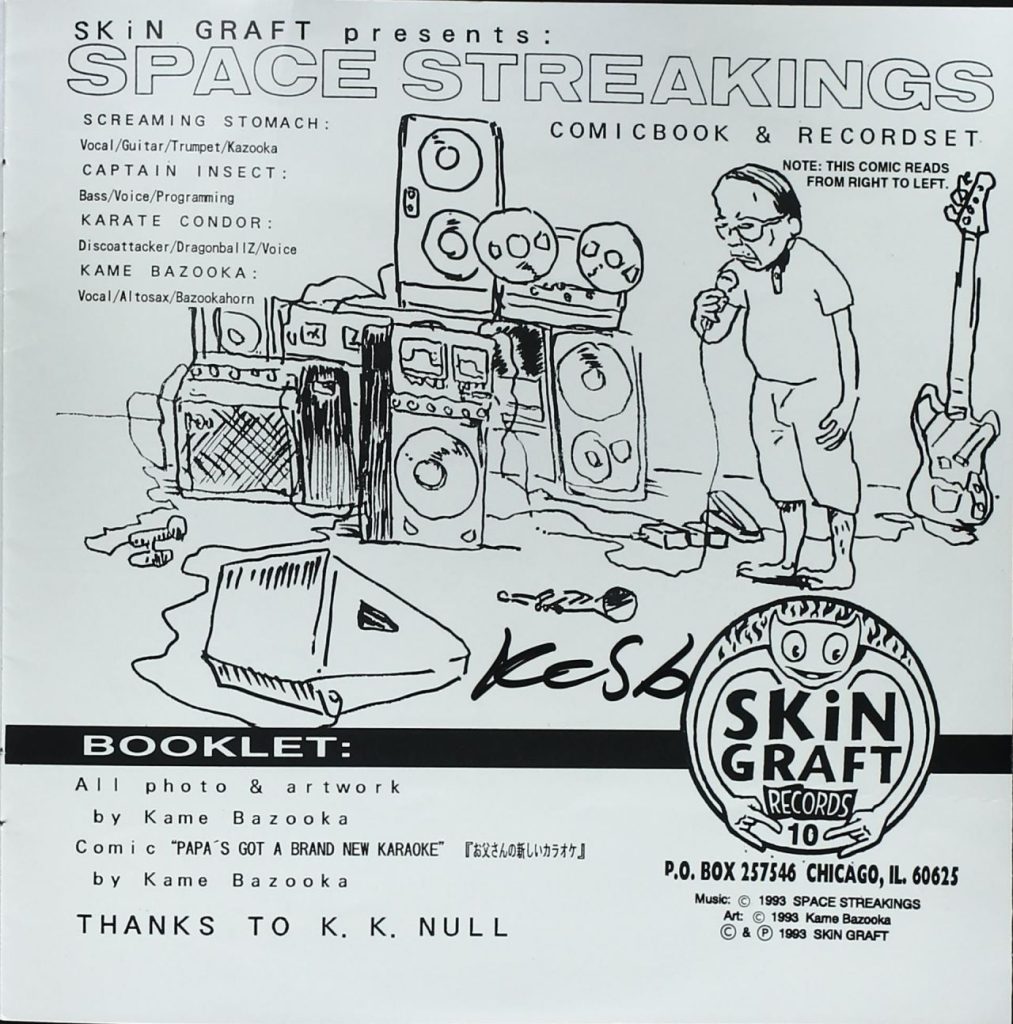 RIYL: if when you get so high that you start getting a little scared, Melt Banana, Zeni Geva
---
Det Är Därför Vi Bygger Städer – Nya Slussen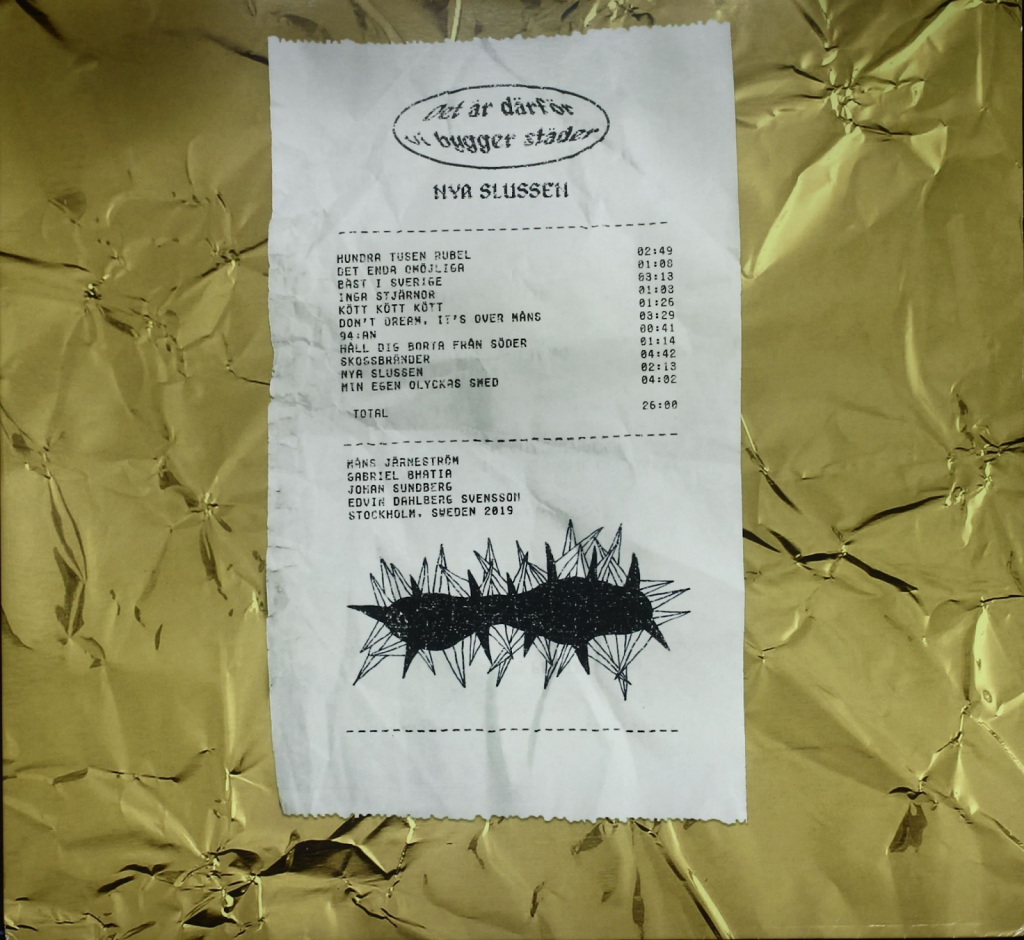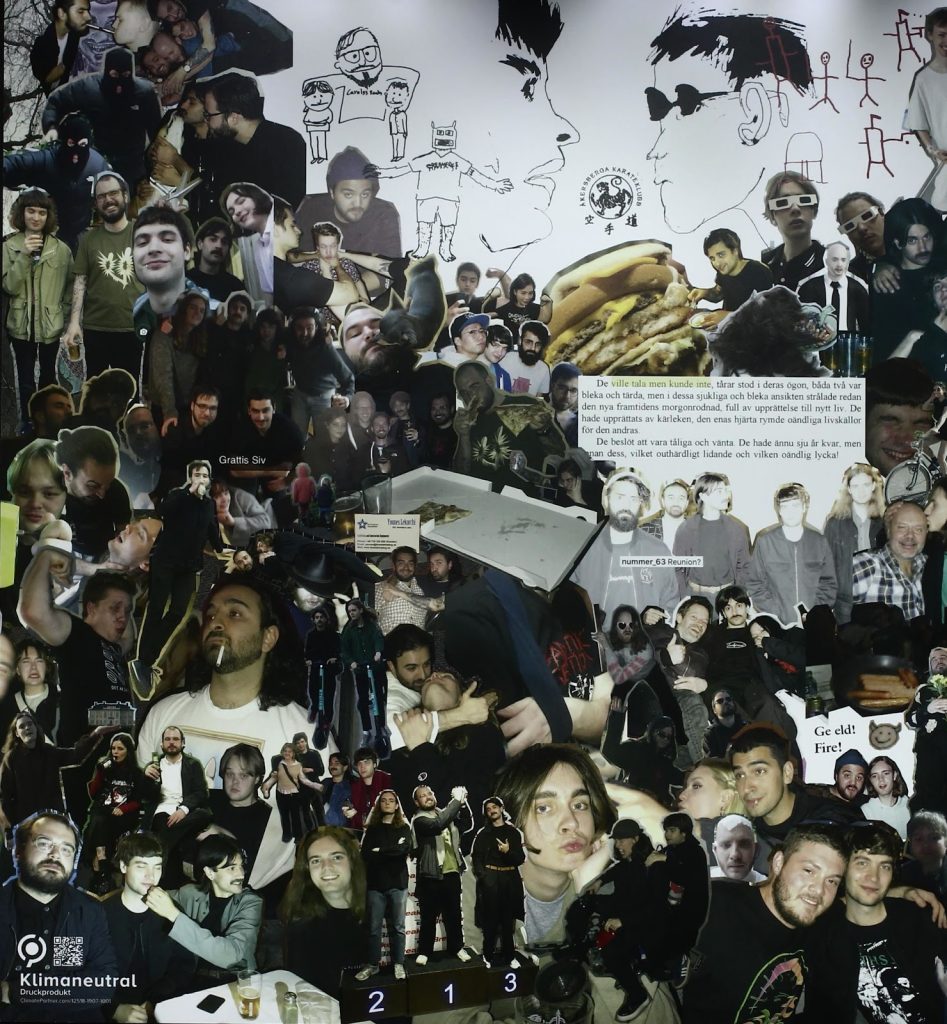 Det Är Därför Vi Bygger Städer is a band from Stockholm, Sweden whose name translates to "That's Why We Build Cities." Here's the proof: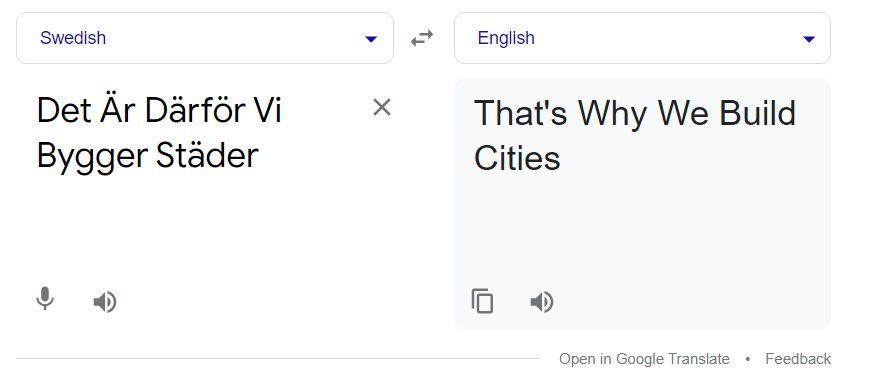 It's a very Midwest Emo sounding name, a genre with an endless list of long winded, vague band names. Their sound is more powerviolence than Midwest Emo, though. Super mathy too. They're like a better produced, more math-y, somewhat jazzy version of Jerome's Dream. The frantic shriekouts employed by each band are easy enough to connect to one another but there are a fair amount of lyrical parallels between the two, which isn't immediately obvious given both the fact that Det Är's vocals are almost exclusively in Swedish and Jerome Dreams' are usually incoherent due to how blown out they are. Frenzied poetics about self-doubt, interpersonal struggle and betrayal, anxiety over climate catastrophe – that kind of stuff. 
I'll admit I'm kind of cheating with this pick since Nya Slussen is an album that I added to the library myself but it's one of my favorite skramz records ever. "Kött Kött Kött" is probably my favorite track and one that makes me want to plunge my head straight into some drywall. I also really appreciate the zine and photos that – the now recently defunct 🙁 – Missed Out Records provided with the record, which you can see for yourself below.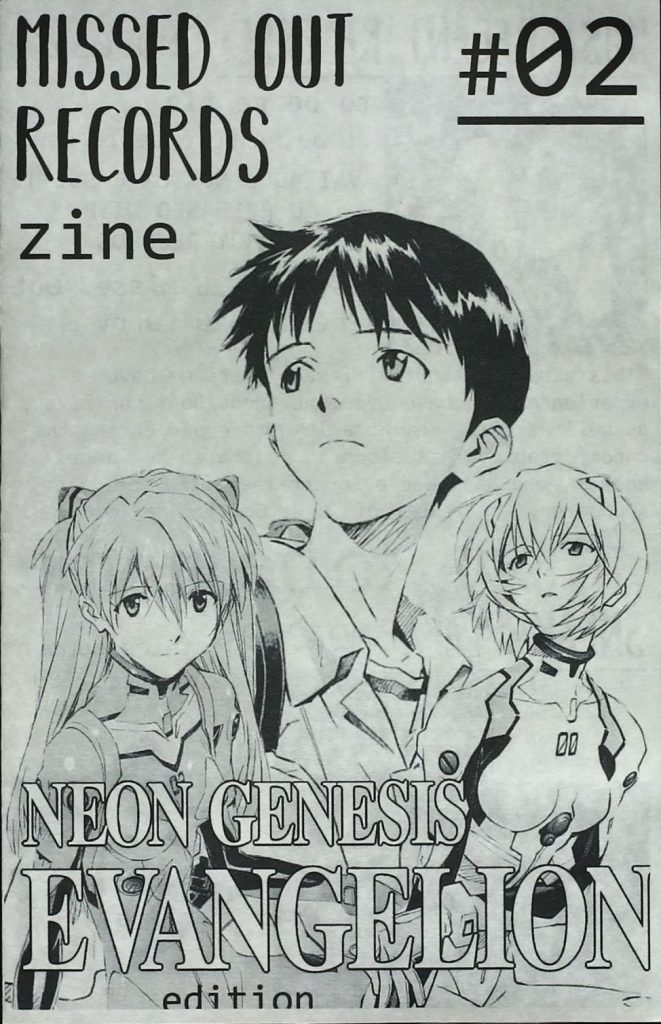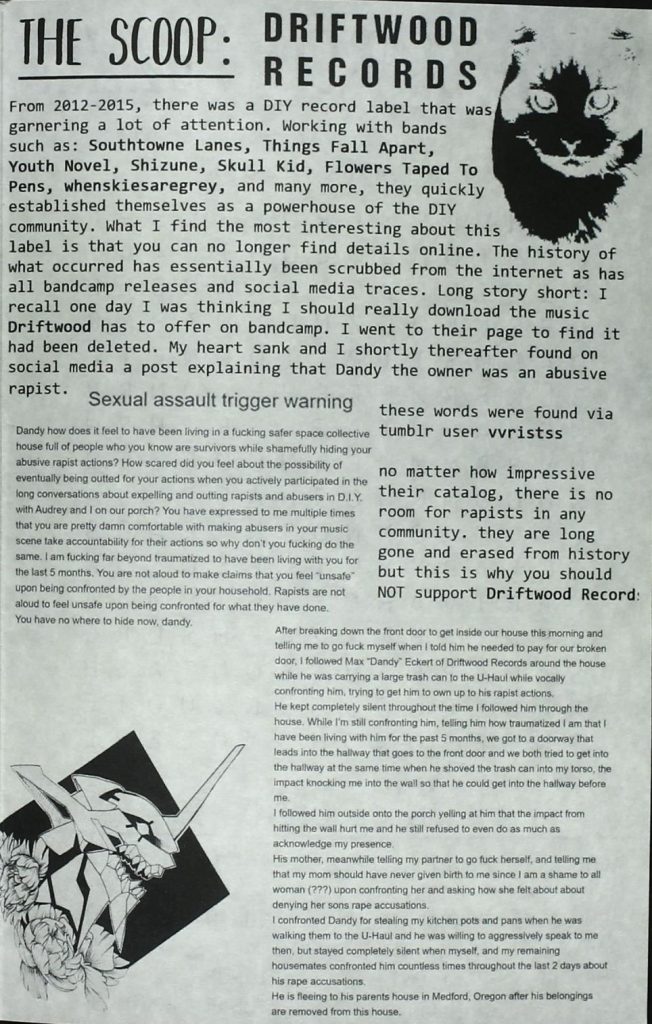 I was gripping my pencil with determination in an attempt to complete this as neatly as possible
RIYL: Jerome's Dream, that's really the closest comparison I can think of. And of course skramz and math rock also if you like this kind of music you'd probably like Nitkowski not the baseball pitcher guy the English math rock band. Super underrated. 
---
Mindgrinder – This Old Head/Manpower (7")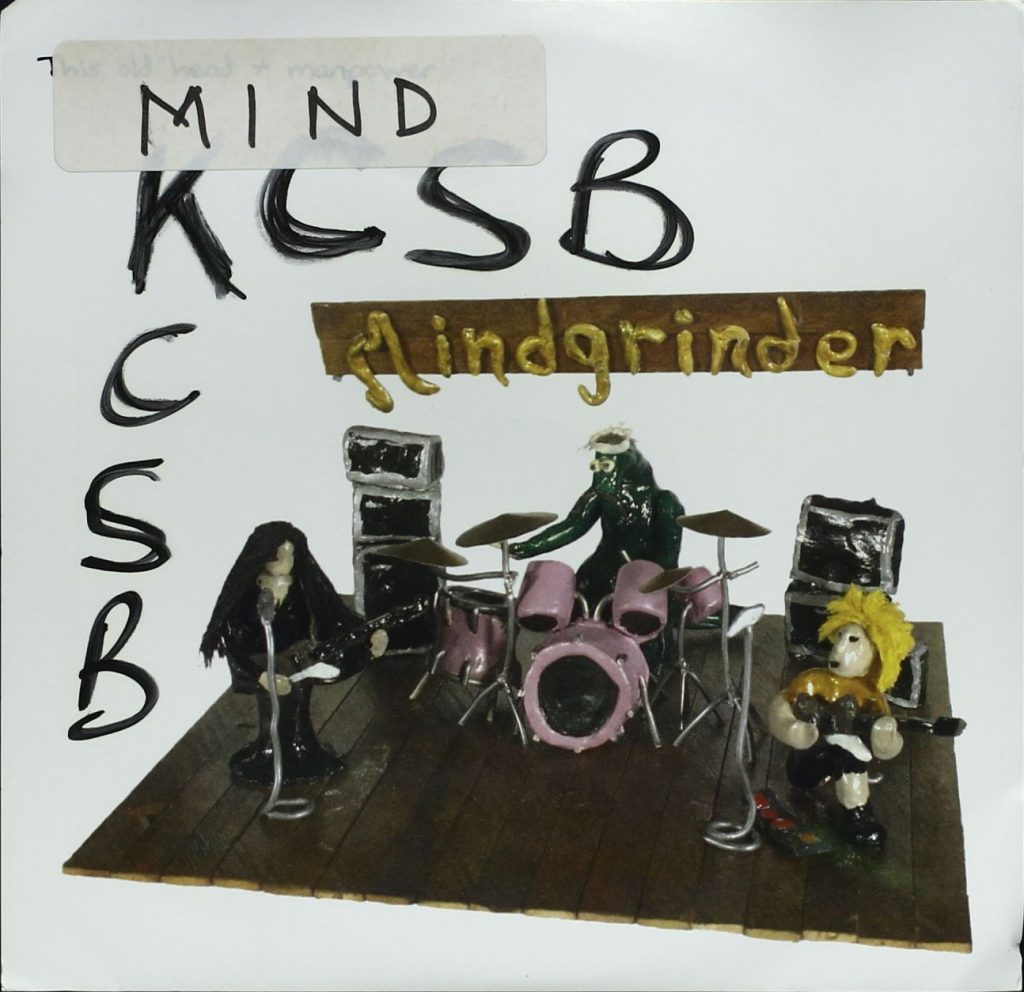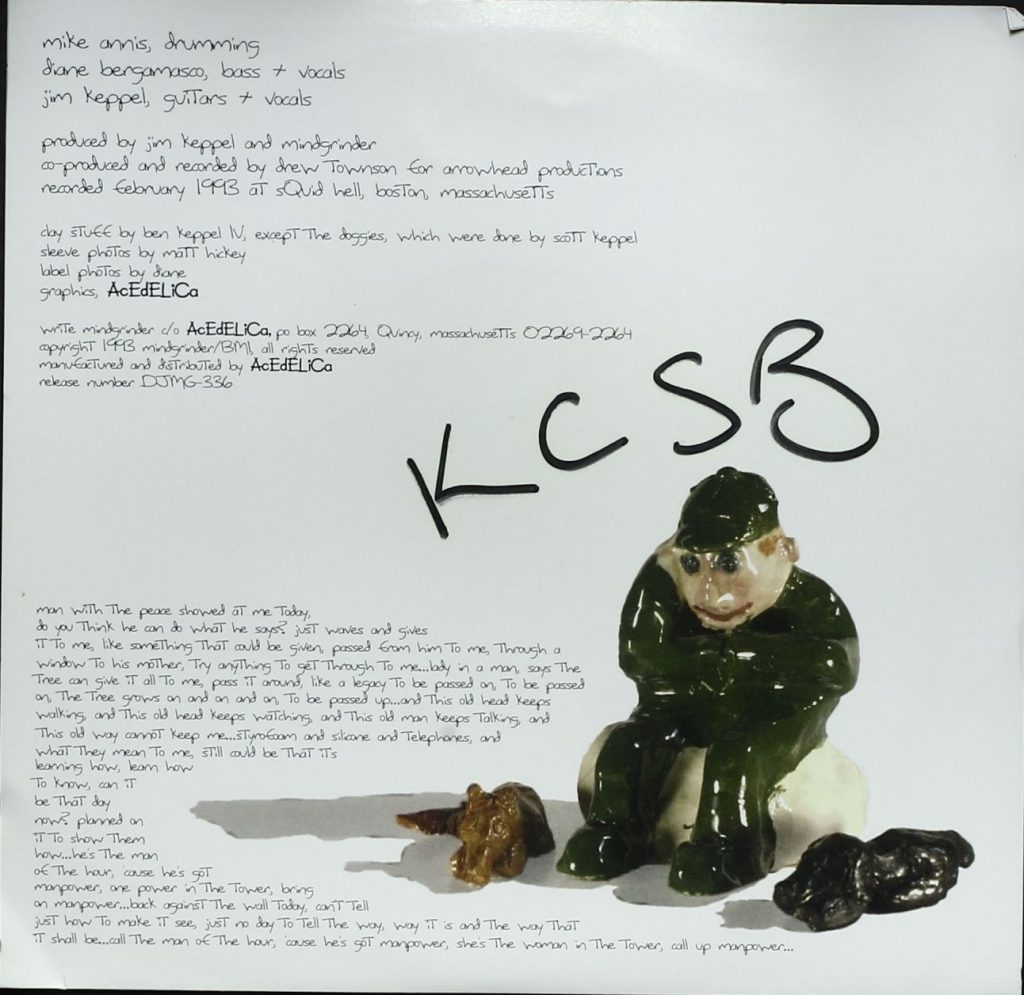 I fully expected this record to be a life changing deep cut find given how cool the artwork is and the fact that it was recorded at Squid Hell, a studio in Boston where some highly notable names in the 90s punk/indie sphere like Mission of Burma, Polvo, and Swirlies did their recording work. Unfortunately I didn't really dig it but I've never been a big fan of grunge or that sort of angsty mid-fi rock in general. "Merge Records-core" as some might call it. I also wasn't able to find a rip of this record anywhere online so I guess you're just gonna have to take my word for it. 
I don't like rating music, but if I had to I'd probably give it a solid 6 out of 10. Lucky for Mindgrinder, my grading rubric for music rewards an extra 5 points for any vinyl artwork that depicts a monkey with a stuffed animal, so this record rounds out to an impressive 11/10.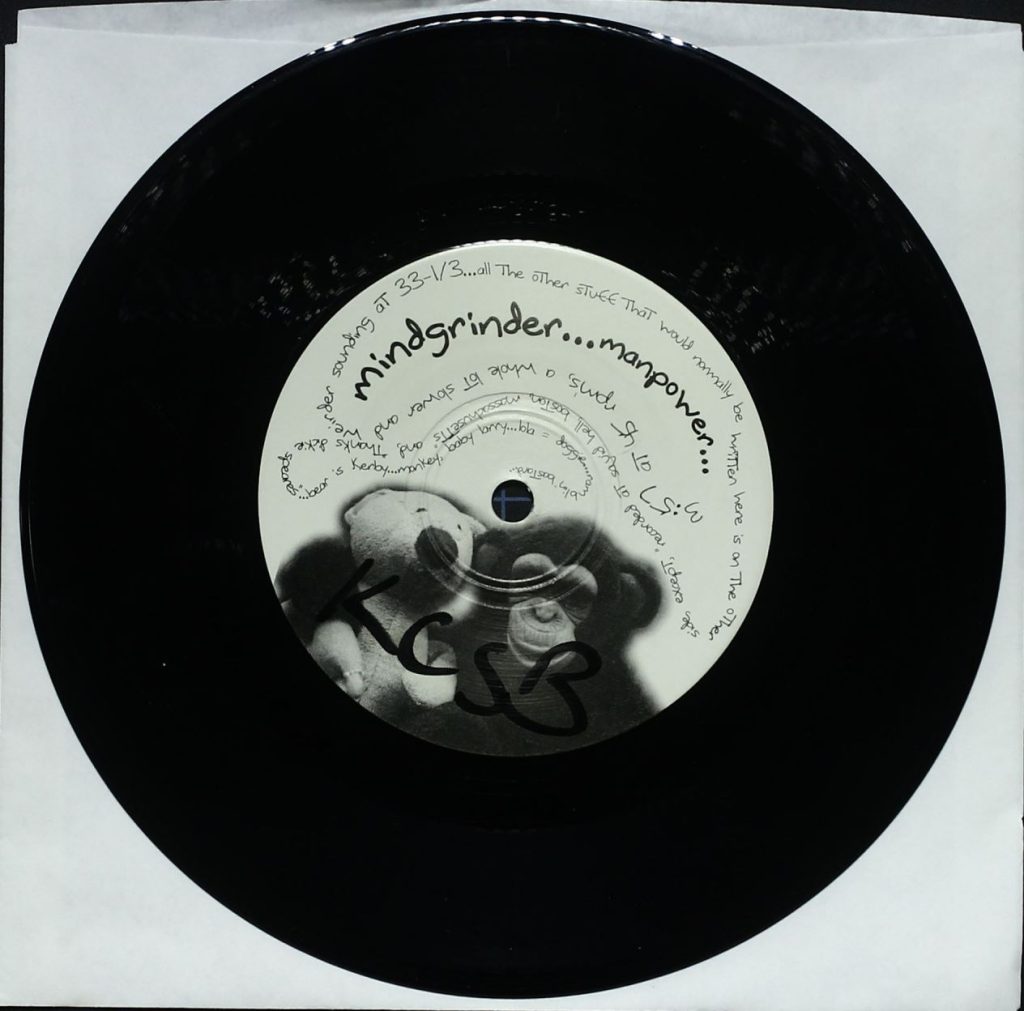 RIYL: to flex your ultra obscure taste in rock to your friends, Mudhoney, Polvo