Finnegan & Yousef's Top 25 Albums of 2020
KCSB's Internal and External Music Directors sat down to ponder the year behind them and the music that carried them through it. Here are their top 25 album picks from the mess that was 2020.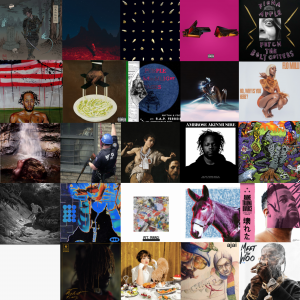 Yousef Srour: Internal Music Director
It's been a hell of a year. Starting quarantine in March and essentially living alone for 6 months was both the most harrowing & the most serendipitous experience that I've ever been faced with. It was a time of reflection and action, it was a time of peace and resistance, but most of all, it was a time of self-actualization.
I quietly asked myself, time and time again while facing the solitude brought upon by COVID-19, "Who am I?" It felt like a complete restart; it was a detachment from my past self. I came into this year thinking I knew who I was and what I wanted to become, but through uninterrupted meditation and traversing a world without the pitfalls of toxic relationships and ideations, I metamorphosed. I became an activist; I became a writer; I became a collector of vinyl; I became a connoisseur of independent media—I became one with the wind and one with the sky. I had constantly boxed myself in, thinking that, "This is it. I couldn't change," but quarantine showed me that we're in fact an ever changing populace, born to evolve.
I expunged myself from my chains and I let go of the people that had once held me back; I let go of a lifestyle and a personality that I had only been living in order to cater to others. I began to make decisions that were mine, and solely mine. I applied for my position as a Music Director here at KCSB, I applied for my internship at Passion of the Weiss, I branched out and made new friends on Zoom. I reinvented myself, but not with a tabula rasa—in the spirit of minimalism, I kept my favorite parts of myself and let go of what I no longer needed.
Music was the common thread. Music stayed with me this year when the world seemed dire and I couldn't see past the isolation. What I described was truly the hardest time of my life—yes, I grew, and yes, it was for the best, but it was agonizing and brought me severe anguish to say the least.
Countless musicians trudged by my side during this exploration of my own psyche, but there were few that genuinely understood my pain, and even fewer that could lift my spirits. Had Nipsey Hussle been alive and well, he would have certainly been on this list, as his music became the soundtrack of my time at home. He acted as a spiritual guide of sorts, illustrating to me how to find tranquility through all the chaos; how to lead with love and be a man of morals; how to be a revolutionary within my own community.
In this list, you'll find a variety of artists with all sorts of sounds, from the monotonous Chester Watson to the poetic R.A.P. Ferreira. I found solace in the freedom that Phoebe Bridgers and Fiona Apple brought me, as Punisher and Fetch the Bolt Cutters reminded me that there was a world outside the confines of my bedroom. I found politically-charged anthems to drive to Black Lives Matter protests to in Pink Siifu's NEGRO and Run the Jewels' RTJ4, expressing my vehement anger and distrust of the corrupt American political system. Best of all, I found a smile in Flo Milli's Ho, Why Is You Here? and reinvigoration in Pop Smoke's Meet the Woo 2, receiving bursts of energy through funny one-liners and basslines that reminded me that, through & through, I'm the shit. It's been a hell of a year, but here's the music that kept me going.
A Japanese Horror Film

– Chester Watson

Punisher

– Phoebe Bridgers

Visions of Bodies Being Burned

– clipping.

RTJ4

– Run the Jewels

Fetch the Bolt Cutters

– Fiona Apple

NEGRO

– Pink Siifu

Alfredo

– Freddie Gibbs & The Alchemist

Purple Moonlight Pages

– R.A.P. Ferreira

Heaven to a Tortured Mind

– Yves Tumor

Ho, Why Is You Here?

– Flo Milli

Græ

– Moses Sumney

Shrines

– Armand Hammer

Pray for Paris

– Westside Gunn

on the tender spot of every calloused moment

– Ambrose Akinmusire

UNLOCKED

– Denzel Curry & Kenny Beats

Descendants of Cain

– Ka

Couldn't Wait to Tell You…

– Liv.e

Mt. Marci

– Roc Marciano

Ultimate Success Today

– Protomartyr

Anime, Trauma and Divorce

– Open Mike Eagle

3.15.20

– Childish Gambino

It Is What It Is

– Thundercat

Sucker's Lunch

– Madeline Kenney

Ajai

– Kenny Segal & Serengeti

Meet the Woo 2

– Pop Smoke
Honorable Mention: Whole Lotta Red – Playboi Carti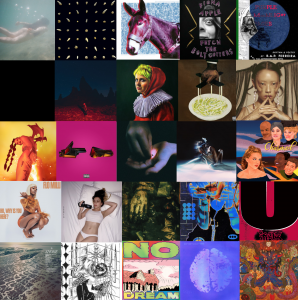 Finnegan Smith: External Music Director
This was a rough year for all of us, but thankfully it was a great year for music. With many big-name artists withholding their music until tours and live events are back on the table, underground artists took the opportunity to make a name for themselves.
This was a personal year of musical discovery for me, as the pandemic provided me with a fair amount of free time. The pandemic brought me from a successful student actor and new intern at the MCASB to an online college student forced to grapple with the sudden termination of future endeavors and opportunities. I spent the first couple months of the pandemic living more or less in isolation as many of my housemates went home for the rest of the school year when the news of online learning came out. I took advantage of this free time by exploring niche genres, discovering foreign artists, and catching up on old classics. My obsession with consuming new music drew me to the Music Director position here at KCSB, where my new friends and colleagues have made isolated living much less lonely.
Here are my top 25 albums of the year, from artists who made this year a whole lot more manageable.
Windswept Adan

– Ichiko Aoba

Visions of Bodies Being Burned

– clipping.

Ultimate Success Today

– Protomartyr

Fetch the Bolt Cutters

– Fiona Apple

Purple Moonlight Pages

– R.A.P. Ferreira

真っ黒

– tricot

Punisher

– Phoebe Bridgers

Notre-Dame-des-Sept-Douleurs

– Klô Pelgag

Alfredo

– Freddie Gibbs & The Alchemist

Sawayama

– Rina Sawayama

Phoenix: Flames Are Dew Upon My Skin

– Eartheater

RTJ4

– Run the Jewels

Stray

– Bambara

Heaven to a Tortured Mind

– Yves Tumor

Charmed

– DJ Sabrina the Teenage DJ

Ho, Why Is You Here?

– Flo Milli

How I'm Feeling Now

– Charli XCX

Mestarin kynsi

– Oranssi Pazuzu

Couldn't Wait to Tell You…

– Liv.e

NO

– Boris

Shore

– Fleet Foxes

What's Tonight to Eternity

– Cindy Lee

NO DREAM

– Jeff Rosenstock

Brainworks

– Dirty Bird

Éons

– Neptunian Maximalism
Honorable Mention: Because of a Flower – Ana Roxanne
The Music Department and the rest of KCSB's Executive Committee wish you a peaceful and prosperous new year in 2021! May music keep us connected.