LIVE-ON-AIR KCSB ROULETTE: FUND DRIVE EDITION!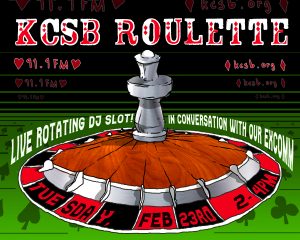 Tomorrow, we have an extra special LIVE-ON-AIR rotation for KCSB Roulette – the student staff of KCSB aka the Executive Committee!
If you tune in Tuesday Feb. 23rd from 2-4 PM, you'll hear curated mixes by our student staff accompanied by some light discussion about their past year working at KCSB, and what they love most about the station and grassroots radio. You won't wanna miss this special live-on-air event! 
As always, you can tune in here at www.kcsb.org, and 91.9 on your local FM dial.
If you missed this special broadcast, feel free to play it back
HERE
for up to two weeks!