On Friday, April 26th, KCSB-FM hosted a free art and techno show in the Red Barn Project Space. Featuring live sets by Nausea, Julien Andreas, Anaesthetik, and Sans Nom (one of KCSB's very own DJs), the Red Barn was transformed into a buzzing, bumping, technicolored dance party. Multimedia art installations by UCSB students gave the show an interactive aspect, with a mirror box ideal for taking selfies and wall projections that pulsed to the beat. If you missed it, check out the photos below for a recap of the night!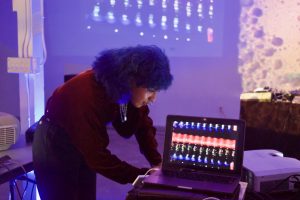 KCSB's general manager Alyssa Saldaña ensuring that everything runs smoothly.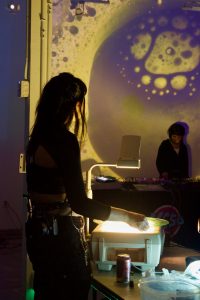 Kiyomi messes around with the interactive backdrop, creating a heartbeat-like projection that pulses along to the beat.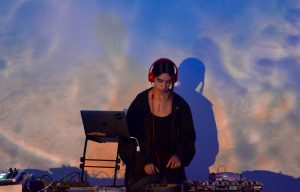 Nausea closes out the night with a mixture of heavy drums and bass.
A big thank you to the contributing musicians and artists, as well as to the Red Barn Project Space for hosting! Be sure to check out our gallery for more photos.