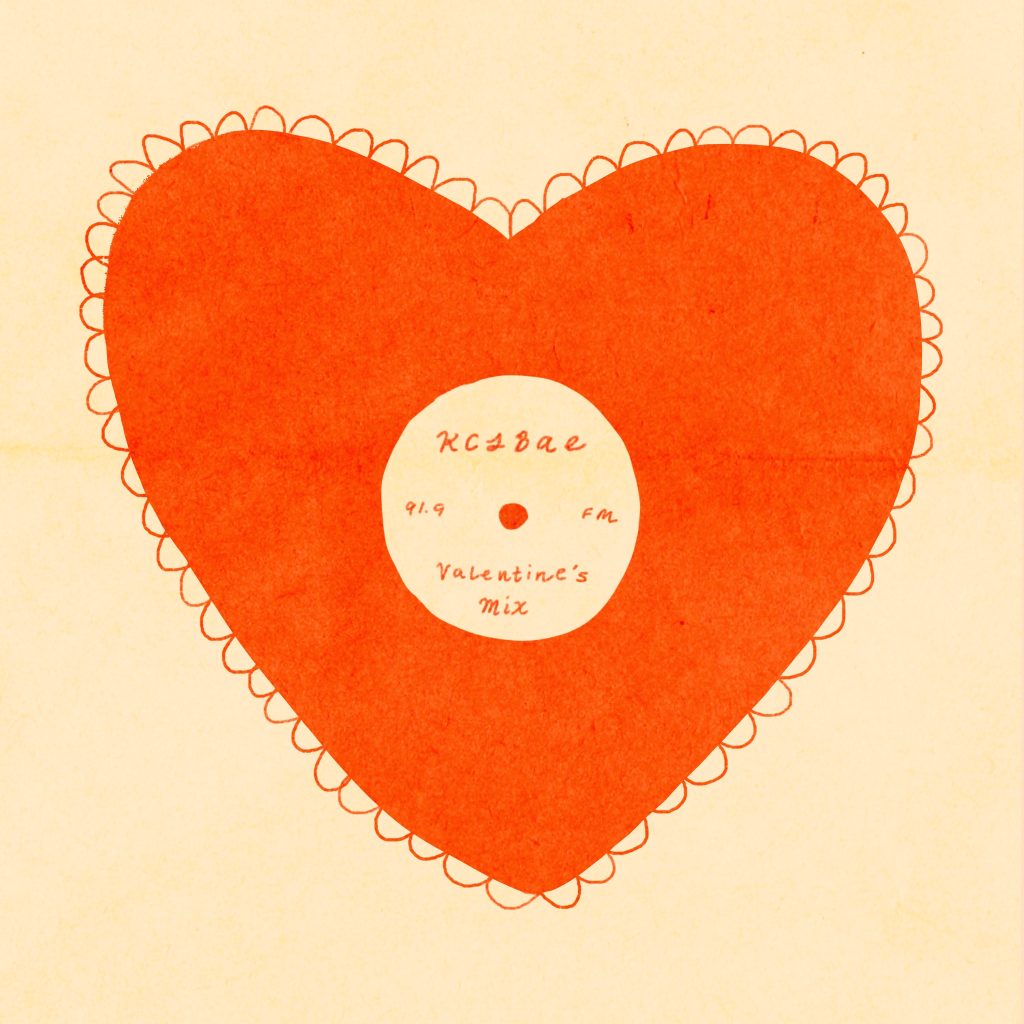 It's Valentines Day, and whether you're a lover or a loner, KCSBfm's Executive Committee's got the tunes to keep you covered.
MARION'S RECS 
"Tender" by Blur

This song's lyrics do a really good job of describing the best part of falling in love with someone, which is that they see all that you are, and love you fully- faults and all. I found this song through the movie

Aftersun

– it's a super sweet film, with an amazing soundtrack- and it's about a woman named Sophie making sense of memories from a vacation to Turkey she took during her childhood with her father, Calum. 
"My Girl" by Slaughter Beach, Dog (live)

This is one of the most tender, silly, and sweetest love songs I've ever heard. I especially love the fingerpicking of the guitar (even though I tried to learn it and it was a lot harder than I thought it would be). I also love Jake Elwad's voice so much because of how soft and earnest it is. I highly recommend checking out the version on the album

Live At The Cabin

. 
"Always Together With You" by Spiritualized

The beginning of this song has to be my favorite part, when Jason Pierce says that he would be anything from a radio, an airplane, and a rocket ship if that's what his lover wanted. It's such a crazy promise to make to somebody, but somehow it not only resonates with me, but makes perfect sense. Additionally, the instrumentals of this song are phenomenal, they do an amazing job of evoking images of floating around in outer space. This is another album I highly recommend as a whole- it is definitely my favorite one by Spiritualized.
JACK'S RECS
"Happy and Well" by Thee Sacred Souls

As soon as you hear this song start you immediately feel the romance in the air. Off of Thee Sacred Souls' self-titled album, this modern soul track talks about how perfect life would be "if you were my baby," the perfect song leading up to Valentine's day as you prepare to declare your love for that special someone in your life. This song just emits so much of that blissful feeling that it is impossible not to have a smile on your face as you think of your love.
"Effortless" by Upstrz

This song is more of a contemporary r&b gem that, as expected, includes incredible vocal range and runs all throughout the song. Once again, in the spirit of Valentine's day this is all about coming to the realization that that special person of your dreams was right in front of you the whole time, because loving them and doing anything with them is just so easy.
"Pleasure" by Dylan Sinclair

Coming from one of my favorite new up and coming artists, Dylan Sinclair, "Pleasure" is a bit more sensual then the previous two songs I put in this playlist. It has such an ethereal feel to it, talking all about making love, focusing on your partner, and experiencing the moment together as you take in every inch of each other's bodies. It's definitely one to add to that playlist you have saved for those special occasions, and although Valentine's day is all about the cute romantic side of things, it's always nice to add a little spice, because for every Valentine's day, there is also a Valentine's night 👀.
JUSTIN'S RECS
 "Picture" by feeble little horse

I was listening to this song today and thought it was really sweet and romantic. I like when love songs are mundane and kind of about nothing.
"Sex Jam Two: Insect Incest" by Milemarker 

It's a love story from the perspective of a bug.

I wish I could peel away your humid human skin

And attach you to me, parasitically

I wish I could peel away your humid human skin

And attach you to me, parasitically
"Valentine Card" by Unwound

I searched "valentine" in my Spotify playlist and this is the only song that showed up besides MBV's entire discography.

This live performance of the song

is super intimate, especially when Justin Trosper starts crawling on the floor.
MARLEY'S RECS
"Kinky Love" by Pale Saints
My favorite lyric of this song is "I lie here somewhere in limbo land." The rest of the lyrics are cool aka super horny. 
"You're Wonderful" by Bon Voyage 
I love Bon Voyage!!! This song is like a distorted version of Sleep Walk by Santo & Johnny. It's a romantic song to dedicate to ur luvr <3
"It's No Wonder" by James Swanberg 
The guy who wrote this song made a shirt that says "I helped James get 1 million streams!" I think that's awesome. 
DORIEN'S RECS
"S U B U R B I A" by KeithCharles Spacebar

Dreamy and ethereal, this is a song for those times you're trying to reeellaaaax. "All the houses look the same, I give her what she searchin for" rings through my mind every time I listen.

"can't let u go" by Dazegxd

You ever dance with someone else? Not like ballroom prom dancing, but like DANCE dance? That's life right there.

"The Heat" by Toni Braxton

This song… THIS is the one. I don't know what that plucky, string instrument is but it sounds so good. Her voice, her use of melody, the beat—one of my all time favorite songs, what can I say.
CLAUDIA'S RECS 
"On the Palette" by Qypthone

For the artist in your life who loves yelling at you to stay still while they get your image down. 
"Love Me For Real" by Rim Kwaku Obeng, KASA

Rim Kwaku Obeng and his team made energetic Afro-funk hits in Ghana. It's fun disco layered with serious lyrical demands about respect and old-fashion romantic values. I also think it's funny and charming when she childishly goes "No way, no way, no way!"
"The Way I Are" by Timbaland, Keri Hilson, D.O.E.

Timbaland's neurodivergent, anti-capitalist, anti-car Valentine's manifesto. 
SHIRLEY'S RECS
"Love at First Sight" by Kylie Minogue

The intro to this song is the most epic thing ever. The perfect candy-crush sugar-fueled piece of pop idealism.
"Any Time, Any Place" by Janet Jackson

Jackson takes her time on this song and it pays off. Features the sultriest whistling you've ever heard.. 
"Inside My Love" by Minnie Riperton

A song so sincere in its desire, blushing yet direct. 
BECCA'S RECS
"Express Your Love" by Sweet & Innocent, The Memphis Mustangs

I love how simple this song is while still remaining dreamy and reminiscent of love. Sweet & Innocent makes me feel like I'm running through a meadow with my lover's hand in mine sometime in the middle of the summer.
"Coast To Coast" by Female Species

This song is a testament to how committed we are willing to be in our close relationships. I also think this song can be applied to not just a romantic love but also love between friends, siblings, parents, etc. My favorite lyric is "You give it love when I need it most" because it really reminds me of the people in my life who give me love, care, attention, and support when I need it most.
"Call Me" by Aretha Franklin

My favorite Aretha song that was a constant ballad running through my mind when I experienced my first love. 
AIDAN'S REC
"Bésame Mucho" by Lila Downs

As far as love songs go, Bésame Mucho is classic. No matter which artist is covering the tune, its simple and melodic refrain conveys a feeling of pure tenderness and romance most other compositions can't match, at least in my opinion. However, the version of Bésame Mucho recorded by Lila Downs on her seminal 1999 release,

La Sanduga

, takes the song's sentiment to its extreme, with a rousing vocal performance that accentuates every bit of tension and release it contains. 
JACKIE'S REC
"Anemone" – The Brian Jonestown Massacre

You know who you are 🧚🏼‍♀️