December's Add of the Month: Ichiko Aoba's Windswept Adan
KCSB's music department is sitting down each month to write to you about one album added to our music library that left a strong enough impression on them to be crowned Add of the Month. In December, External Music Director Finnegan Smith goes in depth on Ichiko Aoba's latest album, "Windswept Adan," released on her label, hermine.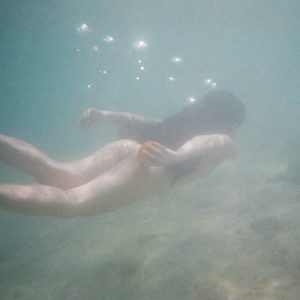 Image courtesy of hermine, 2020
Ichiko Aoba is a folk singer/songwriter born in Urayasu and raised in the former Japanese capital of Kyoto. Aoba's career began in 2010 when she released 剃刀乙女, or Razor Girl, at the age of 19. Since, Aoba has become known for her stripped-back, acoustic style of contemporary folk; the vast majority of Aoba's first five albums consist of recordings of only her and her guitar. Her modest style creates a sense of intimacy between her and the listener, as the simplicity of her recordings erases any doubt about the authenticity of her work. When you hear Aoba's music, it has the unique quality of sounding the same in the recording studio as it does in person, and vice versa. Even when Aoba began including nature and field recordings on her 2013 album, 0, she did so in a way that draws the listener into her own fantasy world further rather than polluting her intimate musical atmosphere.
With Windswept Adan, Aoba branches out from her traditionally minimalistic approach to contemporary folk to incorporate chamber folk instrumentation including ensemble string instruments, piano, and woodwinds. Aoba called on composer Taro Umebayashi to help her compose and arrange the album. This marked her first official album where the compositions wouldn't be exclusively her own; Umebayashi is credited as the sole composer on seven out of the album's fourteen tracks and is credited as Aoba's collaborator on two more. Windswept Adan is also Aoba's first album released on her own label, hermine, which she started earlier in 2020 to celebrate the 10th anniversary of her first project, and in turn, the beginning of her career as a musician. She describes the album as a "soundtrack to a fictional movie" she created in her head. The album's cover art, depicting a nude Aoba swimming underwater, orange in hand, falls in line with this idea of a fantastical story and represents the serene sound of the album extraordinarily well.
The project begins with "Prologue", which sets the tone for the album with sounds of ocean waves and wildlife, beckoning background vocals, and chimes, all of which contribute to the aquatic and tranquil themes of the project. In the second half of the track, Aoba's spoken word passage sets the stage for the journey at hand, through a wondrous land she calls the "Adan". The subsequent "Pilgrimage" represents the beginning of this journey, with layers of ascending chamber instrumentation driving the track forward. On "Porcelain," the sole single from the album, the soaring strings and twirling guitar arpeggios create a transcendent soundscape.
What makes Windswept Adan so special is its sincere portrayal of a voyage in an ethereal land. The excited and swift guitar patterns on the album's third to last track, "Dawn in the Adan", embodies the elation that comes with exploration. An obvious standout on the project, Aoba's serene and earnest vocals on the hook usher the listener along in their journey, reminding them not to falter as they close in on the final stretch. The track serves as a reminder that even as one adventure ends, another will soon begin the next day.
Windswept Adan closes with "Adan no Shima no Tanjyosai," Aoba's own brand of a triumphant conclusion. The track begins just as her career started, with the intimate bareness of just Aoba and her guitar, strumming a charmingly simple melody. Aoba is eventually aided by ascending string arrangements, leading into a soothing crescendo, eventually giving away to nature recordings reminiscent of the album's first track. The project ends just how it started, with the sounds of ocean waves crashing in the distance. You smile, worn out but satisfied with your recent expedition, as your eyelids begin to feel heavy. It's time to rest; you have a big day ahead of you tomorrow, and you mustn't be tired for your next adventure.
Album review by KCSB's External Music Director, Finnegan Smith