fragmented selves – a playlist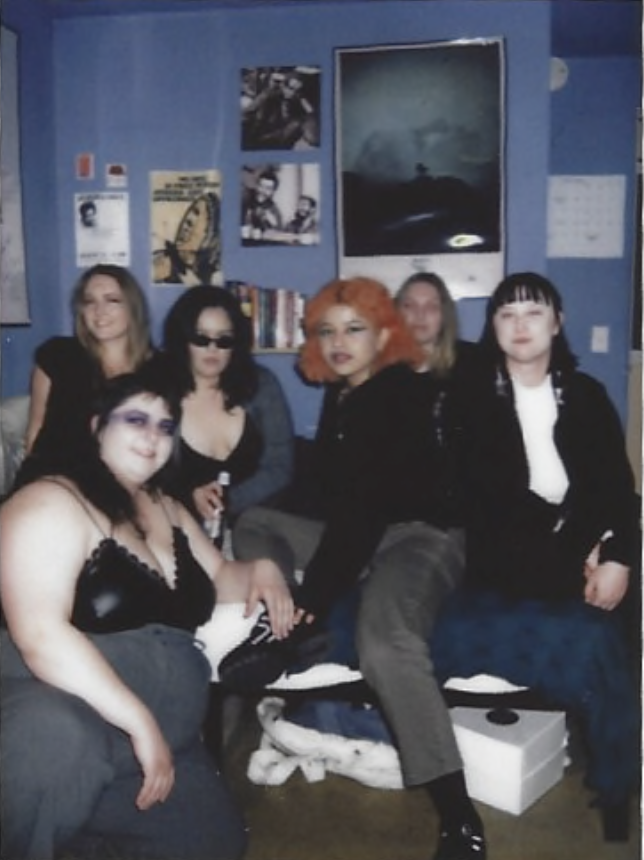 Composition of multiplicities and contradictions.
Soft Touch – dreams don't forget
Soft Touch, a solo project from Detroit, Michigan, released Maybe Something, Maybe Nothing in 2016. Their work recently received attention from Detriti Records, a label from Berlin, Germany that primarily releases post punk, new wave, dream pop, EBM, and industrial music. Maybe Something, Maybe Nothing was re-released by Detriti in 2018. dreams don't forget is a sweet opener to this set as it sets the tone for ethereal, lush soundscapes.
Lydia Lunch – Atomic Bongos
Onomatopoeia. Lydia Lunch's in-your-face lyricism and meter in the track, Atomic Bongos, accurately represents the track title's sound. Released in 1980, Queen of Siam was Lunch's debut solo album, but has a preceding project, Teenage Jesus and the Jerks. Lunch and her associated projects are well known for pioneering the short-lived No Wave movement in New York City. Lunch has been a strong advocate for feminism, anti-commercialism, and an overall "fuck you" ethos.
Flesh Parade – Bout Had' It
In 1997, Flesh Parade was signed to Relapse Records, an independent label releasing mostly grindcore, death metal, and sludge metal. The band formed in 1990, but almost all original members exited before making Kill Whitey. Perhaps one of their most legendary albums, Kill Whitey is humorous, fast, and gritty. Flesh Parade recently played Deathfest in the Netherlands and are scheduled to play in the near future.
KOMMAND – Wasteland
Feast your ears on Los Angeles Death Metal band, KOMMAND. Their most recent release, Demo 2018, has been on repeat for quite some time now. I first saw KOMMAND at a show in DTLA and was blown away by their performance. Vocalist Jesse Sanes, freaked the f*ck out of me but nonetheless blew me away. Jesse Sanes is also in the punk band, Hoax (later mentioned in this article). Drummer Sam Bosson also plays in Blazing Eye, Condition, Lock, and more. Once you hear KOMMAND you'll be stuck on them for a good minute.
Nacht Analyse – Autobahn
Autobahn is an ultra-rare find – perhaps representative of the 80's itself, or at least the best of. Nacht Analyse , in their album Sternentaufe  discuss the sociopolitical issues of Germany. Still, they effortlessly both romanticize and critique their experience due to new-waves combination of monotonous, yet pop-like sonic structures. This song is definitely a track to spin while you are DJ'ing a party or show.
Sewn Leather – 4000 calories
Previously working under Skull Katalog, Griffin Pyn releases a similar punk, grunge style in his more recent project, Sewn Leather. Sewn Leather, though currently inactive, has released a variety of works under Night People, Hundebiss, and more. The project surprisingly has a split with Hoax (mentioned above), a punk band from Massachusetts. Pyn's work is extremely versatile as he also collaborates with Max Eisenberg in Dog Leather, an experimental hip-hop duo.
Slowdive – Summer Daze
Simmer down to Summer Daze by Slowdive, a true and underrated gem. Slowdive, named after a Siouxsie and the Banshees song , is best known for their work Souvlaki. But few know of their unreleased demo featuring songs Richard, Summer Daze, and Hide Yer Eyes.  These songs are absolutely Slowdive's best (unpopular opinion(?)) and evoke a nothingness that is comforting and whole.
Stapled Shut — Just Another Day
West Covina powerviolence/fastcore band, Stapled Shut, is one of the less praised bands in the PV Worship scene. Stapled Shut formed in 1991 and their lyrics concerned Chicano L.A. life in the early 90's. Just Another Day is off the album, L.A. Times, released in 1996. Stapled Shut was also featured on the Cry Now, Cry Later Compilation 2 created by founder of Pessimiser/Theologian Records and member of Despise You, Chris Elder. Cry Now, Cry Later is a series of  double 7′ power violence compilations that feature the best grindcore, powerviolence, sludge, and punk at the time (I even have a tattoo of it on my right arm). Stapled Shut is going to play Vancouver Speed Fest this year along with many other notable acts including World Peace, Family Vacation, Powertrip, Shooting Spree, Sixbrewbantha, and more!!
Just the Right Height– Sessance 
Just The Right Height ends the playlist off with a stable, yet frantic feeling– ultimately due to the nature of Keke Hunt's stop and go meter. Hunt's first full-length debut album, Let Forever Be Only You Tonight, is released off of the label SheRocks!. Throughout the album, Hunt analyzes female objecthood and satirizes pop lyricism. Hunt's lyrics are formed through an online lyric text generator, specifically gathered from the most often used lyrics in popular songs today. The aim (i.m.o.) is to articulate pop artists tendency to exonerate a personality that parallels mainstream values of society, their fans, and commerciality. The album as well as her other works sound like a less chaotic and aggressive, Girl Pusher, a cyberpunk duo from Los Angeles.
playlist made by 0*.
0*'s program, six feet under, airs every Wednesday 8-10p.  find their playlists (((here))).