Disco Night! Thursday, October 26!
Join KCSB-FM on Thursday October 26th for a night of dancing under our spotlights, a mirror ball… and the stars, in UCSB's Storke Plaza, from 630-930pm. KCSB's first-ever "Disco Night" honors some of the funkiest music ever pressed to vinyl, while hearkening back to a discothèque era popularized during the 1970s and early 1980s.'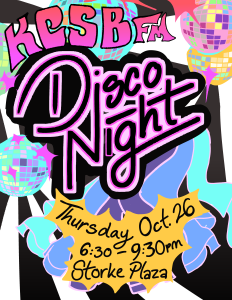 This event is free and open to the public, and we encourage everyone — from UCSB students to anyone from the greater Santa Barbara community — to come out and dance with KCSB!
Disco has been criticized by some as being a particularly "synthetic" music, a shallow genre lacking in the "authenticity" of other genres. This line of thinking holds that disco music could never approximate the improvisational wizardry of jazz or the "seriousness" of rock music. 
Such notions are absurd.
Disco music was often constructed in studios to be played off vinyl records in  nightclubs, rather than being performed live by the artists themselves. Disco music gave audiences a chance to be performers instead. Rather than crowding thousands of people into an arena or stadium where microscopic specks in the distance played music to the audience, disco music was built on the immediacy of making audiences feel like they were an essential part of the experience. Disco allowed people to express themselves through modern dance and fashion in ways that defied the stilted sensibilities of the prior order, as well as providing the base for what would eventually become house music. 
Join us at KCSB as we celebrate the legacy of a genre that has served as a vital melting pot for POC artists, lush divas, queer forebears, and synthesizer-obsessed Europeans.

We encourage period- or genre-appropriate fashions… or catch the "night fever" in your best Halloween costumes of choice!
As Sylvester once sang, "Dance with me in the disco heat / come on and dance." 
DJ Lineup
DJ Darla Bea (host of "Rock It Properly," which airs Sundays on KCSB from 8-10pm)

DJ Tea ("Steeped in Sound," Thursdays 7-8pm) 

Sans Nom ("The Blacklight Special," Sundays 8-10pm) 

Gryphn ("Smiley Smile," Saturdays 9-10pm)

DJ Clementine ("Just Two Girls," Fridays 1-2pm) 

DJ Penny Lane ("Echoes of the Revolution," Fridays 12-1pm)

DJ Steely Friedan ("Welcome to Xanadu," Mondays 3-5pm)