Over the course of a decade, Crash Symbols has been on the ground floor of bringing otherworldly cassette goodness to tape decks around the globe. Just this year alone, the label is boasting releases like the dadaist ambient of Ylangylang, the collaborative psychedelic jams of Spiritczualic Enhancement Center, and even the raw pop of Plant Lab. Nevertheless, it felt like a good idea to check in with Dwight and Liz Pavlovic, the two people running the Crash Symbols tape label braintrust and reflect briefly on mp3 blogs, advancements in bandcamp merchandising, and how artists are continuing to find the label years later.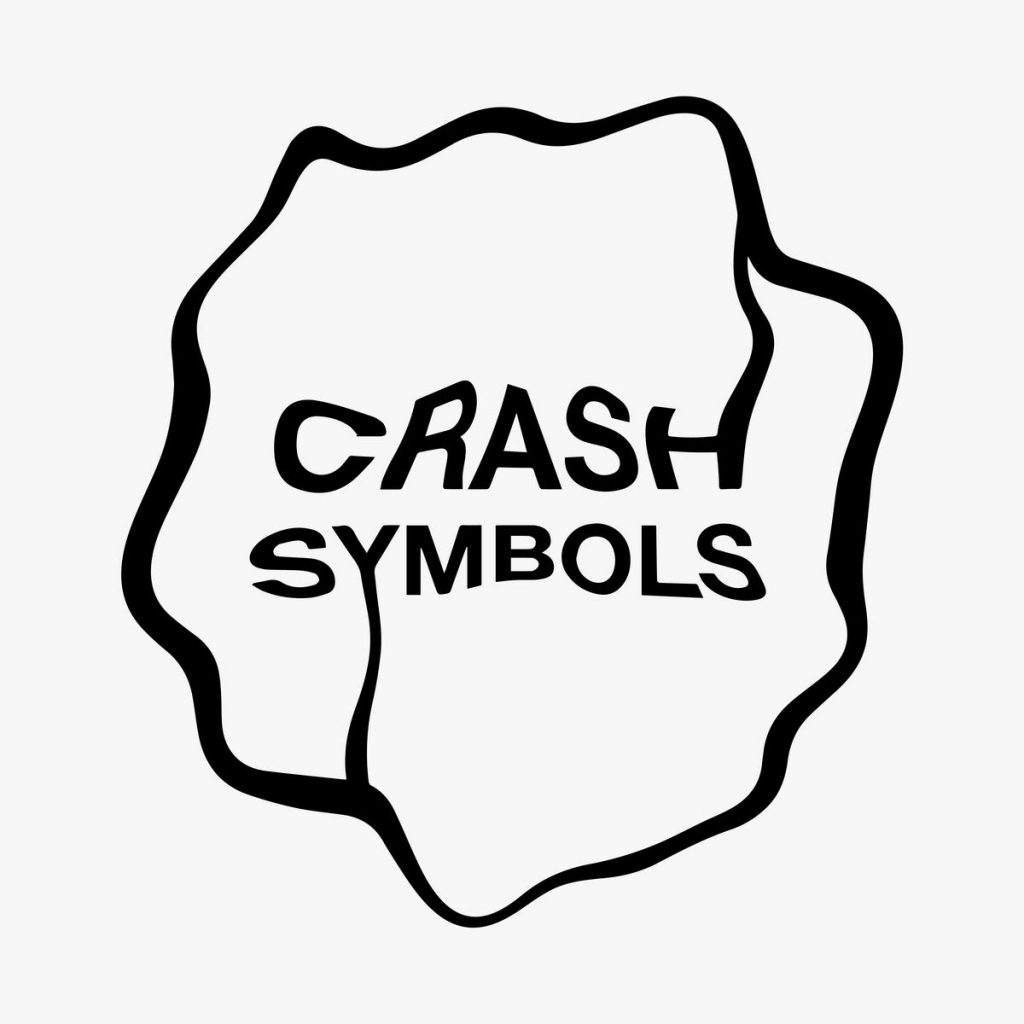 Dwight: Deathbomb is good fun and so was that Foot Village repress of course! We had a lot of fun  getting that one out. I still enjoy the look of that one-our old partner Jheri [of GOTC] did a great job on the art.
In general though, what kickstarted the conception of Crash Symbols and how has it changed over a decade? 
Dwight: Crash Symbols actually sort of grew out of an mp3 / tape blog, Get Off the Coast [tied to Altered Zones]. We ran both projects with a third partner, so the overall sound was a bit more varied… more based on the overall sound we were covering at the site. The label was a big leap, but we were also fairly confident because we spent most of our time looking at tapes and other labels.
Liz: We've definitely honed our visual identity over the last decade, so I like to think the look is a good bit more consistent than it was initially. We've also tried to include more unique merch items to accompany our releases over time. In the last year we've done a lot of new stuff: a shirt, handmade lyric sheets, and even locally crafted scrying bowls.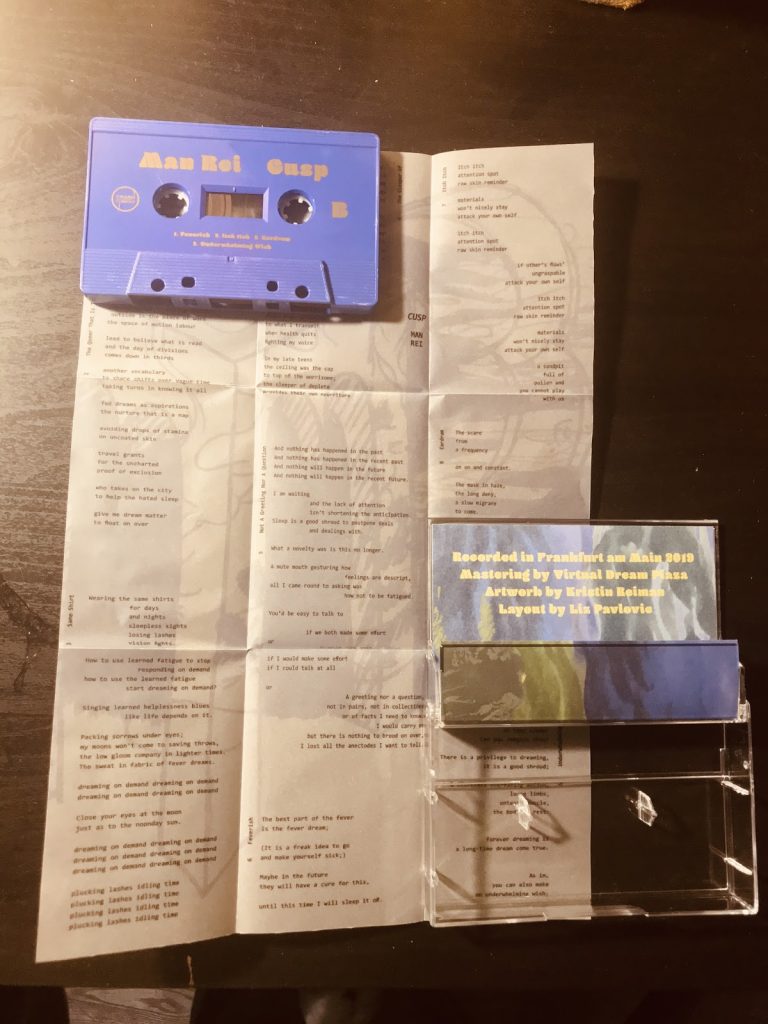 It seems that Crash Symbols has been excelling at crate digging for sounds from around the world. Does that attract a small, dedicated global audience, is it much more US-centric based around mp3 and tape blogs? 
Dwight: Early on, we depended a lot on small press and blog coverage. Our big overseas buyers were casual collectors in France or Japan. Now things are much more spread out, in terms of our catalog and listeners. 
Liz: I think we've been lucky to be able to build a diverse fan base over the last ten years; the label has provided a great opportunity to connect with folks from all over the world.
How many artists locally and internationally have you all worked with and what has been the release you are most grateful for having had an opportunity to put out? 
Dwight: Dozens, definitely hundreds if you count compilations and splits and stuff outside of the label. The rest of that question is increasingly difficult to answer as the label gets older, we really are grateful for each album we work on… having a chance to contribute, even a little, to the life of those works is extremely humbling. I do admit though, I think we've gotten better at our jobs over time, and that probably does make each new release a little more satisfying.
Liz: In 2016, we started an imprint called Easy Bay with a friend from our time in Oakland, CA — the same year of the Ghost Ship fire. The compilation we released, "House, Disco, Boogie, and Other Oddities" is the album I'm most grateful to have had the chance to put out, as it featured so many talented East Bay artists and inspirations like Cherushii. I also really enjoyed working on the art and visuals for that release and the label as a whole — hoping we'll be able to revisit it someday.
How long on average does it take to put out a tape-from an artist being contacted to the final release day? 
Liz: The average is getting longer and longer actually. Sometimes we move quickly and elements come together fast, but it can take years if an album isn't fully formed. One or two delays and a change of direction can drag things out, so that sometimes has consequences for other releases in our queue. 
Dwight: It also depends on the method of contact. We're slow enough, usually, that Crash Symbols is primarily demo driven. We're grateful for that aspect of things; that we don't have to rely on just what we can find on our own. Often we can get things moving more quickly with demo submissions, since artists typically have at least a mostly final work in hand. Then we talk about things like mastering, artwork, packaging, extra merch, etc.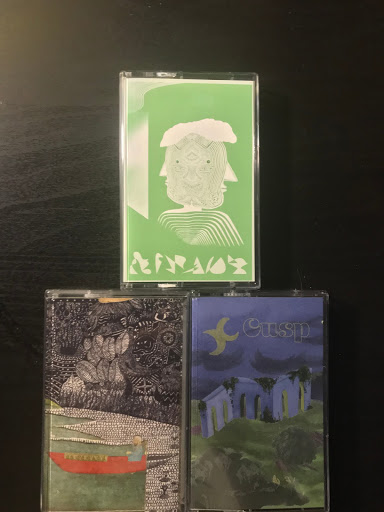 The label has a lot of different art, not defined by one aesthetic! Do artists choose the art themselves and is there any oversight? 

Liz: We were a bit all over the place in the beginning in terms of how art was dealt with, but over time we realized we wanted more control over the label's look as a whole — so we often help in finding someone who can do the art if we can't do it ourselves. I've done art and/or layout for a lot of our releases, sometimes collaborating with the artist on various aspects. 
Dwight: We try to lay our process out as clearly as possible at the outset. Everyone works differently though. Tape experience is great. A good eye for layout and type is way more important, especially since we use the j-card layout for most purposes. Liz and I very occasionally work on collage stuff together, but we've been a little too busy recently.
Finally, a rat is going to jump in your mouth-head or butt? (We used to ask this to all acts coming through our live studio 🙂 )
Dwight: Definitely head, I mean, that seems like a no brainer. I guess it depends on how well you know the rat. I mean, if the rat is voluntarily jumping into your mouth, I assume it's not to chew on my tongue?
Liz: I'm gonna go with the head — seems better for both of us.
Interview conducted by Matthew McPherson.