Call into the KCSB Sports basketball postgame show!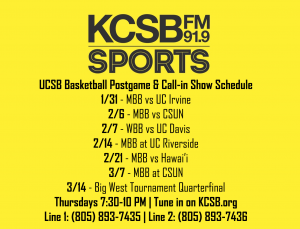 For the Winter 2019 quarter, KCSB Sports is doing a two-and-a-half hour call in show for UCSB basketball games! The schedule is as follows:
1/31 – MBB vs UC Irvine
2/6 – MBB vs CSUN
2/7 – WBB vs UC Davis
2/14 – MBB at UC Riverside
2/21 – MBB vs Hawai'i
3/7 – MBB at CSUN
3/14 – Big West Tournament Quarterfinal
Tune in right here on KCSB.org on Thursdays from 7:30-10 PM!
Line 1: (805) 893-7435
Line 2: (805) 893-7436