Buddy Guy at the Hollywood Bowl
Our Internal Music Director, Marion, made her way to the heart of Los Angeles to see American blues legend, Buddy Guy, take the Hollywood Bowl. Keep reading for her recap and review. 
Words by: Marion Suchowiecky
It is difficult to overstate the influence of the blues on American music. If one traces back the lineage of almost any "American" music genre, and by extension, most international rock & hip-hop music subgenres, it leads back to the blues. So, when I found myself at the Hollywood Bowl, on what could have been any old Wednesday night, watching Buddy Guy shred on his Stratocaster while he sang "Damn Right I Got The Blues," I simply could not believe my luck. Buddy Guy is one of the last remaining links to what is often called the "first generation" of blues musicians. This first generation, including Howlin' Wolf, Muddy Waters, and Little Walter, is exactly what Mick Jagger, Keith Richards, Paul McCartney, and John Lennon tried to emulate when pioneering the genre of classic rock. Buddy Guy knew all of those guys; he collaborated with them, and he learned from them. At 87 years old, after a lifetime of blues, he walks on stage at the Hollywood Bowl wearing a pair of gray overalls with a blue patterned button-down shirt, sporting a cap that appropriately says "legend."

One might think that after a lifetime of service to music, Buddy Guy would be ready to take a well-deserved break. But, in his first proper address to the audience, he points to the crowd like a grandfather scolding his youngest grandchild and says: 
"Now, I know they don't play this type of blues on your radio no more… which is why as long as I can, if you ask me, I'm gonna bring it to you." 
This sense of passion and duty towards this music is palpable, and it energizes the crowd. Guy joked around with the crowd like a schoolboy, hinting at sexual acts with his guitar when the lyrics of his songs took a racy turn. At the same time, it was as if he knew that some of the people in the audience were inevitably wondering "Has he still got it?" With his sick sense of humor, he would purposefully play a few wrong notes, or start the song a bit too slow, only to suddenly pick it up at the perfect tempo pouring incredible energy and emotion into his howling note bends. In the middle of one of his songs, he slowly walks over to one of the tall speakers, places the guitar on top, throws a rag over the neck of the guitar, picks up a drumstick, and proceeds to play the "Smoke On The Water" riff. He has a smirk on his face, signaling to other guitar players in the crowd that he is IN on the joke. 
Everybody knows that with age comes patience, and this virtue has allowed Buddy Guy's phrasing to absolutely shine on stage. This is a musician who has already proven his worth a million times over, so he gives himself ample time to develop melodic ideas in his solos instead of attempting to win over the crowd with quick licks. The result is a masterclass in tasteful phrasing. Guy often began his solos by playing as little as one note within a four-bar phrase. Gradually, he would amp up the energy in the solo, making sure that each musical thought was fully articulated and carried out to a beautiful conclusion. 
Christone "Kingfish" Ingram, who hails from Mississippi, the birthplace of the blues, was the opener for Buddy Guy. While Buddy Guy took his time with phrasing, Ingram's guitar playing was like ceaseless wildfire. From the moment he walked onstage, until the moment he walked out, he shredded through tunes under the clear influence of later generations of blues players- like Stevie Ray Vaughan and Hendrix. Ingram's guitar playing was spectacular, to say the least- technically flawless, melodically nuanced, and filled with just the right amount of blues riff magic to keep the crowd yelling "hell yeah!"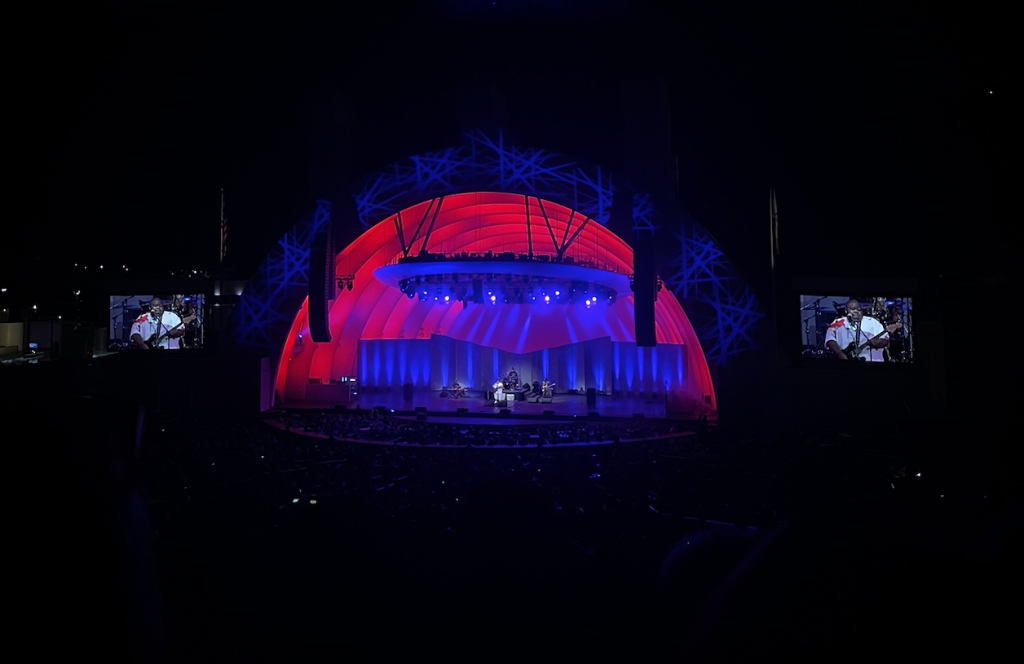 At the end of Guy's set, he invited Jimmie Vaughan, Ingram, and his son, Greg Guy onstage to play a tune by Stevie Ray Vaughan. This action, coupled with the billing of this show, was an acknowledgment from Guy that a brand new generation of blues musicians is here- a generation that has grown up under the influence of both blues, all forms of rock, and jazz. Watching this show was like watching Guy pass on the baton to the new guys, all while crossing his fingers behind his back with a smirk on his face. The veneration from both ends of the generational gap was tangible, and between this gap, the audience could sense a very sturdy bridge that was held up by a commitment to keep blues – in all its forms – alive.