February's Add of the Month: Black Country, New Road's For the First Time
KCSB's music department is sitting down each month to write to you about one album added to our music library that left a strong enough impression on them to be crowned Add of the Month. This month, External Music Director Finnegan Smith goes in depth on Black Country, New Road's latest album, "For the First Time," released on Ninja Tune.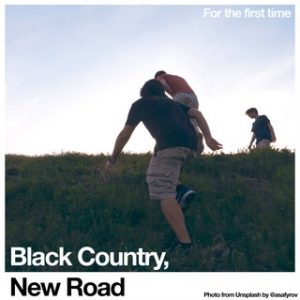 Image courtesy of Ninja Tune
Black Country, New Road is a seven-piece post-rock outfit who formed in London in 2018. The band consists of Isaac Wood (lead vocalist and guitar), Georgia Ellery (violin), Lewis Evans (saxophone), Tyler Hyde (bass), May Kershaw (keyboard and synthesizer), Charlie Wayne (drums), and Luke Mark (guitar). Black Country, New Road is a notably young group, with the majority of its roster barely eclipsing the age of 21.
Six of the band's seven members played together as teens in Nervous Conditions, which dissolved in early 2018 following sexual assault allegations against Connor Browne, the band's lead singer. Shortly after the dissolution of Nervous Conditions, the majority of the remaining members would form Black Country, New Road, with Wood stepping in to become the band's lead vocalist.
According to Wood, the band's name is meant to suggest finding a "good way out of a bad place", a reference to the group's rebirth after the demise of their former alias. The band got right to work, releasing two singles in 2019 and quickly gaining traction in the underground music scene. The first of these two singles, "Athen's, France," was released on Speedy Wunderground, a predominantly singles-only record label also behind break-out singles from other up-and-coming Londoners, black midi and Squid. The band would release their second single, "Sunglasses," on the label to further critical acclaim later that year.
Black Country, New Road became known in the London underground scene for their blistering live performances at The Windmill in Brixton, a venue known for hosting the best rising talent in the city.
Despite only having released two official songs going into 2020, the hype surrounding the band was unreal. The band would release two additional singles leading up to the February 2021 release of their debut, the noisy and climactic "Science Fair" in 2020 and the bittersweet and minimalistic "Track X" in early 2021.
Released on electronic label Ninja Tune, For the First Time includes only two entirely new songs, with two singles and two re-recordings of previously released tracks comprising the bulk of the project's tight 6-song, 40-minute runtime.
The project begins with "Instrumental," a klezmer and dance-punk tinged opener that, as its title suggests, serves as a driving, instrumental curtain raiser for the project. Directly following is the first of two reworked and re-recorded singles, "Athens, France." Feeling that they had grown past the explicit lyrics of the original version, where Wood goes into details, using semi-autobiographical accounts of his time as a victim in a sexually abusive relationship with an ex-girlfriend, the band decided to re-evaluate many of the lyrics concerning their relationship. Lyrics such as "I come down in her childhood bed/She tries to fuck me/I pretend that I'm asleep instead" and "She won't give up/Too soft to fuck/But how hard could it really be?" are replaced with "I come down in her childhood bed/And write the words I'll one day wish that I had never said" and "It won't give up/Too soft to touch and how hard could it really be?", respectfully. Originally titled "Athen's, France" in reference to a trip to Wood's ex-girlfriend, Athen's, hometown of Paris, France, the omission of the apostrophe is the last step the band took to purge references to the female antagonist. Lyrics such as "Now all that I became must die before the forum thread, the cursed vultures feed and spread the seeded daily bread" show Wood's discontent with the experiences he outlined in the original version of the song being closely dissected by the media and music communities, or "vultures," and the assumptions being made about him and the ex-girlfriend involved in the story he told. Aside from lyrical changes, the re-recording also includes a stripped back and melodic outro that contrasts well against the angular math rock riffs at the beginning of the song, a shift away from the chaotic and aggressive ending of the song's 2019 release.
Following "Athens, France" is "Science Fair," a crescendo driven amalgamation of art rock, free jazz, no wave, and post-punk. Lyrically, the song loosely narrates multiple embarrassing experiences a young man goes through in his attendance at a Cambridge Science Fair and the Cirque du Soleil.
Next is "Sunglasses," the second re-recording of a past single on the project. A 10-minute, 3-part epic, "Sunglasses" deals with the fear of mediocrity and the false persona one puts on to combat feelings of inadequacy. The track begins with a spoken word passage detailing a Wood's fears of becoming a bitter old man like his girlfriend's wealthy father who complains "about mediocre theatre in the daytime, and ice in single malt whiskey at night, of rising skirt hems, lowering IQs, and [that] things just aren't built like they used to be." After an instrumental breakdown, Wood takes on a more confident persona, proclaiming that he is "invincible" while walking down the street in his sunglasses. Wood compares himself to pop culture icons such as Fonz from the 1974 American sitcom Happy Days and legendary punk musician Richard Hell, even going so far as to proclaim himself the "modern Scott Walker." Sunglasses act as a shield from the outside world for Wood, protecting him from the roadmen and loud cars that cause him anxiety, stating, "I am locked away in a high-tech, wrap-around, translucent, blue-tinted fortress/And you cannot touch me." This facade quickly fails him, however, and the song quickly transitions into its third act, where the perspective shifts to that of his girlfriend. In this final act, we hear what appears to be the girlfriend's perspective in a heated argument, where she tells Wood that she is "more than adequate" and to "leave [her] daddy's job out of" their argument. The final leg of the song sees Wood referencing his intent of leaving his wealthy girlfriend and her family, stating, "I try to free myself from the grip of Shellac nails." Like "Athens, France," the re-recording of this track removed many of the sexual references to an abusive relationship with his ex-girlfriend. Lyrics referencing sexual impotence such as "Leave your Sertraline in the cabinent/And fuck me like you mean it this time, Isaac" are replaced with "…And burn what's left of all the cards you kept." A shift away from spoken word toward sung vocals and the addition of a minute-long droning guitar intro constitute other notable changes from the 2019 version.
The last third of the tracklist begins with "Track X," a welcome cooldown from the intensity of the 4 tracks prior. "Track X" is a bittersweet ode to a lost romance. In the words of Wood, "It's a love story; love and loss and all that's in between." The song's lush and warm instrumentation acts as a perfect backdrop for a story that reminds us of what it's like to reminisce about what could have been.
The album's last song, "Opus," serves as an extravagant grand finale. The klezmer horns and strings of the intro return, comprising the manic instrumental progressions placed between dissonant spoken word passages. During the third spoken word passage, the band's use of musical jump scares, here in the form of sharp snare and guitar strikes, reveals an obvious Scott Walker influence, as the technique was an art Walker mastered on his 1995 project, Tilt. This passage leads into a final instrumental crescendo, where Wood's crooning clashes with wailing horns and heavy percussion to finish this chapter of the band's career at a pinnacle of intensity.
Album review by KCSB's External Music Director, Finnegan Smith