August's Add of the Month: DARKSIDE's Spiral
KCSB's music department is sitting down each month to write to you about one album added to our music library that left a strong enough impression on them to be crowned Add of the Month. For August 2021, KCSB's Internal Music Director Yousef Srour goes in depth on DARKSIDE's Spiral.
*****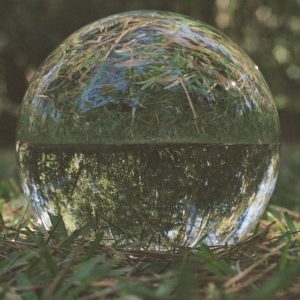 Transportation is at the helm of Spiral. You hear a quiet buzz, and whether it's analog or synthesized through the computer of Nicolás Jaar, it doesn't quite matter. It exists. It splits your ears. It defines the electronica from an echoing perception of reality that is Nico's voice. The music redefines the material form in which sound and language can come across. Dave Harrington on guitar and Nicolás Jaar's electronic compositions combine to form the shadow realm's most elusive jam band, DARKSIDE. Forget the Grateful Dead and their cute bears that jump out from your 2-gram shrooms trip in a grass field; Nico and Dave glitch, groove, and deconstruct on a much different wavelength than the Deadheads. DARKSIDE provides a soundscape that's dark and looming and comes to life like an empty movie theater that you stumble into – the larger-than-life screen glows a deep green, smoke emerges from below the seats, and your body gravitates to the music – an otherworldly presence takes over.
Nicolás Jaar lives behind his own veil. It's not necessarily a mask nor is he bare-faced. He is contextualized within his own time and place; his voice is brooding like trembles in an empty hall, but you can never match the whispers to anything semi-recognizable. His pseudonyms are his alter-egos. When you want sample-based electronic mixes, he morphs into Against All Logic. He breathes house with an iconic flair. His revamps maximalism so that it can be broken down and reconstructed for the minimalist in all of us. He squeezes out Kanye West screeches and Beyoncé's ferocity, chopping up "I Am A God" and "Baby Boy" to give new-life to DJ mixes that he would have thrown out otherwise. Nico lives in the shadows and is a perfectionist to a fault; he didn't even want to release his latest, critically-acclaimed 2017-2019 record because he thought it was nothing special. He only released it because he saw how many views an unreleased version of it was garnering on YouTube.
In the eight years since the release of DARKSIDE's first full-length project, Psychic, Nicolás Jaar spent his time traversing the world. Walking away from the US, the native-Chilean pondered for meaning within his own life, residing in Turin, Italy for years. He wasn't hiding, but he was coming to terms with many themes that the new record, Spiral, has been centered upon. Masculinity. Storytelling. Texture. There have been notes of this in Nico's past solo albums, such as Space Is Only Noise and Cenizas. He reconstructs and reimagines how music can be played, in every sense of the word – the textures bend and break like a hummingbird flapping its wings to ascend seamlessly; his lyrics are minimal in true coldwave/synth-pop fashion (think Black Marble-esque vocals, sung with a detached curtness).
Meanwhile, in the United States, Dave Harrington found his own experimental jazz niche within Brooklyn, playing with the Dave Harrington Group, producing cacophonous illustrations in timid venues and, if I recall correctly from my first listen of Pure Imagination, No Country, producing semi-aquatic sketches of brooding sculptures of one's own grief and melancholy. His music is dual in its ability to provide ambient nothingness through a few strings, but it also has the power to be electric and invasively aggressive. There's nothing quite like the energy that Dave has. He's mellow and laid-back, but knows just how to grab your attention and reel you into a record like a stylus on the microscopic grooves of an LP.
Nicolás and Dave's time with DARKSIDE ended in 2014 with the breaking of the mirror that they performed alongside at every show, up until their last at FYF Fest. It was the destruction of a moment in their careers; the end of a side-hustle that gathered national attention and endless praise from music blogs. But where could they go next?
After spending time together in a cabin in the woods – yes, in complete DARKSIDE fashion – they began the Spiral recording sessions. They played music for each other, with Dave riffing on the guitar and Nicolás trying to construct words and phrases that could capture thematically the essence of what he and David learned about themselves and the world in their time away.
Spiral, unlike Psychic, reflects on Nicolás Jaar and Dave Harrington's time away from the project through story-telling. The ambient electronic, jam band pieces are still there; like earth and air, they coexist, and at times work together to create an energy that's untethered to a material world. Nicolás and Dave discuss masculinity on "Lawmaker" and "Spiral," introspecting and deciding how to separate themselves from their own conceptions of what they have to be, regardless of what they see in the mirror and how they are expected to behave. There's a visitation of existentialism, of thinking about whether or not we exist and whether or not we even should. At what part of the spiral do we exist? Told through hums, bell hits, Nicolás's hushed tone, as well as the psychedelic pairing of languid guitar riffs with luminescent synthesizers, the album makes purgatory seem trite. Spiral reintroduces individuality within the constraints of singular images; images that can be seen from an infinite number of perspectives, all the while hearing echoes of freedom. Dave's guitar solos were cut – even if they only exist on the project for a few fleeting seconds, Dave played a number of his solos for what could have been minutes or hours; the perfectionist in Nicolás only gives you a glimpse of what DARKSIDE is capable of. If you're walking, the drums will guide your strut; Dave's guitar guides your shoulders as the guitar string's vibrations make you squirm; the textures they use make Spiral as reflective as a mirror. It's an intimate reflection that's perceived by your eyes only.
***
Review by Yousef Srour.