An Interview with Butcher Brown's Andrew Randazzo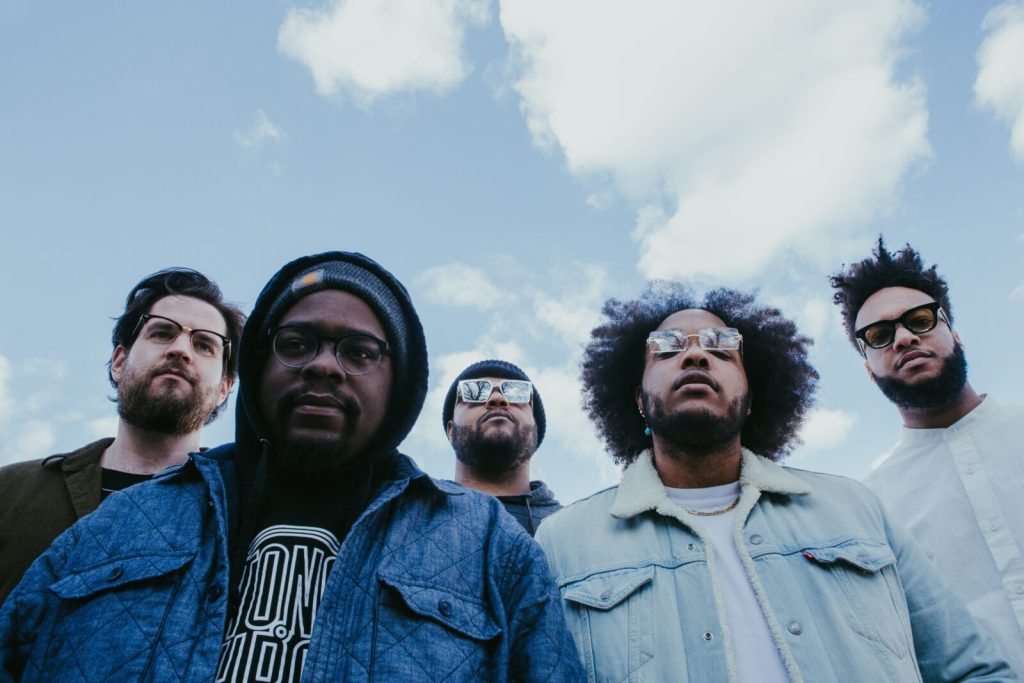 Photo By Danielle Barbieri (ig: @dani__shoots)
Butcher Brown has emerged in the public eye as one of the only bands that truly defies genre parameters. Most, if not all, of what they release is a hybrid amalgamation of a number of different sounds, creating a musical fusion derived from their Richmond, Virginia roots. At its crux: their music is 'solar': Obviously this is a musical rhetoric that could be difficult to refine, but Butcher Brown manages to do it exceptionally well, as seen throughout their discography. This is particularly evident, though, in I Can Say To You featuring Vanisha Gould, and This Side of Sunshine, a remake of Roy Ayers' deep cut of the same name. These songs are pre-releases from their upcoming LP Solar Music, available in full on October 6th. 
During the annual Newport Jazz Festival, I had the privilege of interviewing Butcher Brown bassist Andrew Randazzo. We discussed Butcher Brown's upcoming album, the nuance of the Butcher Brown sound, among other things. Read on for the full transcript of  KCSB's Assistant Program Director Lekha Sapers' interview with Andrew. 
_____________________
Lekha Sapers: Could you do me a favor and introduce yourself? 
Andrew Randazzo: Yes, my name is Andrew Randazzo and I'm the bass player for Butcher Brown
LS: That was an awesome set you had up there. How did it feel to be up on stage at Newport Jazz for the first time? 
AR: It's an honor to be here. It's an incredible thing to do – being a musician at such a legendary festival, it felt great to play with my boys, you know, we've been together so long. It was just a dream come true. 
LS: Absolutely. Can you get into your origin story? How did you form as a band? 
AR: Yeah, I moved to Richmond, VA in 2008 to go to college, the Virginia Commonwealth University, and Marcus "Tennishu" Tenney had just graduated from the program. DJ Harrison was right in the middle of his program, and Corey Fonville was just around, you know, he was just in the scene, and long story short it just went from there. We felt really comfortable playing together off the bat, and played lots of different musical situations together in our early years, and it organically turned into what you saw earlier today. 
LS: So when you mention you played many different musical situations, what do you mean by that? 
AR: Any type of gig. Rock gigs, jazz gigs, you know we took what we could pick up and we just often found ourselves playing together. Tennishu, DJ Harrison and I played a ton of trio gigs back in that time because we were just trying to gig and… we've played lots of different bands, different configurations, and eventually found our people. 
LS: And how did that culminate in the creation of Solar Music? 
AR: It's all been very natural, where we've known each other for so long that we've all grown so much as musicians. Solar music is just a mark of where we're at right now in our journey, it's a moment in time, for sure. And it's the way we've branded our music because it is for everybody. Everybody under the sun. 
LS: Can you talk to me about the inspiration behind that album? 
AR: Solar music truly means everybody. Everyone needs some sun. You know, with music, we try not to classify by genre, because we have lots of different backgrounds and it all comes through when we play, and when we make a record. People on the airplane – we get on the airplane at 7:00am and they say What kind of music do you play? And I'm like do you really want me to explain it to you? So we just decided to call it solar music, because it's for everybody under the sun. 
LS: Not to compartmentalize, but if you had to describe your style of music in one genre, what would it be. I've seen you feature on some Pink Siifu, B. Cool Aid tracks, so do you think that you're overwhelmingly hip-hop adjacent? 
AR: The thing is that we can not compartmentalize. That's why it's called solar music, because we just can't do it. It's a little bit of everything. Little hip hop. Little Jazz. Little rock, little house music, definitely a whole lot of soul. Little R&B. It's a little country.
LS: Little country? Really? 
AR: Little country, yeah. 
LS: Where do you see the country? 
AR: It's in there, trust me. It's just deep in there. It all culminates together, and that's what you get. 
LS: Where does the breadth of musical knowledge required to put all these genres into your sound come from? 
AR: Just grinding it out as musicians for the past 10-20 years, for some of us. Working as a musician, you have to be versatile, and know how to play every gig. That's where we're all at, we do all different types of gigs. When we come together, we don't classify what we're doing, we just let the expression come through organically and as best we can. 
LS: No spoilers, but can you tell me anything about Solar Music, your upcoming October 6th LP? 
AR: What I would really like is for people to take a moment to just listen to the entirety of the album. We've put a lot of energy into the whole thing. There are some amazing special guests peppered throughout. We love albums. We really love albums. In a world of singles, we want to keep the album alive. We really did spend a long time picking the songs that fit together, are ordered together in a nice way. We tried to make a little musical journey for our listeners. So please check out Solar Music on October 6th, and you know, just take an hour and listen to the whole thing. It's like a movie. You don't just want to watch a single scene. Though a single scene in a movie might be so amazing you may want to watch it over and over, you still have to watch the whole thing. 
LS: Well said. And about those particular scenes. Roy Ayers is obviously an inspiration for you on the released EP. What makes you so drawn to him and why did you decide to cover his deep cut of This Side of Sunshine? 
AR: Roy Ayers is such a unique musical voice, and we've all loved Roy Ayers for a long time. And this side of sunshine is a song that butcher brown has been playing for as long as we've been a band, so Butcher Brown has been playing that Roy Ayers song for a few years, since our early days. It's spoken to us since then, because it fell into our scene of what we wanted to play. So we used to play it, we recorded it for the album and brought it back to life. We listen to earlier takes which makes it fun to hear the progression, how it's changed and evolved over time. 
LS: So you decided to release it now because you felt it was ready for the world to hear it? 
AR: It felt like the right fit for the album. We always want to pay tribute to the album, for the people that have blazed the trail before us and it felt like that type of vibe just completed the sound. 
LS: And can you talk about the music video for that track? What was the creative direction for making it completely animated? 
AR: Well, it was convenient. The way people are making AI videos these days, it's just on the cutting edge of what's happening right now and that excites me. A big inspiration for me is Herbie Hancock… he's a perfect example of someone you can listen to at any decade, and he's sticking with the times. He's sticking with what's current. Now that's musical, but these days the music business is about all of it. It's a media business. So we just thought it would be a good opportunity to be on the cutting edge of what's happening in video and animation. 
LS: Do you tend to do the same thing with your music as well? I know there was a track that sampled Kendrick Lamar's How Much a Dollar Cost on Triple Trey. Can you talk about that? 
AR: I personally loved that album, it was such a special album for me when it came out. But Triple Trey, that album started out as just a show. I thought it would be a nice moment in a show. I did all the horn arrangements for that album. I just thought that it fit so well with the vibe of the track, and it got such a great response, and it felt right to keep that homage in our album. 
LS: And when you do sample, are you looking for a particular sound when you pick them? How do you choose? 
AR: The things that can excite me about a sample or interpolation would be a certain tone or a certain type of chord progression. I think that's what really grabbed me about How Much a Dollar Cost, you know the way those chords move, the way they create such a vibe and such emotions. I knew my trombone players would love to recreate that ahead of time. They had a good time playing that. And it just feels good. 
LS: It really does, when everything comes together. It sounds like your music is so cohesive, and it feels like everybody in Butcher Brown has such a wildly different musical background. Can you talk about how you all come together and sound so solid in the arrangement itself? 
AR: I think it has to do with what goes on offstage, honestly. I've known these guys since 2008, and it's '23 right now for those of you listening in the future, so that's 15 years that I've known these guys – making all types of music with them, and we just connect on a personal level. They're like brothers to me and that translates to a trust onstage. 
LS: Because of that bond, do you think that the jazz you're making is different from the jazz that's coming out of other corners of the world and the scene? And how so? 
AR: I think it's different because on the international jazz scene right now, oftentimes what you'll have is an artist and their band. So you have Branford Marsalis, which is awesome, Branford is amazing. But he leads the band that he's playing right now, you know? And that's the tradition, but in this world you don't find a lot of bands where you come to the show to see these five dudes. A lot of people ask "Which one of you is Butcher Brown?". And, well, it's all of us, it's the band. Like the Backstreet boys. 
LS: I think the jazz you're making is super cool just because there are so many different audible influences in everything you're doing. With a lot of performers that are here, you're not going to get the Kendrick, the Dilla, stuff like that. So what are you doing to keep that sound? Are you actively doing research or is it something that comes organically? 
AR: We actively do our research in the form of hanging out and listening to records together. Driving around in our car and showing each other music that we're into – that's research for us. I was playing a little Jacob Mann Big Band on the drive down here and showing it to my friends, seeing what they think. That's a little bit of research right there. Everything here is research, really.
LS: Well what are your favorite albums at the moment? What are you listening to right now, so that the rest of us can indulge in some research? 
AR: If I'm being quite honest, the album that I really love right now is Carole King's Tapestry. It's not a jazz album, but it's amazing. 
LS: What else is up there? 
AR: Gotta give it up for my man Oscar Peterson on the piano, he's a favorite of mine. I was digging on Lester Young with the Oscar Peterson trio. It's a little old school, a bit of a different flavor, but that's what I've been listening to. 
LS: Do you try to inject those influences into your current sound? 
AR: No, I wouldn't say that I try to inject anything into my sound. For me, personally, to give an honest representation of my music and what I want to share, I shouldn't be trying. I should just be letting it happen. Like a conversation. 
LS: So then what does your process of creating music look like, if not that? 
AR: For Butcher Brown, when we get together, our process is a round table of ideas. Everyone has an opportunity to bring to the table something that they've been working on, whether that be a song or a demo, and we all work together to fully realize it, make it what it has the potential to be. 
LS: So, Andrew, for my final question, what does the future look like for Butcher Brown? 
AR: The sky's the limit baby, we're going all the way to the top. 
Solar Music, Butcher Brown's upcoming EP, will be released on October 6th. In the meantime, the two released singles can be streamed here. Butcher Brown can also be found on Instagram, Twitter, TikTok, and on their website.