February's Add of the Month: Jamila Wood's HEAVN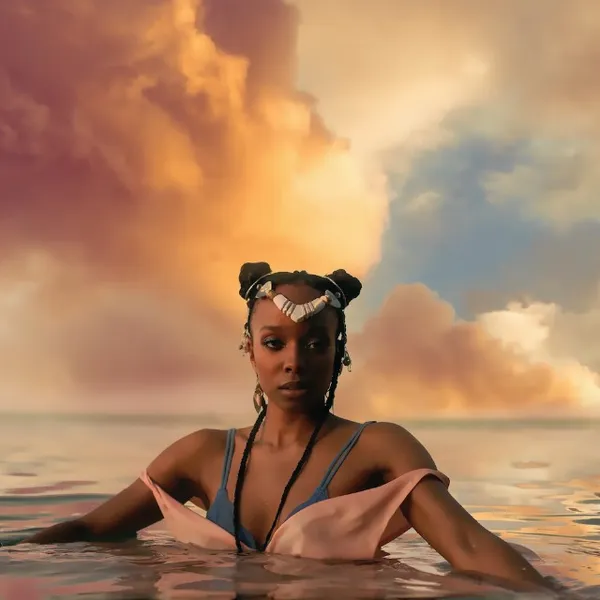 words by: Jack McKinnon (Internal Music Director 22-23′)
With February being Black History Month, it only makes sense to highlight some of the amazing Black talent that exists throughout the music industry today. It exists across all genres and all over the world, but can sometimes be overlooked by other white artists that at times claim to be innovative, when in reality they are just taking from Black culture and claiming it as their own. What many don't even realize is that popular genres such as rock and roll came from R&B, a genre created by Black Americans in the 1940's, taking influence from other Black dominated genres such as jazz, blues, and gospel music. The very essence of so much of the popular music we hear today has roots in Black culture, and people don't always realize or recognize this fact.
So, in order to put a spotlight on some of this Black talent, I wanted to focus on our add of the month artist, Jamila Woods. Woods is, in her own words, "an activist, award-winning poet, and singer-songwriter," from Chicago, IL. The reason why I chose to add and highlight this artist is due to her music echoing themes of Black identity, Black feminism, and an emphasis on self-love. As you will read about later in this article, or as you will notice yourself after listening to the album, HEAVN embodies all of these themes, all in very soothing, melodic, and soulful tracks that pack in powerful messages all throughout. This all makes sense as well, for Woods started off her career as a poet in 2012, publishing her first chapbook entitled The Truth About Dolls, which explores themes of, "blackness, womanhood & the city of Chicago." Music in and of itself can be a form of poetry at times, which can be seen through Woods naturally progressing into the formation of the soul-pop band M&O (Milo and Otis) in 2014. Eventually she went on to pursue her solo career as an artist, releasing her debut album, and the album we are going to be talking about today, HEAVN, on soundcloud in 2016.
The album starts off with a little intro song called "Bubbles" that right off the bat places us in an ethereal scene where she uses a metaphor to discuss the experience of a Black girl trying to navigate through life, trying not to let what's around them tear them down, or, "bust up my bubble," as they strive for excellence in everything they do. This song sets the tone for the rest of the album, with the next song, "VRY BLK," featuring Noname, jumping right into the Black experience in America. With just about every line delivering a powerful punch, this song discusses some unfortunately common experiences that Black people face every day, most of which surrounds the occurrence of police brutality, cover-ups, and corruption in politics. Employing fellow Chicago native Noname, this is one of my favorite songs on the album. What I love about it is that it obviously shines a light on very important topics, but also implores people to be proud of who they are, to not stop fighting, and to stand their ground in this constant struggle for equality in a systematically corrupt and racist world.
As we move along in the album, we get to the title track, "HEAVN," which utilizes an infectious, upbeat, hip-hop-esque drum beat mixed with dreamlike synths, beautifully layered vocals, and amazing keyboard and guitar runs that truly make you feel like you are in heaven, whether you believe in it or not. This song is a bit more introspective, moving away from the bigger picture themes focused on before. "HEAVN" focuses more on Woods' struggle to both give and receive love, searching for the path to feeling fulfilled and content in the company of a significant other that truly cares for you and makes every day seem special. This is something that is on the minds of many people as we all try to traverse through the highs and lows of life, trying to find someone to enjoy the rest of it with as we only continue to get older and older, day by day. It is hard for people to love for a multitude of different reasons, and no matter what your reason is, you can find solace in this song as you wonder whether or not you are the only person that feels this way.
The album continues on with similar ideas and experiences being emphasized. From Black female empowerment on "Blk Girl Soldier," to carefree childhood reminiscence in "Emerald Street," to self love and reassurance on "Holy." There is not a single song on this album that doesn't evoke a strong sense of some emotion, it's cohesive yet unique sound making it a perfect add not only for our music library here at KCSB, but anyone's music library in general. Aside from Noname, Woods gets even more help from some of my favorite Chicago artists Chance the Rapper, Saba, and Donnie Trumpet, showcasing the powerhouse of talent that comes out of the Chicago area. Outside of the music, the album also has a plethora of interludes to really bring the album together. From daily affirmations, to memories, to a re-emphasis of themes discussed in the songs, these interludes complete the album to perfection, making this project a true masterpiece and work of art.
Overall I felt this album was the perfect album to highlight during Black History Month. The subject matter and production are truly special, and Jamila Woods' background in poetry really shines through the lyricism and structure of the project as a whole. If you have not yet heard of Jamila Woods up to this point, this is the time to discover a truly extraordinary artist. If you have some time to spare or are trying to find new music, I highly encourage you to check this album out. You will not be disappointed, and you may even learn something along the way!