A Conversation with Nick Kinsey of Connie Cunningham and The Creeps
KCSB-FM's Internal Music Director, Marion Suchowiecky, sat down with Nick Kinsey. Kinsey's newest project, Going, Going, Gone – The Rare Recordings of Connie Cunningham and the Creeps Vol. I, was released under Earth Libraries, and was recorded in his Hudson Valley home. This record has a distinctly nostalgic sound- it is meant to portray the sense of a failed session musician's home recordings, which have been waiting for decades to be discovered. In this interview, Kinsey tells of the inspiration and recording process for the album, and also reveals what's next for Connie Cunningham and The Creeps!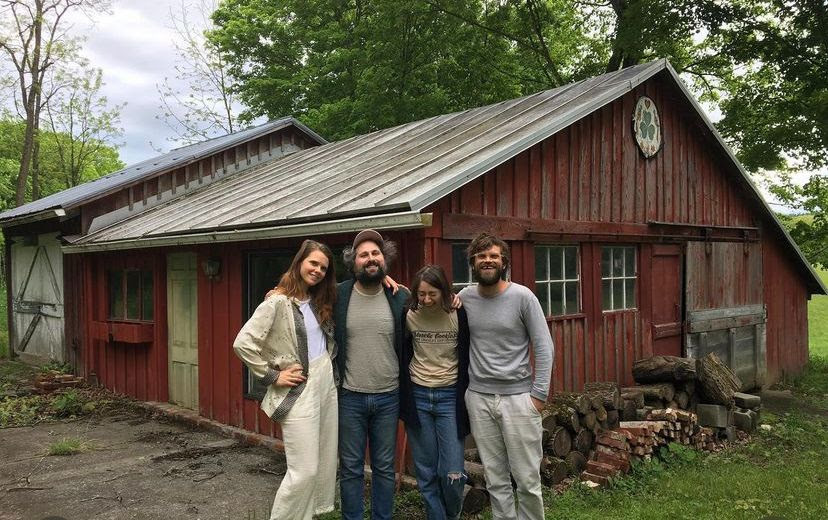 MARION:
What's your guilty pleasure song or album?
NICK: 
Wow. You know, it probably shifts, or certainly shifts over time. But I have to say right now, if I just have a quick answer just off the top of my head- I've been going back to Aerosmith. Like the 90s records. Or the record, Get A Grip? For some reason, I've been thinking about that like crazy and rewatching the video, which I hadn't seen since I was like 13 years old. And had a laugh and remember loving that stuff.
MARION: 
Aerosmith is such a fun band. But, definitely not the first thing you tell people that you listen to when they ask. Have you always known that you wanted to be a musician, or was there other life/career paths that you explored beforehand?
NICK:
Yeah, you know, I think it's a yes and yes kind of answer. Very young, I was interested in being a musician. And that changed, you know, over time, like I took piano lessons, and then clarinet and saxophone, it wasn't till the drums that I really was, like, eager to just lock myself in the practice room and play all day. But, you know, I was interested in painting and visual art. And there was also a time when I was a teenager when I was considering being like, some sort of outdoorsman, like a guide, or like a rock climbing guide or something like that. But yeah, once I got into my 20s, I was pretty stuck with music. But that shifted too, you know? Like, I wanted to be a jazz drummer when I was like, 21. And then, you know, my goals and stuff have changed over the years.
MARION:
What style of painting did you gravitate towards?
NICK: 
I was so young that I was kind of into everything and trying everything.
MARION:
I read online that you moved into an old farmhouse in the Hudson Valley, you've also lived in Brooklyn, New York. How does the change of atmosphere and pace of your environment affect your writing and your creativity?
NICK:
So, I've been back and forth between my studio and New York City since I was like, four years old. So both places have been a major part of my life. But I will say that, I don't think I've ever written a song in New York City. I think I can actually safely say, I've never certainly never started and finished a song in New York City. 
So, you know, a lot of people have, but not me. I find music making in the city- you know, collaborating and playing with other people rehearsing and stuff- can be fun. But, back when I was living in Brooklyn, I never had a practice space. You're always competing with the metal band next door. So I never felt like I was personally able to focus and kind of feel uninhibited in the way that I am up here. So the space, the quiet, the sense that I could sing like a lunatic and nobody would be judging me or wondering what the hell I was doing up here. Makes it a lot easier for me to write. 
MARION:
Would you say that you like to draw inspiration from your time in the city? Or is nature also part of the inspiration in your works?
NICK:
I'm much more social when I'm in the city. So with regards to a romantic scenario, or the Connie Cunningham stuff, which is mostly relationship songs- I think when I'm imagining the story, or the setting of the story, it's often an urban one. So I tend not to be influenced by nature in a lyrical sense as much. 
MARION:
Where did you get the idea for this character of Connie Cunningham?
NICK: 
I wrote this album, in like, way back in like 2018. On a break from touring with Kevin Morby, who I played drums with for years. I bought this instrument called an Optigan, which I can show you. It's like right over here- and it's this funny looking brown keyboard which plays these like optical, vinyl-shaped discs made of see-through plastic. It's sort of like a toy. They sold them at department stores. So I started just messing around with this thing because they'd been used in some pop music. So you have several discs, and they all have different names. So one is like "Latin Fever", and one is like, the, they just have these silly names with like, shot very specific sort of genre sounds. And I just caught some wave of writing, and it all sounded kind of silly, in a fun way. So basically, I just started making this record kind of for myself, because it was working. And I just tried not to think about where I was going. But I knew it was a different, distinctly different vibe from the solo music that I put out under my own name. 
So then, once it started to take shape. I played a concert. Like I was in the house band for this concert in New York, that I forget exactly what it was called, but it was like "Women of Americana" or something like that. I was playing drums and a bunch of people I knew and some people I didn't know were playing. And my buddy Josh Kaufman, who's an amazing guitar player and producer and stuff, did a duet with my other friend Cassandra, who's a singer and artist. She's great. They did a cover of one of those, like Nancy Sinatra songs that she did with Lee Hazelwood. And I was like, "oh, I need to get them to, to help me with my record". 
So I invited them over, and they were kind of calling their little singing duo, like as a joke, "The Creeps." The house that I moved into is down the road from where I grew up. But I only moved into this house in 2017 and the old couple who lived there passed away and they were named the Cunninghams. So, as the thing started to progress, I imagined that I had found these tapes in the house. So I had Cunningham and the Creeps. And yeah, like Connie just came into my head, I suppose. So, that's where the name came from. It was just sort of a mix of different stuff.
MARION:
That's such a sick backstory. I feel like the sound of the record is so nostalgic, but also surreal at the same time. I think you do a good job of going from this kind of imagined scenario to really universal themes. So I really really dig it, and I think having that kind of character present throughout the whole record makes it so special.
NICK:
Thank you, it might be interesting to add too that I really considered leaving my name totally out of it and just seeing what would happen if there was no information about who really made this. Sometimes I wish I had done that. But I also am a hustling musician and was like, "if I make stuff I need to take credit." So that's what I ended up doing.
MARION:
That's totally understandable. So did you use any instrumental samples outside of those Optigan sounds?
NICK:
It's all stuff I recorded! But one thing that Josh and Annie and Cassandra pushed me towards, and it really blew it open for me, was reamping. They helped so much, in lots of different ways. But one thing that I did, like when the girls sang, is immediately started reamping stuff through this guitar amp, and using the spring reverb on the amp, and oftentimes vibrato, and it sort of instantly had this like, girl-group, old school 60s thing. And so then I started reamping almost every single thing that's on the record through this same amp. And then also tape delays and spring, and I have a silo here which I used for a lot of effects. I would print something and then, run it through a different reverb and just keep doing that, and then I mixed it in the end to an old four-track cassette recorder. So there was a lot. So in some ways, I was kind of making my own samples. I wasn't playing a sampler. I mean, the Optigan is sort of like playing like a sampler. But after that, it was just trying to add filters in the broader sense, like, not literally EQ filters, but just levels of saturation and stuff to make it sound older and weirder.
MARION:
Where did the effect on your voice come from? Was it added in post production, or did you also put your voice through the equipment?
NICK:
Little bit of both, depending on the song. I think on a few of them, I sang through this weird mic, that gives it a pretty distinctive, sort of old telephone voice type thing. On several songs, I sang through like, a nice high fidelity mic, and recorded it relatively conventionally and then ran it through the amp.
MARION:
Did you record this in analog or digitally? Or a mix of both?
NICK:
I recorded it digitally and did a lot of things in the computer. But then I actually bought my recording console, which is very nice. Right at the beginning of the pandemic, and that's when I came back to this music, which I just sort of like, had sat on. And then, there was that very early period where it was like, true lockdown. I would come here late at night after my kid went to sleep and was like, "I'm gonna sing this properly and also like, learn to mix on the console." So, it was mixed in a very analog way, with like all the gear I have here. So the stuff that I did in the computer, I mostly use the computer for initial recording and some cosmetic EQ stuff, but all the effects were analog equipment.
MARION: 
Can you tell me a little bit about the voices that we hear in mid century blues, part one and two? 
NICK:
I found videos on YouTube of people talking about the year 2000 In the mid 60s, so I sort of shamelessly just pulled that stuff from the internet. But then I ran it through a tape machine and just changed the speed of the tape machine. So it's a little bit higher pitched and a little faster than the original recording.
MARION: 
What has been the most fulfilling moment of your career so far, and what you're looking forward to coming up next?
NICK:
The Connie Cunningham thing, honestly, it was really fun to get a record deal for it. Because I didn't plan on taking this all that seriously. 
I was doing drums for somebody early in the pandemic, remotely, and was in touch with the record label, because they were the ones paying me for the drum work that I was doing. I posted a little clip of this stuff on Instagram, and the label guy was like, "this sounds cool. What is it?" And I was like, "I made this record, you want to put it out?" And he's like, "I don't know, send it to me." And then it ended up happening. 
So that was cool. I definitely think it was a lesson in making something for the benefits of just making something for yourself without thinking too much about the hustle. But also I have to hustle as you know, because this is my job. 
But, separately from that, there's a record that I produced that came out earlier this year by Scott McMicken. And he's a longtime friend, and I'm a longtime fan of his. I was able to bring some of my favorite people together to make that record and I'm really proud of how it sounds. I still sometimes pinch myself that he asked me to do it and that we did it and that it sounds as good as it does.
MARION:
That's really cool to hear. I can imagine that making something for yourself, being a musician that likes to produce and tour with other people, would be such a fulfilling experience. Anything that you're looking forward to in the next maybe a few months or in the next year, or anything you want to plug?
NICK:
I'm interested in going back to the Connie Cunningham character. I have several songs that I started around that same time that didn't make this record. I like the idea of making several records and sort of tracing this imaginary career through decades. I feel like this has sort of mid 60s kind of sound. I'd like to maybe see this weirdo go into the 70s and 80s. And you know, I love records that are lost home sounds. Like, Paul McCartney II, for example- I think that would be the 80s example of this kind of thing. 
So, it would be cool to kind of do another one because it's fun to make something without it being like "this is me, and I'm baring my soul, and I'm trying to make the hottest shit for the market and be like, the most innovative, creative person." I mean, that's a noble quest, and I try my hand at that, too. But it's nice to just sort of make something that's like an exploration of a lot of the music that I love. And a lot of it's kind of messed up and like, not for a bigger audience. And that's part of why I like it.
MARION: 
I would love to see the journey of this character through the decades. Do you find that your creativity flows easier when you're working through this character, as opposed to from a personal point?
NICK:
It certainly did. I haven't tried to go back there yet because I'm trying to time it right, and to let it happen and not feel pressured. because now it exists. But yes, it certainly worked at the time. Another thing that's strange about that whole experience is that I really thought that I wasn't writing as a direct expression of stuff that I was going through- but it really turns out that I was. And some things happened in my life and in my relationships, that honestly are a little eerie to me now knowing some of the things I was talking about five years ago, because some of it has sort of come true. It's a little scary.
MARION:
The subconscious is a powerful thing!
NICK:
Definitely, it's weird. It's weird.