☆HISPANIC HERITAGE MONTH PLAYLIST☆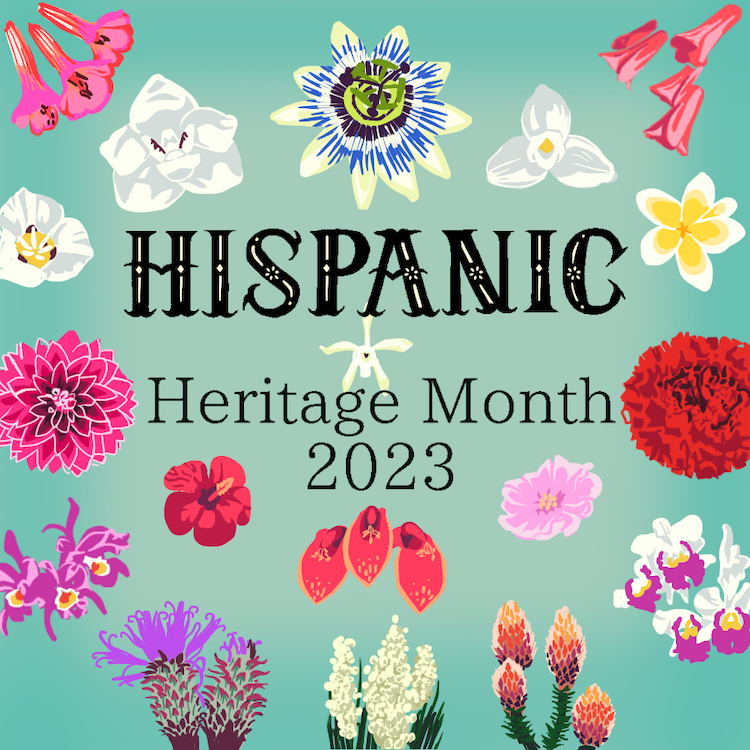 It's Hispanic Heritage Month, and here at KCSB FM, we wanted to put together a playlist to showcase the diverse musical genres which have flowered from a variety of Hispanic countries. Though this playlist is by no means exhaustive, we hope it will be a good introduction to the range of sounds present in Hispanic cultures. 
MARION EXPLORES: Mexican 90s Alternative Rock
In the 1960s, the Mexican government banned rock concerts after some fiascos at Woodstock-esque events, and also following the 1969 massacre of Tlatelolco Square- in which some 350 student protesters are believed to have been shot and killed by authorities. This ban, which lasted over two decades, made it especially difficult for Mexican bands to build fanbases, and for the Mexican alternative rock scene to develop at the same pace as scenes all over the world. However, by the 1990s, the Mexican government began to relax this policy, and the alternative music genre boomed. Last year, I focused on the genre of 1960s psychedelic Mexican rock. The reason I decided to focus on Mexican rock music 30 years later this time around is precisely because rock music was censored in Mexico from the time of Los Dug Dugs all the way until the 1990s.
Some of the most notable bands to emerge from this period of Mexican Rock music are Cafe Tacvba, Caifanes, and Zoé. Slowly but surely, these bands would come to fill Mexico's largest concert venue, El Foro Sol, once again with sounds of music and eager fans, and they would also become hugely popular all over the world. For the purposes of this playlist, I have focused on some of the lesser known bands to come out of this period, which continue to release music and tour! 
"Niño Bomba *(Tampico Mix)" by Plastilina Mosh
Plastilina Mosh emerged onto the Mexico City scene in the 1990s, and built a large fanbase in the Los Angeles area as well. This group is often likened to the Beastie Boys, for their melding of genres such as hip hop, funk and jazz. This song in particular appears on streaming platforms in three versions- the original (very Beastie Boy-esque), the remixed version (stylized to be more upbeat, hectic, and dance-friendly), and, my favorite, the Tampico Mosh. This version is mellow and hyper-chill, it features lots of acapella beats and a toned down instrumental, which means that the abstract, politically charged lyrics (which are sung in perfect Spanglish) are at the forefront. 
"Dios Bendiga a los Gusanos" by Fobia
This song comes from Fobia's self-titled album, released in 1990. Their sound is reminiscent of bands like The Cure, Duran Duran and other new wave heroes. Due to the time period in which they formed, they faced off against the corrupt forces of censorship in Mexico during the late 80s, and they persevered. My favorite set of lyrics from this one deals with coming to terms with death. They sing, "God bless the worms/who will keep me company/who will wash my hands/if I dirty them in life,"- a perspective undoubtedly linked to the Mexican attitudes toward the dead!
"Nunca te Doblaras" by Jaguares
Jaguares was a band formed by members of the uber-popular Mexican rock group, Caifanes. The EP is fairly long, featuring 15 songs, and begins with a spoken-word poem about an indigenous warrior, spoken over psychedelic instrumentals. The sound of this song fits squarely in the grunge genre, with Saúl Hernández's voice reminiscent of Kurt Cobain's. However, the rest of the album is a mix of influences from different points of American rock music- from the Doors, to Sonic Youth.
BELLA  EXPLORES LATIN FUNK
As funk blossomed out of Black communities and spread all over the US throughout the 1960's, a new subgenre emerged: Latin funk. New York was the perfect catalyst for this subgenre. The mix of different Hispanic artists' traditional instrumentation as well as a wide exposure to experimentation in jazz, funk, and soul allowed for Latin funk to develop. Within the genre, artists mix Afro-Cuban rhythms, experimental jazz, and American soul to create an entirely new sound. Artists that emerged out of this subgenre include: Tito Puente, Jorge Spiteri, and Eddie Palmeri. Though Latin funk was a relatively short-lived genre, it had a huge influence on the popularization of salsa in the 1970s.
"Too Late" by Black Sugar
Black Sugar was a short lived Peruvian funk band formed in 1970 in Lima that released two LP's and three singles. Despite the small discography, Black Sugar has a really impressive sound, with layered horns, latin percussion, and vocals fit for American funk. This song starts off slow and sultry, the horns smear the notes together as the bass crawls up and down the scale. Suddenly, only the piano is heard setting up the transition into the funky, upbeat rest of the song. The horns come back strong and are backed by Afro-Cuban percussion. The vocals on this song bring it all together; the singer does the James Brown yell throughout and manages to bring even more energy to the song.
"Ay Qué Rico" by Eddie Palmieri
Ay Qué Rico is just superb. The vocals switch between the lead singer and layered vocals, moving the melody and driving the energy of the song. The horns manage to sound like people singing. A woman repeats a haunting melody in the background, almost as if she was an instrument herself. The bass is a subtle star of this song, driving the rhythm at times and experimenting with contrasting melodies throughout; it gives the song such a full sound. When the bass is not keeping the rhythm, the percussion shines through while giving the song a mambo feel. And, of course, Eddie Palmieri's piano playing provides a latin groove and pulls the different sounds together. 
"Kool It Here Comes the Fuzz" by Jimmy Sabater
This song comes from a four hour long compilation album of Latin funk songs that was released in 2011. The album is amazing, every song is funky, experimental, and maintains that Latin groove that is the core of the Latin funk genre. The album is called El Barrio, named after the Spanish Quarter in East Harlem, where much of Latin funk was developed and produced. This song is a Kool & The Gang cover by Jimmy Sabater, a Puerto Rican American musician. Jimmy Sabater grew up in "El Barrio" and was inspired by the musicians around him to learn the timbales, a type of drum popular in Latin music. This cover slows the song down a bit and has a lower production quality, which strangely gives it a fuller sound. Just as they are in the original, the horns are the star of the song. The layered trumpets solo over one another as the keys and percussion drive the tempo. The bass provides a subtle counter melody throughout the song, fading in and out of the background. 
Sources: Wikipedia, NPR, LatinoLife
RYAN EXPLORES HISPANIC SHOEGAZE
Shoegaze as a genre, characterized by its heavily distorted guitars, dreamy textures, and experimentation, has found a distinct niche within the global music landscape. The subgenre of Hispanic Shoegaze blossomed in Latin America in the 90s and then again in the 2010s, particularly in countries like Mexico and Argentina, where it resonated with the existing vibrant alternative rock scene bringing about some amazing bands and albums combing the loved conventions of shoegaze with the unique influence of the local music scene.
Off the album Dormitorio released in 1995, the Argintenian band's "Combo" is a lush, lethargic, and atmospheric track that is highlighted by lead singer Agustina Elicabe's ethereal vocals. The song and album are both great listens that draw from a bunch of other genres like slowcore and noise rock to create a really unique sound.
"Lineas En Hojas" by Lorelle Meets the Obsolete
Lorelle Meets the Obsolete, out of Guadalajara, Mexico, quickly gained traction after their second release "Corruptible Faces" in 2013. Now a huge name in the hispanic rock scene, Lorelle Meets the Obsolete master a sound combining shoegaze with dark psychadelia and attracting a new generation to the genre.
Sexores are a band out of Quito, Ecuador, fronted by Emilia Bahamonde Noriega on guitar and vocals and David Yépez Valencia on the drums. Their music is both hypnotizing and catchy, yet packed with darker themes and references creating a captivating sonic journey.
JOYCE EXPLORES Nueva canción 
How often can you say a genre of music has influenced multinational politics? No genre has shaped history the way nueva canción has; in fact, the term refers to not only a musical genre rooted in Latin American folk music, but also the associated social movement that reverberated across the region. Its artists, who include Violeta Parra and Mercedes Sosa, sang of pro-democracy and left-wing themes, designating anyone associated with nueva cancion as targets of right-wing extremists – including Chilean dictator Augusto Pinochet – who burned nueva canción recordings, and exiled, imprisoned, tortured, and killed its artists (most notably, Victor Jara). Yet, persecution could not extinguish the fire and fervor nueva canción engendered – over 50 years since its inception, nueva canción songs could be heard echoing throughout the recent Estallido Social protests in Chile. As Latin America's first democratically-elected Marxist president Salvador Allende once said, "No hay revolución sin canciones" – there is no revolution without song.
(Source: Britannica)
"Run run se fua pa'l norte" by Violeta Parra
Violeta Parra's skills as a singer-songwriter are on full display in "Run run se fua pa'l norte," a chorus of string instruments -moving, wistful, beautiful – accompanying her lyrics of the cruel, fated departure of someone close. This lover, perhaps, is on an everlong journey; Parra implies, through allusions to Christ, that this lover is sacrificing time, comfort, and proximity for a greater cause.  The song does not explicitly contain themes of political liberation and freedom, but Chilean dissidents of the '70s, worn down by detention and torture centers, have recalled how hearing their partners murmur the lyrics to them renewed their strength and hope for a future together.
(Source: Cantos Cautivos)
"Venceremos" ("We Will Prevail") by Víctor Jara
This classic song by Víctor Jara served as the unofficial-official soundtrack of Chilean president Salvador Allende's 1970 campaign. It's both an ode to the homeland and a rallying cry for socialist change. Jara's music was embraced by Pete Seeger and Joan Baez, his counterparts in the U.S. His status as a renowned, leftist singer endeared him to the Chilean people but marked him as a threat to the Pinochet regime. After the coup began in 1973, members of the country's left-wing Popular Unity party – including Víctor Jara– were taken to and tortured in a soccer stadium, where Jara sang for his compatriots to maintain morale. Guards recognized him and smashed his wrists and fingers, then mockingly asked him to play the guitar and perform for his fellow prisoners. He obliged, and through a split lip, he proudly sang "Venceremos" one last time. He was shot and killed soon after.  On the day of his death, he wrote his final poem on scraps of borrowed paper – "Estadio Chile," named for the stadium he would die in and which was renamed in his honor, thirty years after his death. 
(Source: Britannica)
ROSIE EXPLORES BOLERO CUBANO  
Understanding Cuban Bolero is essential to understanding the nation's culture. The genre originated in Santiago, Cuba and is distinct from the older Spanish Bolero, though they share the same name. Bolero is romantic folk poetry accompanied by guitar and sometimes African Rumba music. Bolero seems to be immortal and constantly evolving. The genre samples music and art from Cuba's diverse cultures, and has informed the development of new genres of music both in Cuba and internationally. In this way, Bolero is truly emblematic of Cuba's multiculturalism.

Artists include: Elena Burke, Celia Cruz and La Lupe
This song is loosely a Bolero. The lyrics and singing feel very poetic to me, and the chorus that backs Lucrecia's voice embody a more modern adaptation of Bolero. She sings about "Siboney de mis sueños" which translates to Siboney—a city in Eastern Cuba—of my dreams, and the entire song has a mystical dreamy feeling. 
"Para que Sufras" by Celeste Mendoza 
Celeste Mendoza is known by some as the queen of Rumba, and incorporates an Afro-cuban sound to this Bolero. This song is perfect if you ever feel betrayed and vengeful towards an ex partner. Mendoza effortlessly makes this sassy ballad both emotionally powerful and fun to dance to while you cook dinner. 
"Qué Sabes Tú" by Elena Burke 
This is a classic example of a Bolero, with a simple guitar behind the soulful vocals of Elena Burke. Her low, powerful voice, accompanied by a slow congo beat, jazzy piano and acoustic guitar makes any listener feel delicate. 
AVA EXPLORES JOROPO
When you combine Spanish folk music with the musical traditions of Indigenous peoples living in current-day Venezuela and a touch of African elements, you get the joropo, an upbeat, string-heavy style of music. Although there are three regional types of the joropo which differ instrumentally, most joropos contain some combination of a string instrument (like a harp or a mandolin) maracas (at times the only percussion instrument). They can be purely instrumental or feature a singer. Not only is the joropo the national music of Venezuela, it's also a type of waltz that is the country's national dance. 
"Alma Llanera" by Juan Vincente Torrealba
I had to include this song, which is not only a joropo but the unofficial Venezuelan national anthem. I love Juan Vincente Torrealba's voice in this- it's so full and regal, I can totally see how this sparks pride in one's country. The lyrics are also very sweet, relating how someone is connected to their homeland both spiritually and physically.
"Caballo Viejo" by Simón Diaz
This song originally caught my attention because of how Middle Eastern it sounded. It totally reminds me of Dia Prometido, who are a Persian-Chilean musical duo who have an amazing self-titled album of instrumental covers. The combination of the psalter and the guitar (along with a Spanish rhythm section) gives this album a really unique sound, and something about it is reminiscent of the strings in this song. I've also read that there are some Arab influences to the joropo… something about how Middle Eastern culture made its way to the Iberian peninsula, which then crossed the Pacific Ocean and ended up creating this fusion. Super cool to pick out all of these different elements in a song.
"Ei Gavan Mensajero" by Aries Vigoth
The strings in this song just have me in awe. Like, I know if I were to ever see this performed live my mouth would just be hanging open. It does a really good job of showing just how important strings are to the joropo. I found this song off a joropos compilation album which has an awesome picture of a guy riding a bucking horse. It's called Joropos Recios, Vol. 1 and I definitely recommend because of the variety of joropo music it showcases and the cover art.
Sources: Steemit, WorldMusicCentral, Alma Llanera Lyrics