☆EXCOMM CAMP KCSB PLAYLIST☆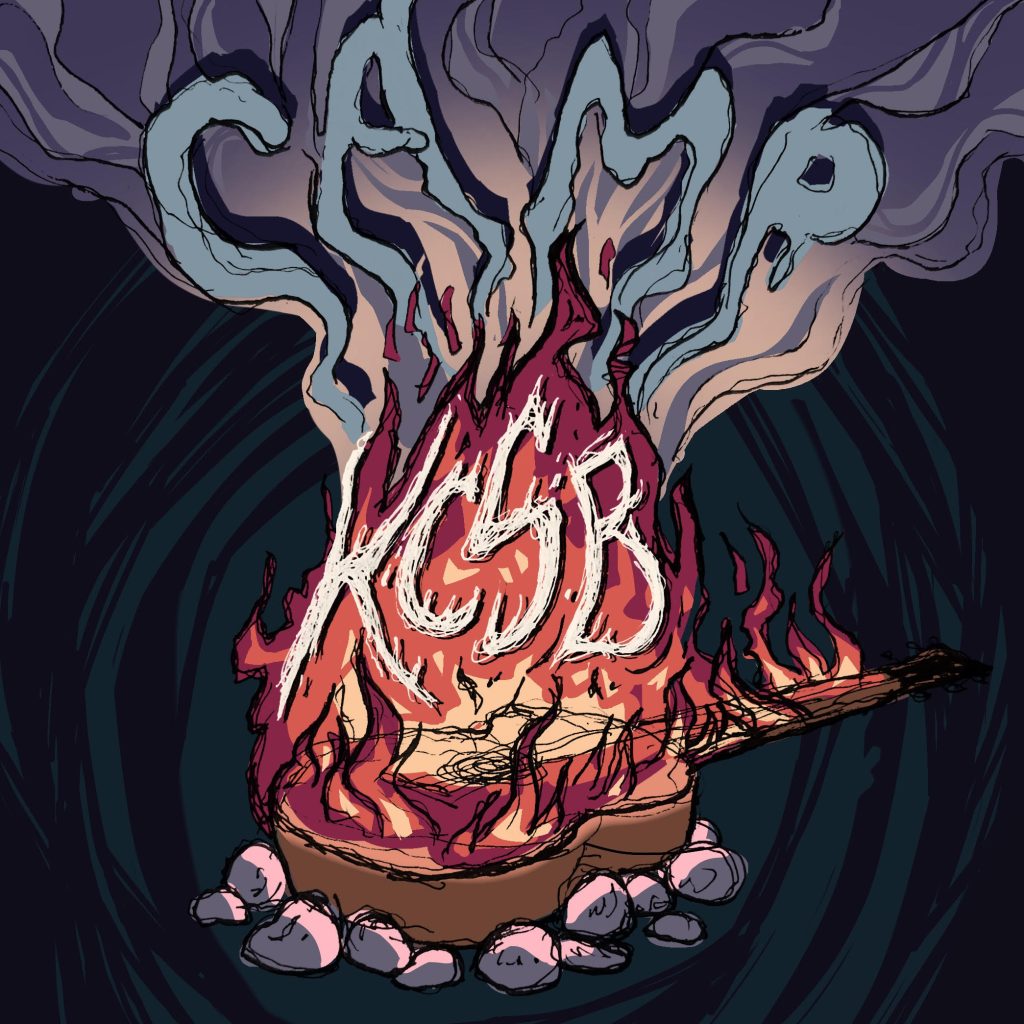 Summer is here and we've got the perfect playlist for all your summer activities! 
At the end of every school year, KSCB selects the 18 members of the Executive Committee who are responsible for organizing and running the station's day to day operations. To show off our new Excomm's music taste, we put together a playlist reminiscent of summer camp! We chose these songs as a backdrop to swimming in a lake, camping under the stars, roasting marshmallows over a campfire, and any other outdoorsy activities you might be up to this summer. 
BELLA'S RECS 
"タンデム(Tandem)" by Halcali
– Halcali is such a fun group. It's two girls who were friends since childhood that became the first Hip Hop group to score in the top 10's of the Japanese charts. You can feel their childhood together through their music. This song is so playful with the laughter throughout, the (translated) repeated lyrics "Everybody's dancing, shabadaba lambada everybody," and the ooh oohs. It reminds me of being a kid and just running around, biking, dancing, laughing, and having fun.
"Swimming" by Kero Kero Bonito
– Swimming is and always will be my favorite summer activity, especially in a large body of water. This album has been on repeat throughout my spring and summer, and is one of my favorites. I love the way the soft voice of the narrator is supported by wave-like instrumentals, rising and falling with her words. Whether you're relaxing by the pool or tanning by the ocean, this song is reminiscent of first experiences with swimming and is a great backdrop to a summer's day.
"Golden Hours" by Brian Eno
– A more peaceful song for the end of those long summer days when the sun dips low and everything turns golden. This song reminds me of those time-lapses that follow the sun from dawn till dusk. It feels like slowing down, taking the time to watch birds go by, and letting the sun bask over you.
RYAN'S RECS 
"Kool Thing" by Sonic Youth
– A classically energetic and noisy track from Sonic Youth and one that would make a perfect soundtrack to any summer activity.
"not a lot, just forever" by Adrienne Lenker
– A very serene song that reminds me of being surrounded by nature.
Cannonball by the Breeders
– Another energetic one cause it's summer so why not.
 MARION'S RECS 
"Paris Latino" by Bandolero
– Something about 80s synth pop reminds me of summer. When I hear the name "Paris Latino" I think of Mexico City, and the hot summer days which are unfailingly quenched by monstrous thunderstorms. During the guitar and bass breakdowns, I think of days spent in Acapulco, escaping the heat by the cabana while 80s hits softly play from the television, always set to the MTV channel. Nowadays when I listen to this song, I escape to all the hot nights I've found myself walking through some foreign street, with my shirt hanging loose and my footsteps following the sound of music. 
"Camille 2000 (Title)" by Piero Piccioni 
– Last summer I listened to this song on many morning walks. I really love the way the song slowly builds upon itself, and just when you think it's ending, it turns into something completely different. The beginning of this song conjures up images of European rivieras, while the latter half of the song feels like it belongs in a 70s gangster movie. Both of those images are somehow tied with the summer season in my mind- making this a verifiable summer bop! 
"Fire" by Lizzie Mercier Descloux
-Fire, heat… Summer, heat… enough said. Just kidding! This one is just plain fun. This is the kind of song I wish would be played at house parties or clubs or even crowded bars. You can feel the energy radiating from the eclectic mix of influences in this banger by Descloux. The vocals are incredibly evocative and suggestive, while the beat feels scattered yet persistently upbeat. You can also find a video of her dancing to this song, and her dance moves are enough to inspire you to get out of the door and find yourself a summer bash. 
EVELYN'S RECS 
– A funky little jaunt that recalls a more playfully innocent time. Put all your worries in your back pocket.   
"Honeybody" – Kishi Bashi
– The perfect accompaniment for the funnest, wettest, splish-splashiest summer.  Ishibashi's peppy instrumentals and vocals invite that sort of warm, summer camp cheer.   
"Tabun, Kaze" – Sakanaction 
– I find myself listening to Sakanaction a lot when I want to vicariously feel a breeze through my hair and get into a nice groove. The production on this song really evokes that feeling of being lifted by a brisk zephyr of nostalgia.    
ROSIE'S RECS 
"Outro lugar" by Milton Nascimento 
– I feel like I can see people singing this around a campfire with someone strumming a guitar in the background. The choral component feels very communal and campy. 
"Golden Time Of Day" by Maze, Frankie Beverly  
– This song transports me to a hill where I calmly watch the sunset in a field of flowers.  
"Someone's Always Singing" by Shuggie Otis 
– The song is a bit melancholy but also optimistic at the same time. I feel like listening to this in the midst of a breakdown would inspire me to go camping or spend time in nature and come out the other end singing. 
JOYCE'S RECS 
"The Coffee Song" by Sam Cooke
– The best way to start your day – this song feels like sunlight streaming in through the blinds as you read the Sunday paper and listen to the birds outside. It's endlessly chipper and energetic (it makes me want to skip down the street, imagine that…!), backed with a just-plain-lovely instrumental and featuring the phenomenally smooth vocals of the King of Soul.
– This delightful cover of the João Gilberto classic is a gentle breeze that follows you through the quintessential summer outing of your choosing. Be it reading by a lake or jumping into one, promenading through fields and forests as dignified hikers or pretend Arthurian knights…this song embodies the kind of summers I had as a kid – sweet, simple, and shining – and reminds me that that kind of beautiful naivete doesn't have to go away with changing seasons or with growing up.
"Theme From Picnic" by Russ Conway
–Though I love its lead actors, I admit I've actually never seen this movie…Regardless, "Moonglow/Theme from Picnic" is one of my favorites of the easy listening genre. Pianist Russ Conway does a marvelous job capturing the contentment at the end of a day spent with perfect company, that feeling of "what could be better than this?" Lounging on a porch hammock in the evening, when the sun hasn't yet finished saying its goodbyes to the arriving fireflies; unwinding with someone whose company you don't mind, who it'll be hard to part from at the end of the night – this song is the end credits to an unforgettable day, one that begs a sequel.
ZOHA'S RECS 
"How Much is Weed?" by Dominic Fike
– Fike's song is a riff-driven, fast-paced opening track, too confident not to be in a summer playlist. Applicable to either jumping in a lake, or thinking back to your childhood while shielding your face from the sun.
–  Mad At Me is a synthy, deceptively upbeat song, and shimmers like light off water. I listened to this song during my first week living in Isla Vista, and its inextricably tied to the beach and young adult insecurity.
– A dreamy song which can only be described as pleasant heat stroke. 
GALILEA'S RECS 
"Up on the Sun" by The Meat Puppets
– a song to let your mind wander as you look up at the stars 
"Cola Boyys" by Magic Potion
– a tune about getting up to hijinks and shenanigans with the homies 
"Sábelo Bien" by Los Tecolines
– a short and sweet bolero for a warm summer night 
HAZIM'S RECS 
"Sitting down" by camping
– They've never been camping but think it would sound like this. I agree 
"Summer connection" by Taeko Onuki
– Just summer vibes and remembering times together and dancing :3 
"wilshire" by Tyler the Creator
– I actually listened to CMIYGL all the time the last time I went camping. The album as a whole reminds me of choosing my direction in life and Tyler's musings on opulence and meaningless flings brought a lot to me when I repeatedly listened to it for hours by the lake. Wilshire is probably my favorite track because it's about a kind of aspirational love drowning under modern expectations. It beats down on you and it's bittersweet but beautiful for it.
LEKHA'S RECS 
"Fish and Whistle" by John Prine
– This song is the epitome of being outdoors. Basically the crux of it all is that everyone forgives each other and then they go fishing. What's more summery than that? 
"Blue Sky and Yellow Sunflower" by Susumu Yokota
– A beautiful ambient track released in '05 Japan. Utter bliss. 
"Emblica Officinalis" by MF DOOM
– It was tough to pick just one track off of Special Herbs, a box set album of cooking-spice-adjacent Doom beats. This track is a favorite, however, since it's also sampled on The Game's Jesus Piece, another OG LP. Also, the gooseberry is 'arguably the most important medicinal plant in the Indian traditional system of medicine' according to the National Institutes of Health, so there's that. 
AVA'S RECS 
"Wan Light" by Orange Juice
–  Swimming always requires an upbeat (and possibly cheesy) 80s song in the background. Silly, happy, enjoying youth and the outdoors- that's what this song is all about. What better way to encapsulate the feeling of meeting your friends by the lake?
"Yo Lo He Visto" by Isadora
– If I had to edit together a summer camp montage, I think this would be the song I'd include in the background. Light and almost twinkling with nostalgia, this song (and album) are so summer to me.  
"Sandy Toes" by Linda Perhacs
– It's the last day of camp. The memorable parts have passed and now you have a few more hours to enjoy the company of your new friends, who may end up as the bridesmaids at your wedding or people whose ig posts you sometimes like. Either way, you still have these final few moments, sunburned and tired, before returning to the real world.
YAS' RECS
"Jamming" by Bob Marley and The Wailers 
– You know that feeling when your car has been sitting in the sun for too long in the summer and it burns your skin when you first get in? For me, that feeling is inextricably tied to memories of driving around for hours with my Dad who quite literally would only ever play Bob Marley in the car. This song also just pulls every positive emotion that lives in my body to the surface. The harmonies are so evocative of the community aspect of a campfire and there is such an insane quality to the piano improvisation in the background.
"Stranger Days" by Skeggs 
-I was introduced to this song at a time in my life where I felt particularly plagued by anxiety about the future. It's such a sweet nod to the sweetness of days ahead and is my favorite song to scream while driving alone along the PCH, windows down, engulfed in a hot summer breeze. For me, camping is about enjoying the beautiful simplicities of nature and bonding with people I love. The choral aspects of the song and simple guitar elements really emphasize that.
-This Italian love song is prime falling in love under the stars material, man. It's just the perfect soundtrack for jumping into bodies of water with your hand in someone else's, overwhelmed by the tightness in your chest and the heat of sun rays on your back, sweat trickling down your forehead. It's simple yet so complicated and you can do nothing but let it embrace you.