Vote KCSB for Best Radio Station – SB Independent Readers' Poll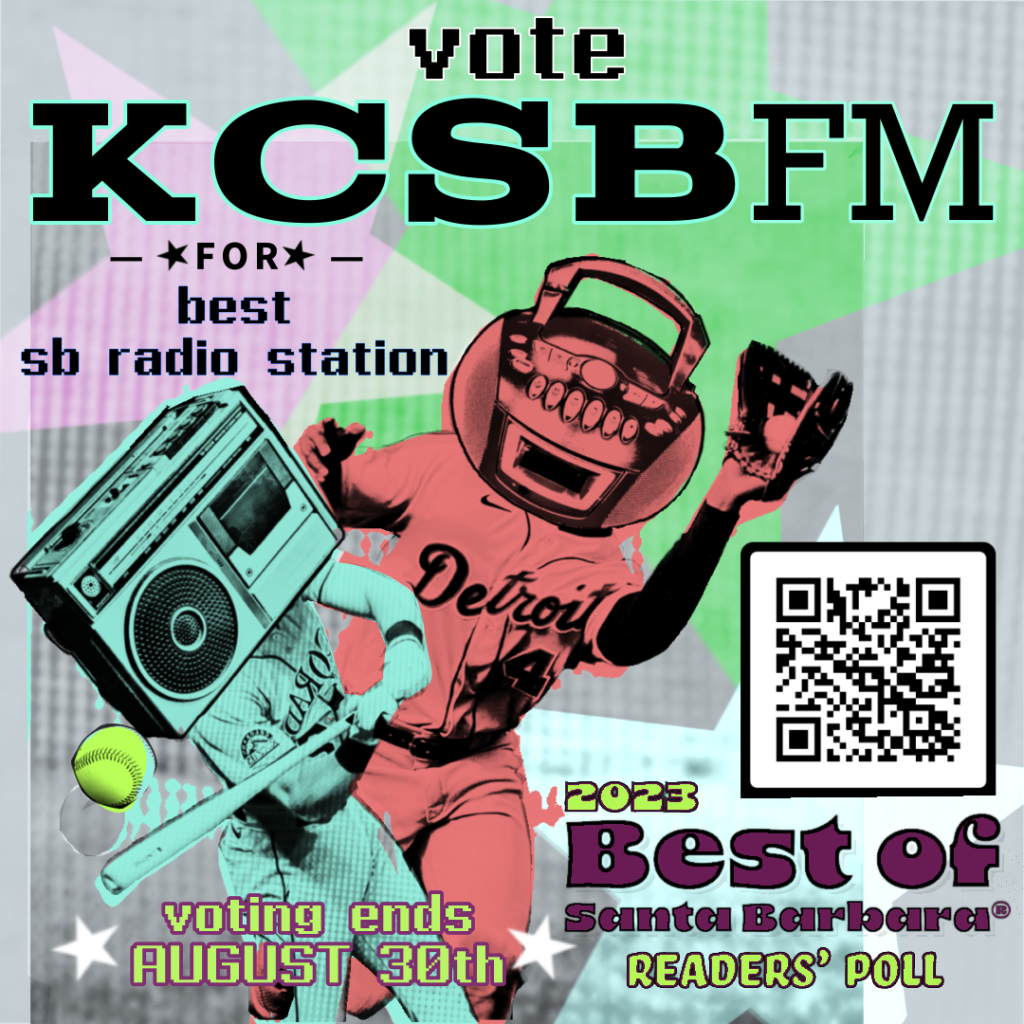 Thanks to all of your continued love and support, we're so happy to announce that KCSB-FM has been nominated for "Best SB Radio Station" in the Santa Barbara Independent's 2023 Best of Santa Barbara Readers' Poll for the fourth year in a row! 
Voting is open (!) so don't be afraid to show your appreciation for KCSB and all things Santa Barbara by visiting the SB Independent's website and placing your votes! We'd like to thank our beautiful community; YOU are the reason we do what we do. It truly is your support that helps us keep community radio and independent media alive. 
KCSB is Santa Barbara's only independent and non-commercial station, creating soul-stirring and people-powered radio for the Santa Barbara area! This is true radio from the ground up, and we wouldn't be where we are today without you <3
WHO WE ARE
KCSB is funded primarily by students and the community at large. As a non-commercial, educational FM station broadcasting for the public interest, KCSB enters into no commercial contracts, where we strive to provide programming substantially different from that carried by commercial broadcast media. It is also designed to be educational for both programmers and listeners.
UCSB students and community members are provided an opportunity to learn the fundamentals of radio broadcasting for free, and an opportunity to be a part of a growing community! KCSB provides a platform to a diverse group of programmers who are managed by UCSB students and advised by staff to get marginalized voices and carefully curated independent music on the local airwaves. 
HOW TO VOTE
Voting takes place THIS MONTH, and ends August 30th at 11:59pm. 
On the Santa Barbara Independent's voting page, you can vote for Best S.B. Radio Station under the MEDIA section. 
In order for your KCSB vote to count, you must vote for at least 20 different categories! Now is the perfect opportunity to show appreciation for all of your favorite local Santa Barbara spots and sensations—and of course your favorite radio station! 
We put together a voting guide for you all as well, in case you're not sure where to start when it comes to voting in other categories!