The Untold Power of Freeform Radio: an evening with Mutual Benefit & Friends
Written by Matt McPherson aka Wane Lietoc, External Music Director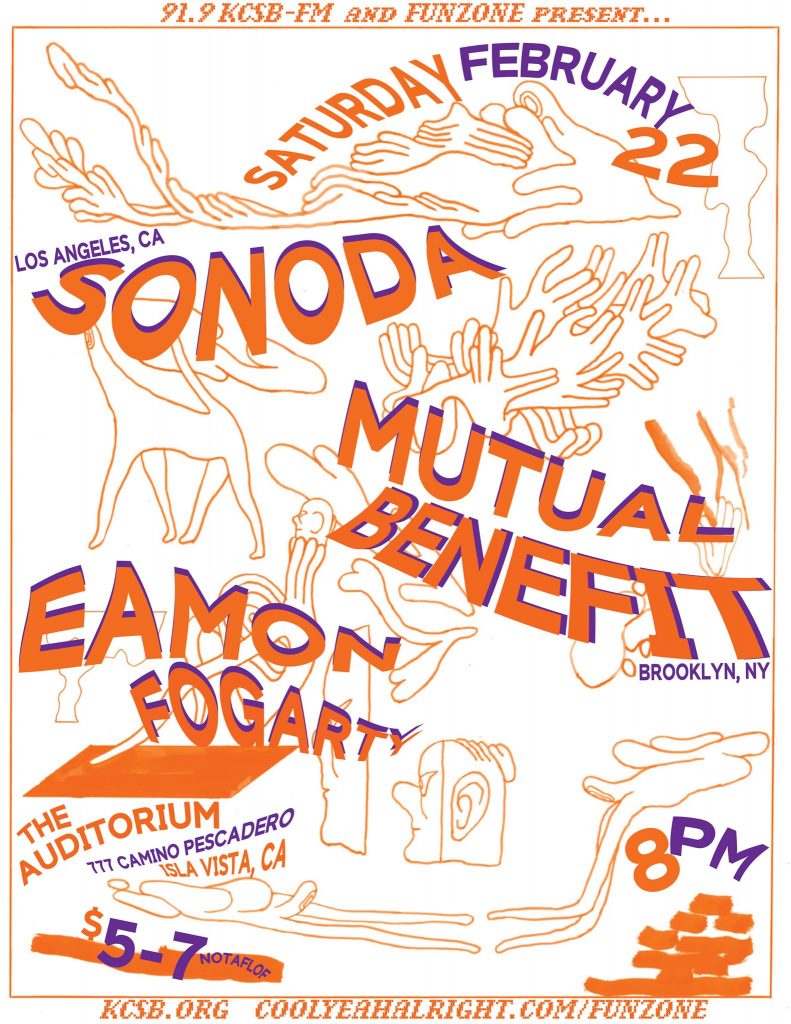 On Saturday the 22nd of February, the Merton Auditorium hosted a night of dreamy folk. Here's the lowdown:
Eamon Fogarty is somehow one of the central coast's best kept secrets. With a mountainous voice against subtle, reverb inflected guitar works (he uses a gorgeous effect puddle with just his socks!), his intimate, minimal songs have a cosmic force. In another life, he could've been a missing power pop link or a 90s 4AD folk signee. As luck would have it, he is here with us now.
Recently coming off of an excellent second LP and tour of the Northeast, Fogarty returned to Isla Vista, stopping by the Merton Auditorium on Saturday the 22nd to grace the denizens of IV with his folk songs of dirt and love, with bluesy swagger nonetheless! In October of 2019, KCSB were lucky enough to have Fogarty in Studio A for a live performance. Thanks to community support, KCSB is able to offer a platform that spotlights under-the-radar artists like Eamon Fogarty. For that, we are grateful.
You can purchase Blue Values (recorded by Psychic Temple!) from Jealous Butcher Records here
Coming on after was Sonoda. Sonoda's dreamy energy is akin to being in the eye of a storm. The four piece pack a walloping punch that was only hinted at in their KCSB live-in studio back in June of last year. With jazzy drumming, piercing guitar ambience, and the most zen synthesizer set-up imaginable, their ability to flip sounds on a dime felt like all your wildest whims meeting in one central band. Sonoda packed a walloping punch of sound reminiscent deep tinted blue and vibrant purple that you painted your senior year bedroom, except they're no longer in a bedroom or even "just on the radio". In their Santa Barbara live debut, Sonoda reminded an enraptured crowd that dreamy did not just mean synths and reverb, with inspired ASMR tidbits, tropicalia beats, and even hints of transient noise flooding the auditorium. If you'd think you were on another planet or in another life, it would not be blamed. They were truly the blissed yin to Fogarty's earthy yang.
At last, we reached Jordan Lee's nocturnal folk project, Mutual Benefit. Without the backings of a full chamber folk orchestra, Lee sat crisscross with keyboards and wind instruments in the middle. Along with compatriot, Noah, revived a campfire folk spirit that translated to a performance abound in revelry. Lee did confess, "We like to party," softly. Their drifting, dusty guitars are a spiritual kin to Fogarty and Sonoda, yet harken to the sounds of ambient drift that the fringes of Bandcamp oft highlight. Lee was a gifted storyteller, sharing an incredible fact about fig trees (that they cannot be made without a mosquito dying) leading into their next song "which is about bugs" (Fogarty saluted this from the sidelines with his beer mug clenched in between his hands). The keyboards and a vocoder came to great use during the set's midpoint and finale. 
After the show, I made a round thanking all the musicians for their beautiful noise. Talking with Lee was especially wonderful, as he casually asked us if college and community radio had been a big touchstone in our lives (yes, indeed it has). For Lee, who has traveled across the US and never been able to consistently hold down a community radio show (only "flirt with college radio" as he confessed), he carried a great empathy to KCSB's mission statement. His backing band has always been made up of college radio alums and his music has always found an audience outside of commercial radio, having been championed by independent blogs and stations like our own.
There is untold power in our little community station, which provides not only a human connection to music discovery, but an infrastructure that allows for artists to play music so beautiful and intimate that cannot be found in most places.
Donate during our fund drive here.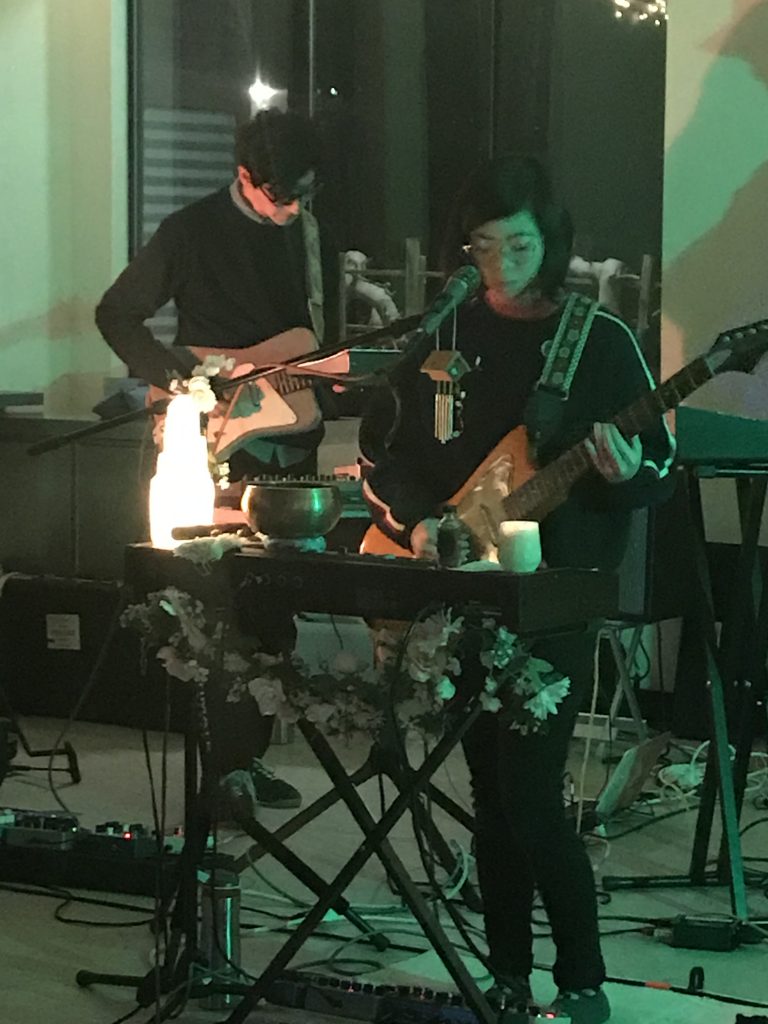 Cap. 1: Eamon Fogarty w/ his mighty guitar!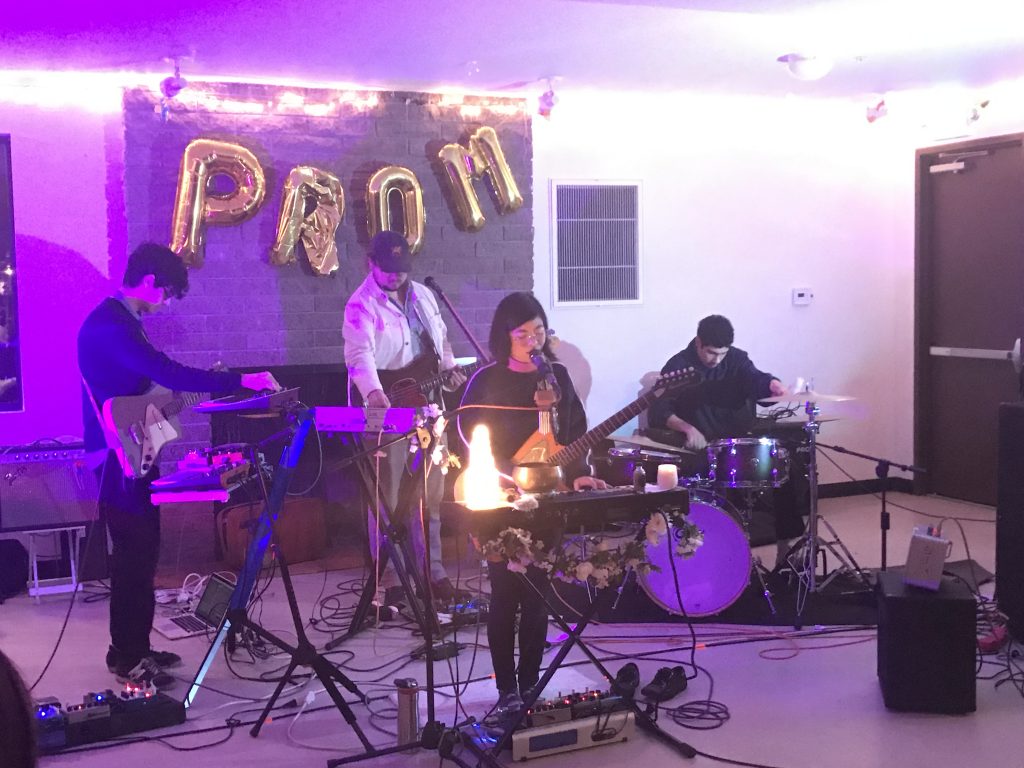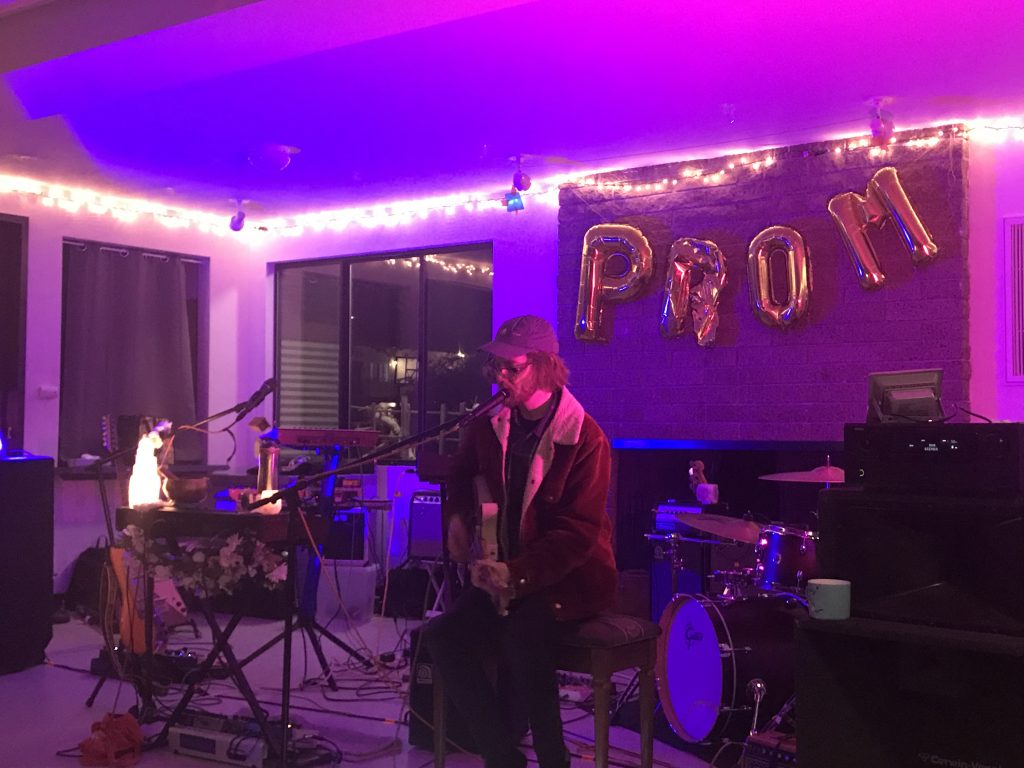 Cap. 2/3: Emily Sonoda, and the great Sonoda-note the zen-like keyboard setup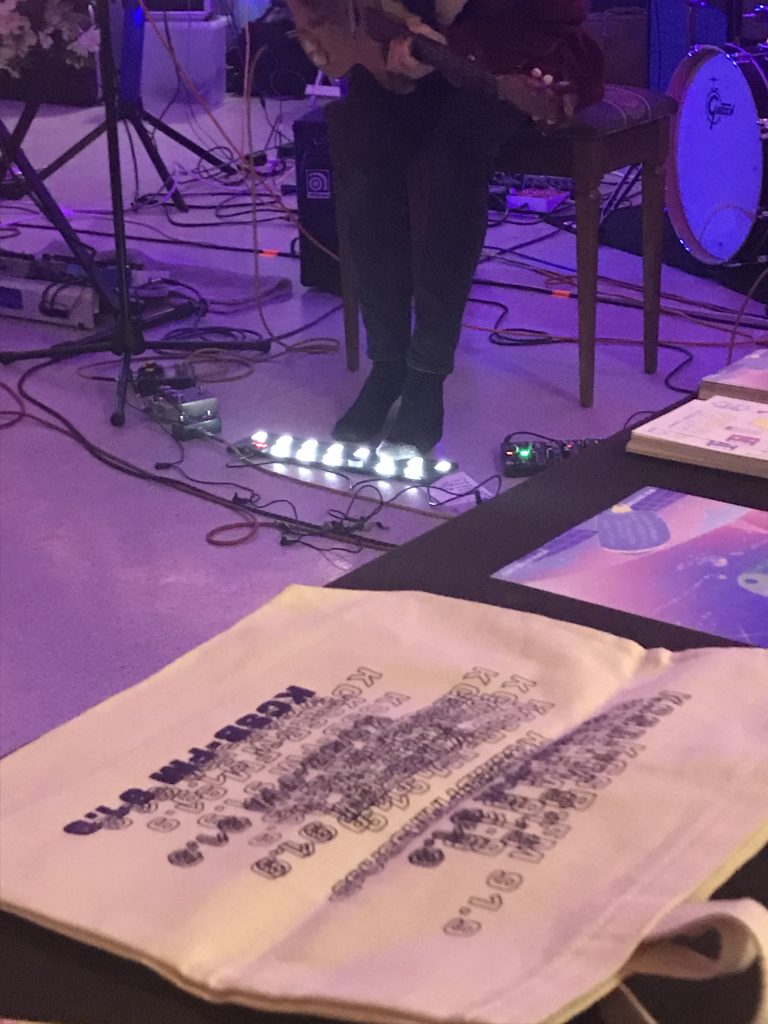 KCSB IS 4EVER