Tape Quarantine: The Rapture's Echoes
With our 2019-2020 Internal Music Director under self-quarantine, Matthew McPherson (Wane Lietoc) has taken to their personal tapes, highlighting and documenting the most outstanding in their collection. This time around, they dive deep into the genesis of dance punk and the Rapture's Echoes.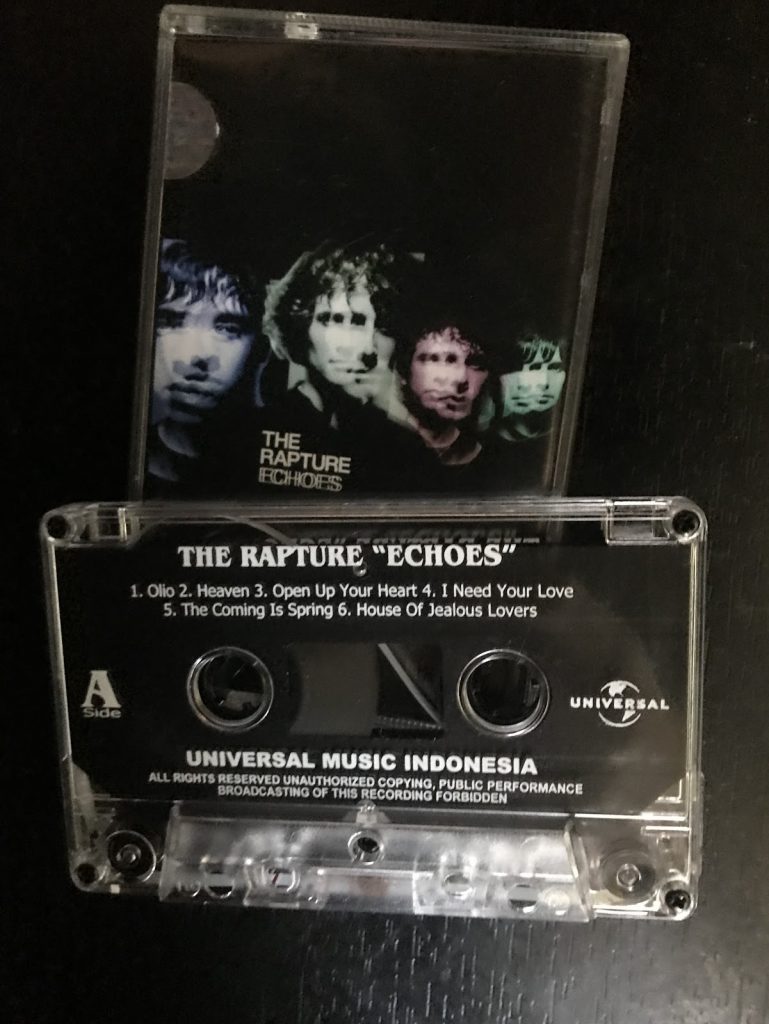 I was home last week on vacation, the first time since May, taking in an open, if not perpetually "time stuck" San Diego. I did return to three tape stores* which ended with me scoring U2's liminal masterpieces, J Dilla's Donuts, and blank cassettes for an upcoming project (shh!). Nothing, though, could compare to when I got an unexpected Snapchat from a friend: "the DHL lady came up to us while we were smoking and handed us your tapes from Indonesia". After days of delay and angry DHL phone calls, they had unceremoniously arrived, waiting on my bed for me to open and dive in to.
The origins of all of this went back to March. In one of my final pre-lockdown shows, I had Miguel Penabella on to discuss "2003 music in general" on my Sunday radio show. The pitchfork 2003 singles list is a helpful guide into the finest in "the shape of things to come": leaked Madvillainy, Dizzee Rascal, and dance punk. I immediately fell head over heels with the latter, especially the lead single from the Rapture's Echoes. In hindsight it was an incredulous choice as the number 1 album of 2003. Enough so that I would half-jokingly send a track to a friend with a text like "these guys are gonna be HUGE!" while waiting in line at the local Target, yet also hijack my house's sound-bar to play the singles. They were unadulterated party anthems that deserved to be played loud. I wanted a CD to dub to tape myself, but one thing led to another, and next thing I knew, I was asking an Indonesian seller on Discogs for a quote to buy 6 cassettes. It would not surprise me to discover that COVID has been a boon for DHL.
In Indonesia, the sun never set on the cassette, nor did the technology seem to revert to its current dismal state in the states. Major labels like Universal and EMI poured money into cassette releases of titles that just happened to fall under any of their sub-labels. Utilizing the finest in cassette technology (via the UAE's very own Thomsun BASF Chrome Maxima), treasured classics like Source Tags and Codes, Clab [sic] Your Hands Say Yeah (not a bootleg, I assure you), and Echoes were given crisp contemporary releases that still sound leaps and bounds better than the latest normal bias tapes that have flooded indie labels and Bandcamp startups today, courtesy of NAC. I was colored intrigued.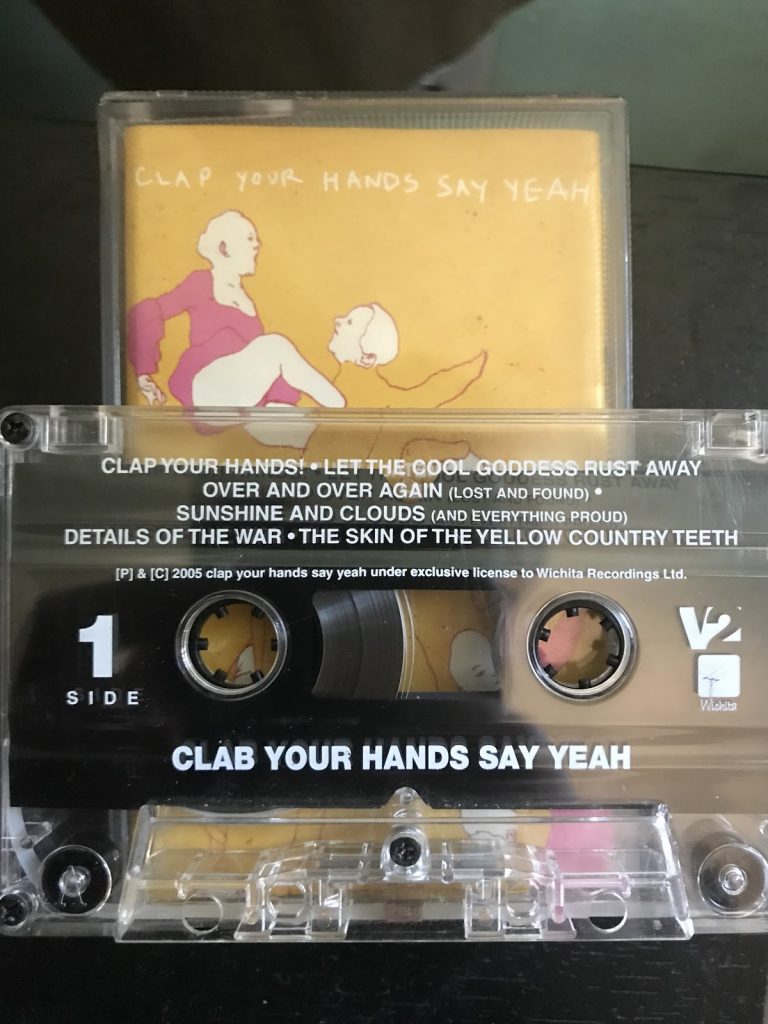 Despite each of the three albums above having received their own share of 00s contemporary acclaim and buzz (from one outlet in particular), none of these albums have translated to sparkly clean indie rock pantheon status. Source Codes is now a cautionary tale on the power of a misplaced 10.0, CYHSY is one of the biggest offenders of white-man indie being given carte blanche, and while a revival of Echoes-influenced acts was predicted to have a moment by 2018, it was hard to pinpoint the freewheeling energy outside of (marginally) Parquet Courts' Wide Awake. Had indie surpassed the needs of these albums, let alone the context of NYC dance punk circa 2003? To an extent, yes. Echoes just happened to be one component  going on in indie circa 2003.
Just three years prior to Echoes, the Rapture were in constant flux. There was no stable line-up outside of Luke Jenner (Vocals/Guitar) and Vito Roccoforte (Drums) To say the band's mini-LP, Mirror, was just another punk album in a sea of them would be inaccurate though. Its post-punk was subtly danceable, with rock theatrics bubbling under the surface, and perhaps most remarkably, an early Kid606 remix (he would go on to push the intensity of electronic to its own zone of y2k psychedelia with his Tigerbeat6 label). It somehow got them signed to Sub Pop while living in Seattle–a city the band hated. So, they moved to New York with no money, acquired a new bassist, Matty Safer, and in a case of an incredible "right place, right time" scenario, the trio lucked into teaming up with James Murphy and Tim Goldsworthy. The two were unlikely business partners and DJ/club music connoisseurs that had just started their Death From Above production and label (shortened to DFA post-9/11). The two were fascinated with Manhattan label 99 Records and wanted to produce albums that could channel Manhattan's mutant funk into the sound of the contemporary era. The Rapture had killer live shows and a burgeoning fondness for the intensity of EDM. They were the perfect vessel for the DFA's inaugural partnership. Their first task? For the Rapture to record and DFA  produce the LP's worth of material owed to Sub Pop.
Out of the Races and Onto the Tracks featured a more raucous, borderline danceable notion of post-punk, while utterly recalling NY punk circa 2000 without much in the frills department. Goldworthy and Murphy had plans to throw down overdubs and club-ready production, but Sub Pop threw things to a halt when they heard "House of Jealous Lovers" prepared as such. The 6 "no-frills" demos amounted to the only thing they ever released for Sub Pop. Another 6 demos went to a tour support EP released on web 1.0 online music shopping stalwart, Insound. It was here where early renditions of their live stalwarts "Heaven", "Echoes", and "House of Jealous Lovers" resided. Skeletal in production as well, but heavy in the energy and gothic post-punk detailing, the six tracks surpass the Sub Pop EP by a mile, themselves genuine proof that the Rapture could end up being the band to kickstart a 21st century dance punk, if DFA could deliver on the goods.
By the end of summer 2002, Echoes was mastered, with Murphy and Goldsworthy's production work finally hitting on a post-modern groove. Yet, Echoes would remain in limbo for over a year, as the negotiations for a non-Sub Pop distributor and copious partying took its toll. In the meantime, DFA formally launched in early July 2002 with four 12″ singles to which web 1.0 forums and music blogs quickly took note. The obvious frontrunners were Murphy (aka LCD Soundsystem)'s own "Losing My Edge" and the new, club-polished mix of the Rapture's "House of Jealous Lovers". The sound they had concocted was rooted in post-punk, but the DFA's production had rewarped it with reverse cymbals, four on the floor dance beats, handclaps, and Mattie Safer's bass really beefed up in the mix. Complete with Luke Jenner's "House of! Jealous lovers!" yap, a cowbell breakdown, and more energy than any Les Savy Fav show could sustain, this one song had become its own piece of mutant funk for a new era of mp3 bloggers and indie kids. It spread like wildfire and built an unsubstantiated amount of hype only rivaled by the likes of Interpol. Echoes would leak (as things were prone to do) rather early in June 2003 and be released worldwide by October 2003, to a myriad of takes that ranged from "album of the year 2003" to "these guys are not good". 
If only it had come out in 2002! Looking back on Echoes in 2020, through my Sony Boombox, I could almost empathize with the people that insisted that the album have an additional ten "House of Jealous Lovers." No song on the album can reach that track's inane high, but no song should really be judged by that bar. DFA wanted an album that sounded like 99 Records never stopped; from a reworking of Mirror's "Olio" (cut back from its pre-release 8 minute 12″ single) to new renditions of "Heaven" and "Echoes", alongside cuts like "Sister Savior" and "The Coming of Spring", the club elements added by the DFA are jubilant, like a kid in a candy store mixing all the sweetest and sugary moments for maximum pleasure. They are not the hardest hitting beats nor era defining like other EDM to come, nor does the comparison to 99 Records feel completely on the nose. It succeeds though, bolstering the Rapture to further explore their post-punk record collection, including a lot of well integrated no wave guitar scrawl.
Besides DFA's crackerjack production though, Luke Jenner's riveting, if not borderline tone-deaf singing in the tracks mentioned above ground the band with their punk roots. While little in his Cure-indebted delivery had changed from the 2001 EPs, Jenner's lyrics that center around the dejection, isolation, and longing find and nearly embrace euphoria thanks to the album's production (and Sater's backing vocals). Like a kid jumping into a mosh pit with no experience, there is something absolutely riveting about Jenner's unvarnished delivery as he wails for communion on the dance floor. Still, the best vocal on the album does not even belong to Jenner–it's the noise squawk opening of "Echoes", which sounds like a dolphin yapping. It slaps. 
Dismayingly, the cassette of Echoes is perpetually locked into a schizophrenic start-stop tracklist that can never quite get the party moving. This was an album that was built off of the 12″ single and made bearable by the power of a CD's ability to reorganize or outright skip sections of the album to play the songs that got people moving.  Ending Side A of the tape with "House of Jealous Lovers" just as it transitions into "Echoes" is THE cardinal sin that not even the vinyl would allow. Having to wait minutes for the tape to wind back to "Echoes" is infuriating! Yet, the most glaring examples of this schizophrenia are also a window into an alternate framing of Rapture. 
Even in the dance punk orbit of 2003, the Rapture felt…inadvertently traditionalist. The third track, a Bowie-style power ballad, "Open Up Your Heart" slowly uncurls itself over five minutes. The DFA's production is quiet and minimal, not killing all momentum built up by "Olio" and "Heaven" per se, but more or less qualifying that nervy hedonism in favor of jazzy horns and drums that signify a life after the comedown, when you have to walk home in the approaching dawn. It has no reason to be the third track, yet its graceful composition offered solace for the Rapture a chance to revel in rockist theatrics instead of dance floor pow-wow. Jenner's lyricism and delivery is as delicate as allotted, cutting back on everything to reveal that this burgeoning band was really just comprised of bleeding-heart twentysomethings that just wanted to settle down. They return to this mode in the last two tracks ("Love is All" and "Infatuation") that now most likely exist to remind listeners that the Rapture were a New York band in the same orbit as other New York bands like the Strokes. Tragically, those last two tracks are about as bland as any garage rock revival act could get in the year 2003. If you were downloading this album on Limewire in 2003 and your first track was "Infatuation," I'm sorry.
While the Rapture did not intend to be the leaders of the dance punk pack circa 2003, they sure were thrust into it. You could make a case that Sacramento-by-way-of-New-York startups Out Hud and !!! wanted that moniker, trading blow for blow across the span of a year, with upends of dance punk that were ten minute journeys across the intersection point between ESG & Post-Rock or pointing to new pop potential on the dance floor, respectively. Yet neither had the buzz nor would be offered the $1.8 million dollar contract that the Rapture got with Universal,. It led to an incredible amount of festival showcases & TV performances, the kind of rags-to-riches story that seemed out of league just a year prior. It also pissed off James Murphy enough to concoct 2005's LCD Soundsystem. By then, the DFA were the New York dance punk label, even if the mutant funk revival had passed onto a new wave of weird, idiosyncratic folk. Yet, from Hot Chip to Hercules and Love Affair, and even the xx, Echoes left an impact that seems ubiquitous in hindsight.
If anyone was noticing the impact and documenting where things were headed, it was Erlend Øye. In 2004 Øye, one-half of the German folk duo, Kings of Convenience, was tapped for a monster-loaded DJ Kicks mix that forwent typical techno and house procedure. As much as this was an album of Kompakt techno, Øye's pop sensibility was keen to the mix's success, with a litany of tracks featuring his own singing and simple electro beat underneath. From a cover of the Smiths to a burgeoning French act known as Phoenix, the Rapture's "I Need Your Love" fit like a glove in Øye's mix. It also made one thing clear: dance punk was not the post-genre vessel, it was one of many ingredients that pointed to post-genre dance ready mash-ups that would define the 2010s.
The Rapture would cruise with two more albums of tried and tested material up until 2011 before calling it a day. They did revive last year (2019) as a festival act and were last seen in San Diego days before lockdown was to start. Jenner quietly released a solo album, 1, going full-circle to lightly embrace the rock theatrics that were always bubbling under the surface. In hindsight, it only makes Echoes more of a wondrous flash-in-the-pan moment. Two completely untested forces hitting it off with a killer single that not only built a YEAR worth of unrequited "the next big thing" hype, but paved the ground for new facets in mutant dance that would come to define the 00s. For as messy as it was, no album has quite usurped that sneaky influence.