Tape Quarantine: Mee-Eaux by Bethany Curve
With our 2019-2020 Internal Music Director under self-quarantine, Matthew McPherson (Wane Lietoc) has taken to their personal tapes, highlighting and documenting the most outstanding in their collection. This week, they takes a look into the evolution of the shoegaze genre through various representative and influential albums.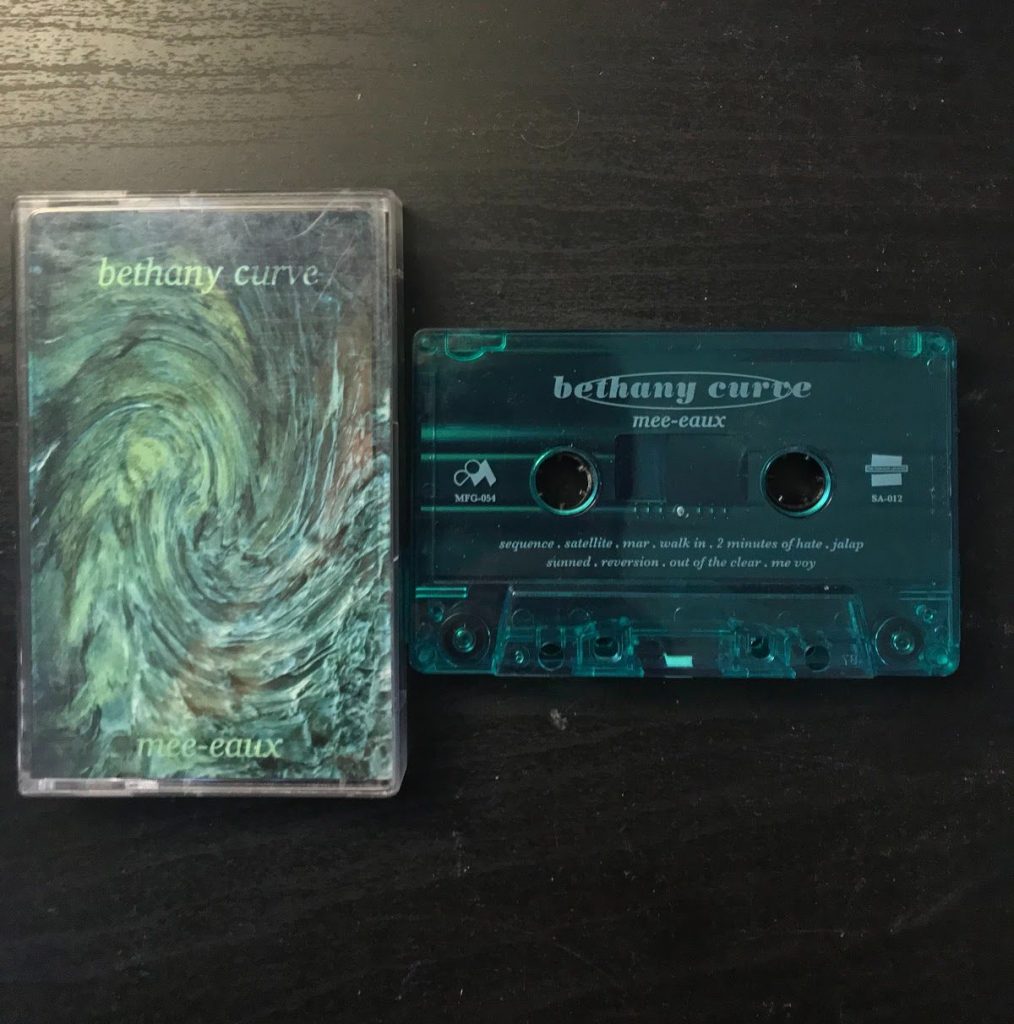 By 1995, Shoegaze was not a popular form of British music. As Oasis took their label, Creation, to new chart topping heights, Creation was offloading Slowdive and their final album, Pygmalion in a Valentine's Day Massacre. Kevin Shields was having a bout of writers' block that could be over by '96 or 2013–no one knew when. Ride had pivoted to butt rock. The dark age of shoegaze in the UK encroached.
Meanwhile in America, more and more of this music continued to percolate across the underground, producing the occasional Painful or So Tonight That I Might See level breakout alongside regional scene or underground success of their own accord. In Arizona, the "beautiful noise" scene produced a few noteworthy acts and one ethereal label, while Simon Reynolds dubbed Bowery Electric "a distinctly American post-rock".  Yet, this was no American shoegaze ascendency; these were cult bands at best and with an internet in its infancy, it would be years before these sounds became properly uncovered and reevaluated.
Such is the case with Bethany Curve, a band birthed the moment lead songwriter Richard Milling saw the Cocteau Twins and Slowdive within the same month (April 1994). Awe struck by the shows, Milling started jamming with friends and in 1995, they self-released a debut, Mee-Eaux, in a limited cassette run. They continued to record little heard albums across tiny labels that practically exist in name only up through 2003, before Milling spent over 15 years toying with their latest, Murderer! In that time, only one copy of Mee-Eaux ever traded hands on Discogs for $250, as the album existed partially on YouTube in the form of tape dub with an uncorrected low pitch.
Seemingly out of thin air, a 2017 reissue of the cassette emerged on Captured Tracks' Shoegaze Archives imprint. The Shoegaze Archives had promised to highlight, document, and reissue overlooked shoegaze, but had been inactive for half a decade when it suddenly resurrected with this reissue (and no word of what's to come since).
It was a quiet release for an album worth more than mere cursory. Mee-Eaux's sonic genealogy counts itself as one of many descendents of the cavernous recordings of the Cure and 4AD fantasma, more than Slowdive or MBV. What gives it its bite is that Milling's ear for layering sounds leads to songs that are meticulously constructed as a space rocket launch. The opening, "Sequence", starts with a low jangly guitar that sounds like satellite beeps detected blips on a radar before practically soaring. Backed by beckoning drums and Milling's voice beckoning an ethereal transmission, Bethany Curve practically demonstrates Shoegaze 101 on how to make yourself sound massive without money or tons of session musicians. The album could have cruised with just ten of these tracks.
Instead, the tape, which features dubs of the full album on both Side A and B, often rides through a series of ambient passages (the haunted, crackling "Mar") and interludes (the studio trickery of "2 Minutes of Hate") that push their sound towards alien territory. They are easy pieces to find yourself lost in, perfectly fading into their rockers like "Satellite" or "Sunned" that show how industrial their sound could go…even as if Milling's vocals never harmonized properly. Every piece was not exactly needed, but taken as a whole, it paints a picture of how far the sound could carry. Closer, "Mey Voy" with its layers of eerie, piercing guitars and throbbing, wobbly guitars twould even make Cherry Red's 5-CD compilation of shoegaze in 2016. Squeezed next to Bowery Electric and Astrobrite, the song jams towards far flung reaches, with Milling's voice hitting like a blanket, with a slow, steady ending that sees Bethany Curve descending down to Earth, the album neatly finishing close to where "Sequence" started.
In October 2018, I decided to voraciously track down physical copies of anything with reverb, vaguely tied to codifiers like dream pop or shoegaze–this elliptical descriptor I had to decipher. This did not mean that I would start with the classics, instead I blindly jumped headfirst into the world of this album instead. As a result, I listened to this A LOT, dissecting this curio of a tape in lieu of hitching a ride to Souvlaki Space Station. I was enraptured by the sound, the fact that a band with a web 1.0 link printed on their tape could push so much out of their sound, and the way they demonstrate how idiosyncratic shoegaze rock could be with just a few simple tools.
Would I ever recommend someone start with this album? Perhaps not, but I still felt like it deserved reflection! And it dawned on me that I owned quite a nice chunk of tapes that could be labeled with the ubiquitous shoegaze moniker. So, for this week on KCSB.org, I'll be taking a dive through my collection, reflecting (musically, maybe personally) on another set of four releases that I've been jamming to on my boombox. It's an ongoing, ontological process, I assure you!
Tomorrow, we'll start at the very beginning of shoegaze, with pre-Isn't Anything My Bloody Valentine.