Rainbow Kitten Surprise: Live at the Santa Barbara Bowl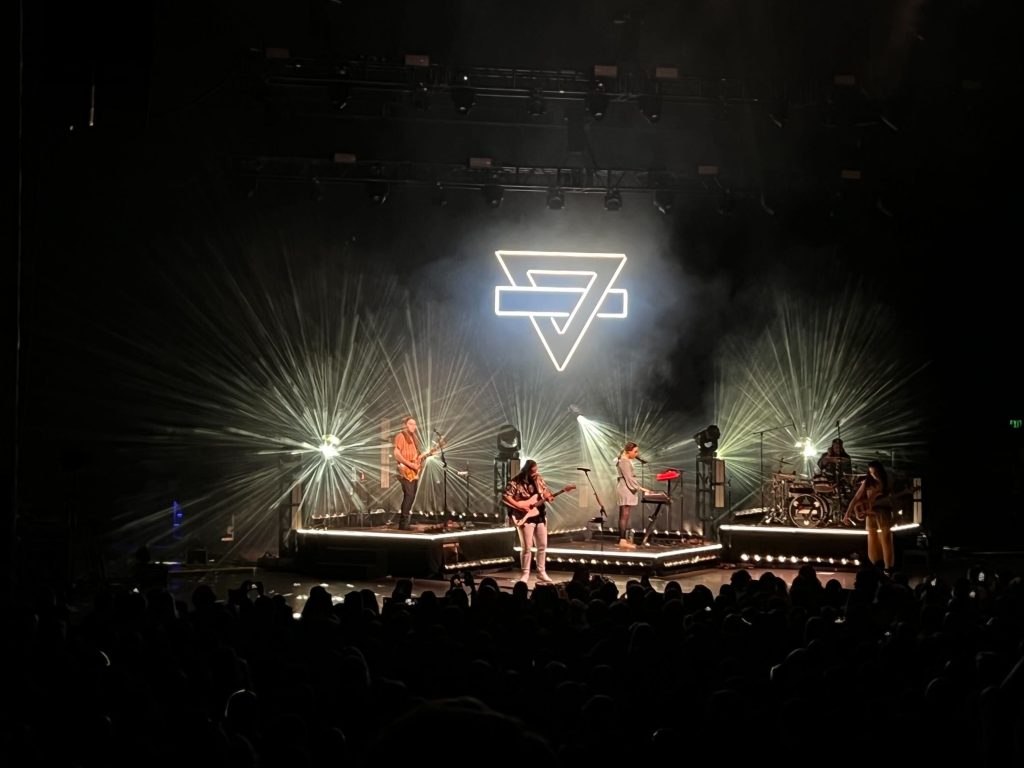 Words by: Yousef Srour, Internal Music Director
Composed of Ela Melo, Darrick "Bozzy" Keller, Ethan Goodpaster, Jess Haney, and Charlie Holt, the five members together make up Rainbow Kitten Surprise. Everyone in Santa Barbara knew their names and chanted for them when they came on stage. It's May 27, 2022, the last non-festival stop on their tour, and it's been quite a time for Rainbow Kitten Surprise.
They're an easy listen, somewhere in-between bluegrass and alternative rock. I remember the first time I listened to their 2013 project, Seven + Mary. The only way I could describe it was carefree; the soundtrack to a coming-of-age drama when the main character rolls the windows down to their car, opens up the sunroof, and one of their best friends stands on top of the seat and feels the breeze of the world rush upon them. That's Rainbow Kitten Surprise. They're folky, a little bit of Boone, North Carolina twang in their voices, but nonetheless cozy. When they came out, they just jammed for a little bit, serving as a bit of an interlude, suggesting the sound of their upcoming album that is yet to be announced.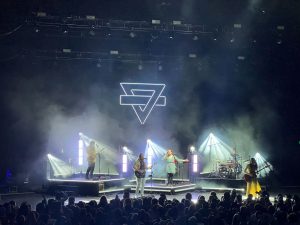 Their stage presence is "feel-good." Nothing too outlandish, but really that of a jam band. They groove on stage, but truly, they're just a bunch of friends who enjoy performing together. RKS puts on a light show of ages, with smoke illuminated from multicolor flights that flood the stage; at one point, they plates "American Hero," which might have been the only out-of-place song on their setlist. The lights changed to showcase the three colors of the American flag, but this performance comes about two months after the band's lead singer, Ela Melo, has come out as transgener. The red, white, and blue felt as if the band was trying to oddly find its roots while also pushing themselves out of their traditional box. All the while, that was only a short moment in the show, and their music still plays out like secular gospel.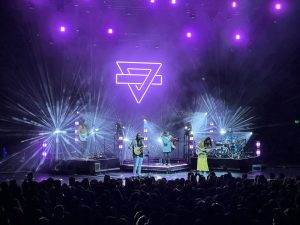 Hits were played, amongst the likes of "Cocaine Jesus," "Shameful Company," and their new single, "Work Out." It was a beautiful performance, and just as the Santa Barbara Bowl was getting colder by the minute, their lyrics were warming everyone up on the inside, scooching closer to their neighbor as the love ballads became more and more emotional, and more and more tender. There was love in the air at the Rainbow Kitten Surprise show, but given with a touch of change and recognition that the band's future might not lie with its same audience. They're exploring new themes of love and loss and self-acceptance, but it was heart-warming to see the audience support them with open arms. There were people as young as 6-years-old singing along to "Cocaine Jesus" to adults above sixty clapping as hard as they could during the encore when Rainbow Kitten Surprise played "It's Called: Freefall."
Like I said, love was in the air and it feels like even though the band is still finding its feet, trying to push away from bluegrass and a little bit more into an even more alternative side of pop, their footing is gleeful and cheery. Everyone on stage was smiling from ear-to-ear, everyone in the crowd was waving their hands and could not stand still when "Devil Like Me" came on, and everyone clapped their hands along to "All That And More (Sailboat)" with pure youthful excitement.