KCSB PRESENTS | Pride of Place: Santa Barbara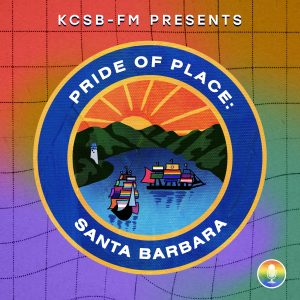 Hello KCSB Listeners,
As Pride month unfolds, KCSB News and KCSB-FM intends to intimately explore the history and lived experiences of Santa Barbara's LGBTQ+ community, examining the roots and presence of LGBTQ+ people here. Starting June 2, we will be releasing a limited series, "Pride of Place: Santa Barbara."
Through interviews with LGBTQ+ organizations, activists, entertainers, and community members, "Pride of Place: Santa Barbara" aims to offer perspective on Pride and its integral role in our experiences and identities.
This series is comprised of five episodes which will be released every Thursday beginning June 2 and wrapping June 30. Each episode will air during our Thursday newscast at 5 PM on KCSB-FM 91.9 and will be available on our various streaming platforms (Click here ➵ SoundCloud, Spotify, Apple Podcasts).
Take care and take pride.
– Daniel Huecias, KCSB External News Director 21-22
Episode One: Cultivating Space
• Pride of Place: Santa Barbara E1 on SoundCloud
• Pride of Place: Santa Barbara E1 on Spotify
• Pride of Place: Santa Barbara E1 on Apple Podcasts
Episode Two: Educational Connections
• Pride of Place: Santa Barbara E2 on SoundCloud
• Pride of Place: Santa Barbara E2 on Spotify
• Pride of Place: Santa Barbara E2 on Apple Podcasts
Episode Three: Singing Out

• Pride of Place: Santa Barbara E3 on SoundCloud
• Pride of Place: Santa Barbara E3 on Spotify
• Pride of Place: Santa Barbara E3 on Apple Podcasts
Episode Four: Trans Identities

• Pride of Place: Santa Barbara E4 on SoundCloud
• Pride of Place: Santa Barbara E4 on Spotify
• Pride of Place: Santa Barbara E4 on Apple Podcasts
Episode Five: Intersectional Futures

• Pride of Place: Santa Barbara E5 on SoundCloud
• Pride of Place: Santa Barbara E5 on Spotify
• Pride of Place: Santa Barbara E5 on Apple Podcasts
PRIDE Defined
• Pride of Place: Santa Barbara E6 on SoundCloud
• Pride of Place: Santa Barbara E6 on Spotify
• Pride of Place: Santa Barbara E6 on Apple Podcasts