October's Add of the Month: Injury Reserve's By the Time I Get to Phoenix
KCSB's music department is sitting down each month to write to you about one album added to our music library that left a strong enough impression on them to be crowned Add of the Month. For October 2021, KCSB's Internal Music Director Yousef Srour goes in depth on Injury Reserve's By the Time I Get to Phoenix.
*****
Fair use of an Injury Reserve album cover for review purposes.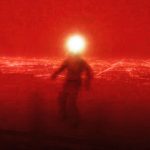 Injury Reserve – By the Time I Get to Phoenix
When Stepa J. Groggs died in June of 2020 at the age of 32, I was devastated. It broke me down. He was a husband and a father to four lovely children. Back then, I'd listen to Injury Reserve late at night, usually around 3 or 4 o'clock, anxiously sitting in front of the bathroom mirror trying to push myself to go to bed. Almost routinely, I'd put on "North Pole," solemnly rapping along to his first verse, repeating to myself, "I can't be the only one that's feeling lost, right?" But it wasn't just the lows that I spent with Groggs either. His verse on "Bad Boys 3" brought to light the fact that he was from the Bay Area, just like me, saying "Use to rhyme my shit on the BART, headed to the 'Sco." It was hype music, it was empty-my-bank-account music, and Injury Reserve taught me how to Drive It Like It's Stolen. Even posthumously, Groggs acts as a navigator; one who emphasizes the value of life experiences and the importance of family. "Fetus" by Aminé is the perfect example. Groggs reminisces about high school romance, his daughter growing up, and how he simply wants to be "Half the father that [his] momma was." The song's outro says it all, and they even got me to try a grapefruit for the first time. You could feel Groggs' presence because you could tell that he appreciated life – and he wanted everyone who listened to Injury Reserve's music to do the same.
Injury Reserve is a trio made up of two rappers, Stepa J. Groggs & Ritchie with a T, as well as a single producer, Parker Corey. The group's debut mixtape (excluding demos and an obscure EP), Live from the Dentist Office, introduced the world to weird, fragile Parker Corey beats that play out like lo-fi instrumentals that have taken on a life force of their own. Songs like "Ttktv" and "Washed Up" are slower, but allowed their audience to become better antiquated with the characters that they would soon come to love. Ritchie with a T is more emotional on this tape, contemplating the existential and configuring a flow that squiggles around the beat with storytelling that festers itself as introspective and relatable to the lost 20-somethings who have stumbled upon their music. Injury Reserve followed the project with another mixtape called Floss. It was recorded in the same building as a dentist office, just like its predecessor, but this time around you can hear the trio delving into more aggressive production. It's fast-paced, it's high-energy, and it's a bold statement – an introduction to what their self-titled album will sound like. Ritchie with a T blazes his voice with eccentric flows that range from languid to a choppy staccato. He screeches on "What's Goodie," trading bars with Groggs, wondering how other rappers only get 10 likes on their videos when there are more than 20 people standing around in front of the camera. It's observational humor from outsiders. They're just a couple of guys rapping about flossing and going on H&M shopping sprees; they don't have anything to prove to anyone.
Injury Reserve transitioned the outfit from being rap outsiders to forerunners in the experimental lane of hip-hop, regardless of how trite it sounds. Injury Reserve shouldn't be called experimental, but when you listen to "Rap Song Tutorial," you have to ask yourself, "Who else is even capable of making a song like this?" Just as the title hints at, the song is composed of Ritchie with a T and a random AI voice explaining how to make a rap song. "Step 1: Choose your drums/Step 2: Assemble your drums/Step 3: Add your melody/Step 4: Write a hook/Step 5: Record your hook." And just like that, you hear Parker finding the drum kit that fits his vision; you hear Parker creating the drum pattern; you hear Ritchie with a T writing a hook on his Notes app; and you hear him then rap his hook acapella. Songs like these make Injury Reserve unlike any other band. They're audacious, willing to try anything that they think will sound remotely interesting, and it works. The album features artists along the likes of Rico Nasty, Freddie Gibbs, JPEGMAFIA and Aminé – artists who are willing to take risks in their artistry, never afraid of failing because they would rather go out in flames. The beats get glitchier and glitchier, preparing you for the magnum opus that would be their final album as a trio.
With that, By the Time I Get to Phoenix is a heavy, noisy masterpiece that tells the story of addiction, grief, and divine creation for the sake of creation. The story of the album's genesis breaks my heart, so I'll keep it short. The album was inspired by an improvised DJ set that the group performed while on tour in Stockholm, Sweden, and the project was formed over the course of the pandemic. They cracked open pieces of themselves that they had once been too scared to reveal. Ritchie with a T recorded all of his verses alone, in a dark room, finding new voices to push his creativity as far he could possibly take it. The project is brutally honest. Groggs has never been one to shy away from the truth of his addictions and the unhealthy coping mechanisms that shoot him down rabbit holes. His verse on "Knees" will always get the better of me. He raps about working to put down the bottle, an echo of old verses about alcoholism in Live from the Dentist Office. Since his passing, the lyrics carry more weight. They carry more sorrow. Yet, when they recorded "Knees," the three of them were uncanningly joyful. "Fuck it, at least my dreads grew," was proof of Groggs resilience; proud that his hair was a physical representation of his psyche and its tangible growth. They were laughing and they were shooting the shit and it's a beautiful memory.
By the Time I Get to Phoenix had its tracklist finished before Groggs' passing, and more importantly, Groggs loved the title of the album. He felt that it connected the group to their hometown of Phoenix and it came from a deep fondness for the Isaac Hayes' song of the same name, "By the Time I Get to Phoenix." That's why Groggs' death is inseparable from the album. His energy seeps right into the title. Regardless, the themes and sounds of the project are dark, mixed by Zeroh, an LA sound-collagist/rapper/beat-maker whose projects have always been known to be cacophonous and brash. He gave the album the push it needed for Injury Reserve to channel the haziness and anguish that they felt. The album also features new and old friends, from Zelooperz of Bruiser Brigade to Morgan Simpson of Black Midi (playing drums on "Outside"). The album is leaps and bounds beyond anything the group has done in the past in terms of pushing themselves into the hip-hop sphere of prog-rock, even sampling Black Country, New Road's song "Athen's France," on "Superman Shit." It's independent rap for the independent ear. It's beauty that persists in the face of fear and desperation. In the chorus of "Superman Shit," Ritchie with a T repeats "Ain't no saving me. Ain't no saving me or you" over and over again, but I can confidently say that he, Parker Corey, and Stepa J. Groggs truly helped save me, and for that, I'm forever thankful.
*****