November's Add of the Month: JPEGMAFIA's LP!
KCSB's music department is sitting down each month to write to you about one album added to our music library that left a strong enough impression on them to be crowned Add of the Month. For November 2021, KCSB's Internal Music Director Yousef Srour goes in depth on JPEGMAFIA's "LP!" 🙂
***
Fair use of an PEGGY album cover for review purposes. Image Courtesy of LLC & Republic Records.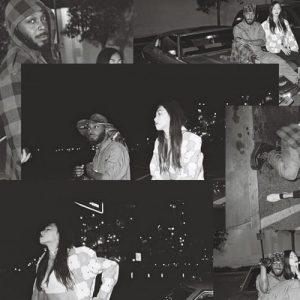 JPEGMAFIA is the unfiltered, manic voice in your head that constantly has to talk his shit. It's impossible not to. Watching culture vultures and critics degrade your work and put it into reductive boxes is harrowing. JPEGMAFIA's music is cryptic, it's shapeshifting, and it rarely assumes a premade form. Peggy, as his fans call him, is traditionally experimental hip-hop, but that's just an umbrella term so you can prepare yourself for whichever album, mixtape, or EP you're delving into. This is an artist who has infamously covered "Call Me Maybe" by Carly Rae Jepsen; an artist who interpolates "…Baby One More Time" by Britney Spears; an artist who has outlandishly direct song titles like "I Cannot Fucking Wait Til Morrissey Dies." Even though genre limits the capacity in which you can understand an artist, I spill over into the line of thought that views JPEGMAFIA as a post-pop artist. In 2018, hip-hop surpassed rock music as being the most popular genre of music in the United States, so this view of Peggy makes sense. He interweaves hip-hop with an expression of popular culture that delineates its beauties, as well as its countless paradoxes. He makes music that could be popular if audiences were willing to adjust their mindset of what music can sound like. One of the most interesting draws about rap music is its ability to incorporate any style into its music – jazz, ambient, scores, punk, post-punk, spoken word – anything can be made into rap and Peggy is a specter of music's future, forewarning the direction that hip-hop needs to go towards.
Fully produced, mixed and mastered by JPEGMAFIA, LP! is the fourth studio album from Barrington DeVaughn Hendricks. The album sounds like a testament to "Germs" from Veteran. The project sounds glitchy, more subdued and bare bones than EP!, giving the tracks an airier sound; the beats breathe and glub like fish swimming to and fro, but every so often getting caught in the current and violently trying to break out from the tide (listen to "Nemo" as reference). The beats aren't as abrasive as Veteran, nor are they as soft as those in All My Heroes Are Cornballs; the easiest way to understand LP! is by thinking of it as an album made by JPEGMAFIA for JPEGMAFIA. On "OG," Peggy freely delves into his hatred for the industry and major record labels, saying that "When this album over, work for nobody but me." This project marks his final album under a record label, and in a self-written forward to the album, Peggy writes that he is now "free as hell," and is finally in a space where he can make music solely for himself and his fans.
LP! sounds as if it was recorded as a live album, performed in various underground performance halls. Songs like "OG" and "END CREDITS!" reverberate through the microphone and embody the same restless energy that inspired JPEGMAFIA's early work. The thrashy, low-cut beats make his vocals appear as if they're being recited to a crowd of hundreds waiting for the moshpit to open up at an intimate show. There's a hint of punk in Peggy's music that makes his voice electrifying; it allows his screams to be as raw and unhinged as ever. Along with punk-infused raps, he includes old-school funk and soul samples on "HAZARD DUTY PAY!" and "GOD DON'T LIKE UGLY!" – a testament to Peggy's production process, where he makes all of his beats himself, maneuvering through the deepest parts of the internet to find the perfect sound bite.
LP! is a project that fits perfectly into JPEGMAFIA's discography as he continues to experiment sonically. Peggy captures a perfect balance of slow synthetic ballads, audio clips from wrestling matches, and screeches amongst flailing digicore glitches. The project's OFFLINE version can only be found on Bandcamp and YouTube, featuring songs that are not included on the commercially-available version of the album (on streaming services), including "HAZARD DUTY PAY!," "GOD DON'T LIKE UGLY!," "💯," "DIKEMBE!" and "UNTITLED." The OFFLINE version is more heartfelt and uniquely JPEGMAFIA because it's how he intended for the album to be listened to; not including the loosies that are only incorporated to boost streaming numbers. The samples are deeper cuts, the verses are more uncontained, and the OFFLINE version simply has a better tracklist. Listen to the OFFLINE version and see for yourself. 
***
Review by Yousef Srour.