May's Add of the Month: Everything Was Beautiful by Spiritualized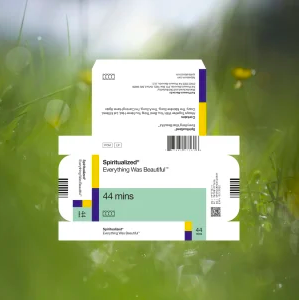 Words by: Yousef Srour, Internal Music Director
It's been 30 years since Spiritualized's first album (with most of this catalogue now available domestically on Fat Possum Records). It's a long time in which you can redefine your sound, taking influence from pop culture, be inclined to straggle behind new art pop acts that have redefined the sound of the generation, and a long time to conform to the less-analog, more-digital form of shoegaze. Thankfully, Spiritualized (as of 1999) has been subject to none other than the brilliant thoughts of Jason Pierce through his voice and guitar, John Coxon on guitar and keyboards, Doggen Foster on guitar, Kevin Bales on drums and percussion, Tom Edwards on percussion and keyboards, and their current bassist, James Stelfox.
Before Spiritualized, there was the ever-bombastic Spacemen 3. Led by Jason Pierce, the group was a product of the '80s. They made neo-psychedelia and thrived in drug-induced fragments of clipping rock music that infused space rock with distortion-heavy shoegaze. Understanding Spacemen 3 isn't essential to Everything Was Beautiful, but it's important to note that Jason Pierce has been making this type of music for over 40 years now. His ballads have grown more trance-like over the years; the nostalgia only carries itself further and further and Pierce tries to draw out the same emotion that he's been powering through since his early-stage 20s. Just like the music, Jason Pierce dissociates from the temporal aspect of reality. He's somewhere between a psychonaut and an astronaut, traversing through the universe through lazer guided melodies that feel genuine yet otherworldly.
Released 20 years after Ladies and Gentlemen We Are Floating in Space, Everything Was Beautiful carries that same glimpse of the past. The title track of their 1992 album interpolates Elvis Presley's "Can't Help Falling In Love With You," bringing in the same fleeting energy from life that straggles behind as you lift up on a rocketship away from the world you're leaving behind, whether that be through love or physical ascent into bleak space. 
Memory is a key stronghold for Spiritualized. They don't need to make music that sounds new, they just need to unlock old memories that you never thought to revisit. The opening track, "Always Together With You," accomplishes just that. With the backdrop of what could be a sandy beach or the blue matter of an aerial view of the ocean, Jason Pierce's voice morphs into that of Frankie Valli, with the same falsetto and glee as the Four Seasons' frontman. He blends doo wop with '60s falsettos to bring youth to his older listeners, as well as images of old cinema for their younger audience – we all have memories that we can relate to the music, whether it's the musicality of Grease and Hairspray or barbershop quartets huddled together to sing acapella. Where Ladies and Gentlemen was raw and emotional, it seems that Pierce has turned over a new leaf of peace and serenity, substituting angst for requited love. The lyrics are simple, tinkered for relatableness. "If you want another world, I would be another world for you." The lyrics are still rooted in space rock, but "Always Together With You" functions as a reintroduction to the band – an overarching thesis that beholds consistency in the face of time. 
As the album assumes form in "Best Thing You Never Had (The D Song)," the parallels to Ladies and Gentlemen… continue. The energy is reminiscent of "Come Together," the next song on Spiritualized's formative body of work. The guitar riff speeds, the drummer stays uptempo as the guitars clip and the trombones slide with the vigor of a big band. The song works as a dance break, a jam session that takes you back to a barn party – perhaps the last big gathering you spent in high school or college, where you and your friends all had the craziest night of your lives. "It's going to be a long ride down/The best thing you never had" repeats itself over and over; your mind immediately questions what you once wanted and the spiral that ensues as the brass brings in a 21st-century exuberance to the project. 
"Let It Bleed (For Iggy)" and "Crazy" have a soulful twang to them, bordering the somber nature of country music, but maintaining few chord changes so that you further yourself in a  world defined by human nature with its bare-bones love. The themes of despair through longin and lyrics like, "Darling I want you," show that Spiritualized does not necessarily need to display what love looks like in the digital-era because the emotionality is still the same. Pierce needs no reference to iPhones and innovation because at its heart, love is simple; convoluted language does not exist for spacemen navigating through the universe because they only learn through experience, just as Spiritualized exhibits.
Train sounds echo the distortion in "The Mainline Song" and the lyrics are sparse, hushed and listless. Spiritualized imagines nightlife and suburbia through instrumentation and lyrics that bring together water and the modern-equivalent of post-modern field recordings that showcase the world as it is in the eyes of what could be considered a post-dystopian band. "I wanted to know if you wanted to go to the city tonight." It's a question that you ask your friends as an adolescent, the person you're dating as a young adult, and your partner as an adult. The elusive lyrics allow for the music to be taken into the ears of the beholder and be interpreted over the years so that Pierce's words never contain the same meaning twice.
"The A Song (Laid In Your Arms)" borders on crazed-noise, illustrating that Spiritualized is still no stranger to experimentation and pushing the boundaries of space rock so that it can get weirder and weirder. They reference their prime, the TV sets that have been left on over the years, and the "one man's game" that never changes. Regardless, "I'm Coming Home Again" feels like the magnum-opus of the project. No stranger to a drawn-out run-time, the album's closer clocks in at 9 minutes and 53 seconds, but it feels as if it's Spiritualized's first return from outer space. They search for freedom, sympathy, and the ability to free themselves. It sounds as if they've finally found some sort of closure in their travels; they've found some sort of explanation through the bizarre electric guitar strums and their choir-like fixture of voices repeating "I'm coming home again." Spiritualized posits their ability to return to their subgenre of choice with elegance, grace and forthcoming success.