March's Add of the Month: Earl Sweatshirt's "SICK!"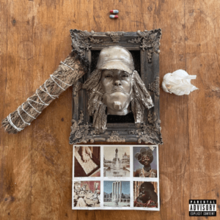 The Odd Future camp is having a hell of a run. With Tyler, The Creator's last album, Call Me When You Get Lost, he became the first lead rapper to solely produce and arrange a Billboard 200 #1 album. You can spot Frank Ocean at the MET Gala or his new flagship jewelry store, Homer. Na-Kel Smith has made a return to the rap scene with the release of his avant-garde project, SKULLFACE BONEHEAD. Syd's group, The Internet, has been selling out tours without having released a project in nearly four years. These were all kids who just liked to skate around LA, carefree, shooting DIY music videos, making new-age horrorcore, all while filming a skit comedy show around the city.
Although Thebe Kgositstile began with abrasive shock-rap with his 2010 mixtape, Earl, he later transitioned to disgruntled abstract hip-hop with grief-laden projects such as 2013's Doris and 2015's I Don't Like Shit, I Don't Go Outside. As life kept getting darker and darker, so did Earl's music. His 2018 project, Some Rap Songs, exists as a disoriented self-portrait as Earl attempts to make peace with his father's passing; an important figure in his life whomst he planned to make amends with right before his untimely death. The album is antsy and plays with conceptual topics, from self-growth to understanding the reflection of his father within himself. These same ideas get darker on his next EP, Feet of Clay. He works as a cultural anthropologist, dissecting his black roots, the dark imagery of funeral services, and brings shrouds of optimism through the presence of abstract hip-hop's hottest up-and-coming artists. He brings on Liv.e, Mach-Hommy, Mavi, and scratchy production from Navy Blue and Black Noi$e to illustrate that he's the tie between the mainstream and underground rap scene. This is the importance of Earl Sweatshirt. Had he stayed with Tyler and Frank, he more than likely would have been a top-10 Billboard artist based on his lyrical ability alone. But Earl's reclusive. Fame never appealed to him. His first studio album, Doris, went on to be a mainstream classic, with features from big-name artists like RZA and everyone from the Odd Future camp. However, every album he's released since has been Earl trying to reclaim his independence from major labels. He's always seen himself as a member of the abstract collective, sLUms, but he just couldn't rap like that and push sales at the same time. Nor was he in the place to do so. It took Earl time to get comfortable in his own skin and move past the strained relationship he had with his parents in order for him to truly become the rapper he's always wanted to be.
In that sense, SICK! is an unconventionally-produced album that sounds disfigured, as if Earl went into the studio with his choice of producers and said, "We need to make something new." And everyone delivers. Over orchestral violins, the little-over 24-minute album opens with "Old Friend" and Earl recounts, "Know I came from out the thicket smilin.'" The album is a bold new direction for Earl Sweatshirt where he seems genuinely happy for the first time, past the sorrow and adversities that weighed him down in the bathroom tub for so long in his life, and subsequently, his career. 
Joyousness and growth etch nostalgic, Alchemist-produced beats on "Tabula Rasa" and "Lye." Earl collaborated with The Alchemist and Armand Hammer, the underground hip-hop duo composed of E L U C I D and billy woods, for the song, "Falling Out the Sky," for Armand Hammer's 2021 AOTY-contender, Haram. On their new track together, "Tabula Rasa," E L U C I D raps about being a celestial being and how bold people can be these days, where they "Act like they've never been punched in the face." He intimately tells a love-draped story over a looped soul sample, leaving just enough space for billy woods to make plans to meet you in Harlem where they can "Bury me in a borrowed suit." He rhymes with antiquity in mind – "Give my babies my rhyme books and tell 'em, 'Do you!'" Armand Hammer values the momentum of the changing world, appreciating its instability rather than pushing back against it. The Alchemist samples an unknown voice that hauntingly states, "I'm so damn proud of myself. I did this for you, G! Alright?" This singular moment embodies the entire album. "I'm so damn proud of myself." Earl's come a long way from his drugged-out social isolation. He's making music with his friends, and he says, "I know it's real, even when I'm feeling bad." Earl can finally cope with the turmoil.
Earl Sweatshirt's new work with Black Noi$e on the project carries the same confidence, however the abstract-producer forms off-kilter beats that broaden that challenge Earl's rapping ability. "2010" is the would-be soundtrack to a hidden, underwater Rainbow Road level on a dusty Nintendo 64. The notes are not quantized but the last beat always hits on time, driving water droplets onto Earl's palms. He raps cheerfully, "I walked outside and it was still gorgeous." He's unphased, completely enamored with the beauty of a world that he hadn't let himself enjoy for so long. Similarly, on "Titanic," Earl lays back and enjoys himself on a wonky trap beat, complete with phasers and hi-hats and an ominous, glassy bass. Na-Kel returns to do the ad-libs, goofily hyping Earl up throughout the song. Na-Kel hasn't appeared on a record of Earl's since his infamous verse on "DNA," but understandably, this is the best time to come back. Spirits are high. There's no guilty conscience. Death's on no one's mind.
Ending with "Fire in the Hole," the project completes itself with an everlasting reminder that Earl Sweatshirt cannot be broken. It's reminiscent of "The Bends," where he preaches, "Bend we don't break!" In the same manner, he explains in the song, "The shield took a couple chinks but it never broke." He's built up his own mental immunity through experience and now Earl's invincible. Even when he's sick.