KCSB & KZSC PRESENT: DIRTY BIRD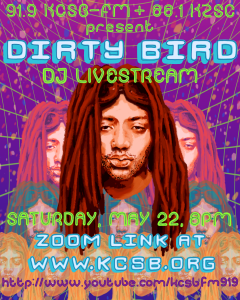 91.9 KCSB-FM & 88.1 KZSC are excited present to you: DIRTY BIRD!
Join us Saturday, May 22nd at 8 PM for a dynamic virtual performance by up-and coming multimedia artist, DJ, and Afrofuturistic house producer Dirty Bird.
This event is free, but will be raising funds for Black Girls Code, a non-profit organization that empowers young women of color to become innovators in STEM fields.
The performance will be held through Zoom (ZOOM LINK HERE!), and will also be streamed on YouTube on KCSB's YouTube channel (YOUTUBE LIVESTREAM LINK HERE!).
For more information, check out this event's official press release!
The event page can be found HERE, and there is no pre-registration required.
Come groove with us <3