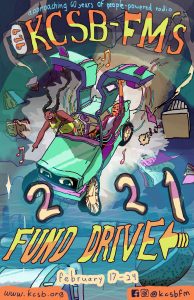 IT'S HERE :')
We are so happy to be able to announce that KCSB's Fund Drive 2021 is now officially live!
While it looks a little different this year, KSCB is continuing an annual tradition of celebrating our lil station and reaching out to the community for donations to keep us up and running as a reliable resource for our beloved community <3
This year, there will be no live phone banking, which may make it easier than ever for you to make a donation to us!* For your thank you gift, you can choose from any of the awesome KCSB merch that your heart desires. View your thank-you gift options on our new merch page at www.kcsb.org/merch. This includes exciting new KCSB swag such as the show-stopping 202o-2021 T-Shirt Design Contest winner, a new ceramic KCSB mug, and a KCSB mask!
*From the menu items on our site, under the word "donate," to donate and receive a thank-you gift, click "donate + merch." If you'd like to donate without recieving a thank-you gift, click "donate direct"!
The suggested donation pledge amount is $25 for students, and $50 for non-students. We appreciate your donations and support so much, especially as we approach our 60th anniversary next year!
Keep an eye out for announcements about special programming 24/7 and live on-air events throughout this year's Fund Drive, via the official event page, our Instagram, our Twitter and of course, be sure to tune in via www.kcsb.org or 91.9 on your FM dial!
Sending you love and appreciation over the airwaves 24/7,
xoxo KCSB-FM 91.9