KCSB-FM WINTER 2021 ORIENTATION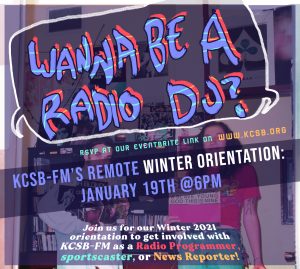 Are you curious about getting involved with KCSB? Have you ever wanted to be a radio programmer, sportscaster, or news reporter?
Join us for our remote Winter 2021 Orientation via Zoom on Tuesday, January 19th at 6 PM to learn more about how you can get involved in our community!
RSVP at the event page HERE <3
We'd love to see you there!