KCSB-FM Presents: Eyedress, Satchy, and Apollo Soul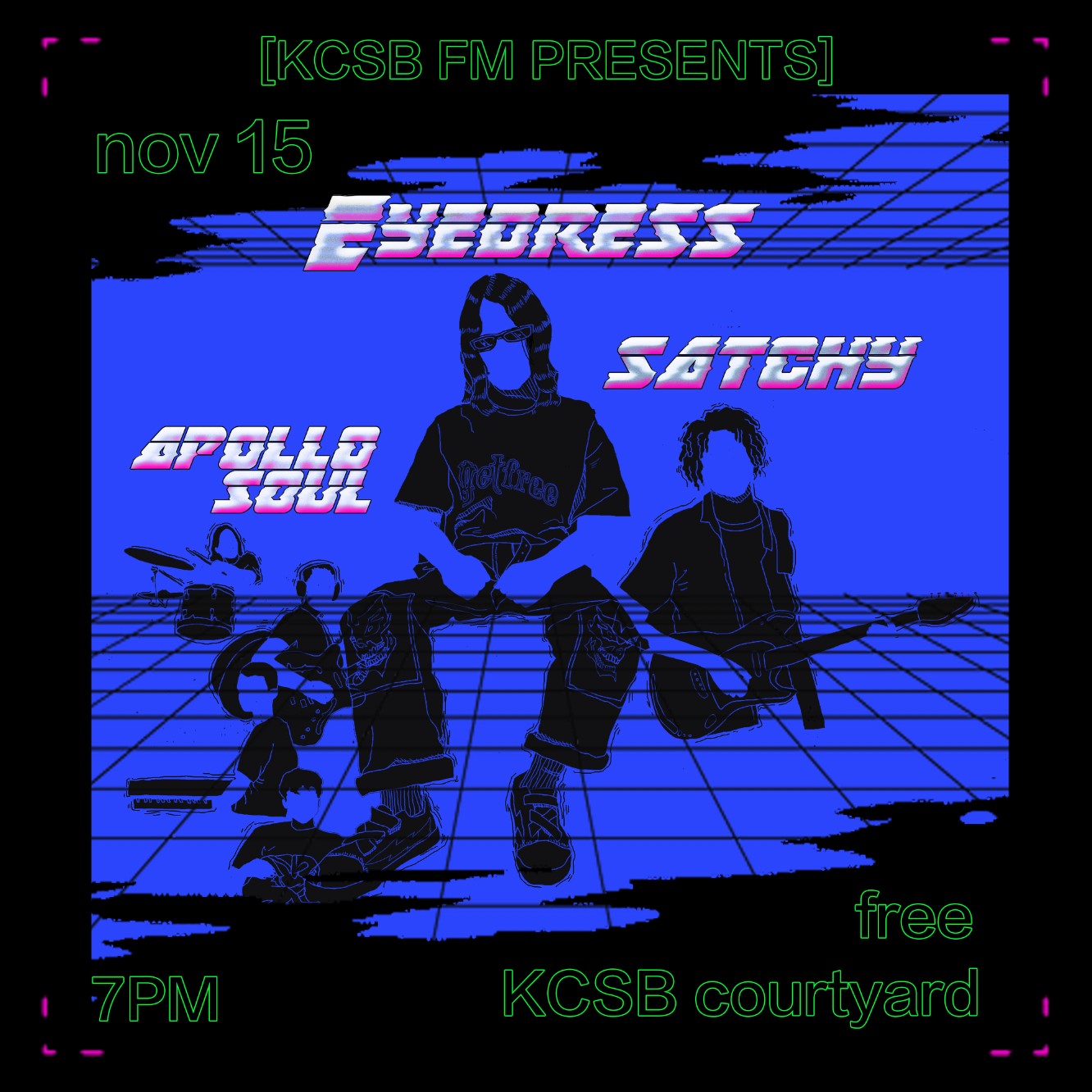 KCSB-FM Presents: Eyedress, Satchy, and Apollo Soul at the KCSB Courtyard!
Apollo Soul (Los Angeles)
After recently completing a tour as the supporting band for Bane's World, Apollo Soul returns again toSanta Barbara! Apollo Soul consists of members: Jack Bastian (keyboards), Matt Saunders (guitar), Cole Brossus (bass), and Ellington Peet (drums). The friendship and musical alliance formed in Fall 2014 at UCLA and they continue to investigate the unknown to this day. Apollo Soul's high energy performances of their original material intermixed with improvised solos create an act you definitely don't want to miss.
https://apollosoul.bandcamp.com/
Satchy (Los Angeles)
With his top inspirations being D'Angelo, Frank Ocean, and King Krule, 21 year old CalArts student Satchy makes guitar-oriented indie r&b love songs that can soothe the soul. Backed up with his band of jazz musicians, Satchy puts smooth guitar chords and sprinkles of jazz saxophone over J Dilla rhythms to create his moody, sensual soundscapes.
https://satchelbrown.bandcamp.com/
Eyedress (Manila, Phillipines)
Eyedress is the alias of Filipino artist Idris Vicuña, formerly lead guitarist of Manila based psychedelic indie/noise pop band Bee Eyes. Born in 1990 in the city of Makati, Philippines, Vicuña relocated to the US with his family at the age of 6. He was raised in Phoenix, Arizona before moving to San Clemente, California at the age of 13, where he started playing bass in a Crass-influenced crust-punk band.In 2005, Vicuña moved back to Manila where he formed Bee Eyes with friends Julius Valledor and Diego Abad. Valledor taught Vicuña the art of sampling and making loops. During downtime from the band Vicuña pursued his own project, which would eventually become Eyedress.
https://eyedress.bandcamp.com/
The event is free, open to the public, and all ages! Doors open at 7pm. Music starts at 7:15p! See you there =p
RSVP >HERE<!