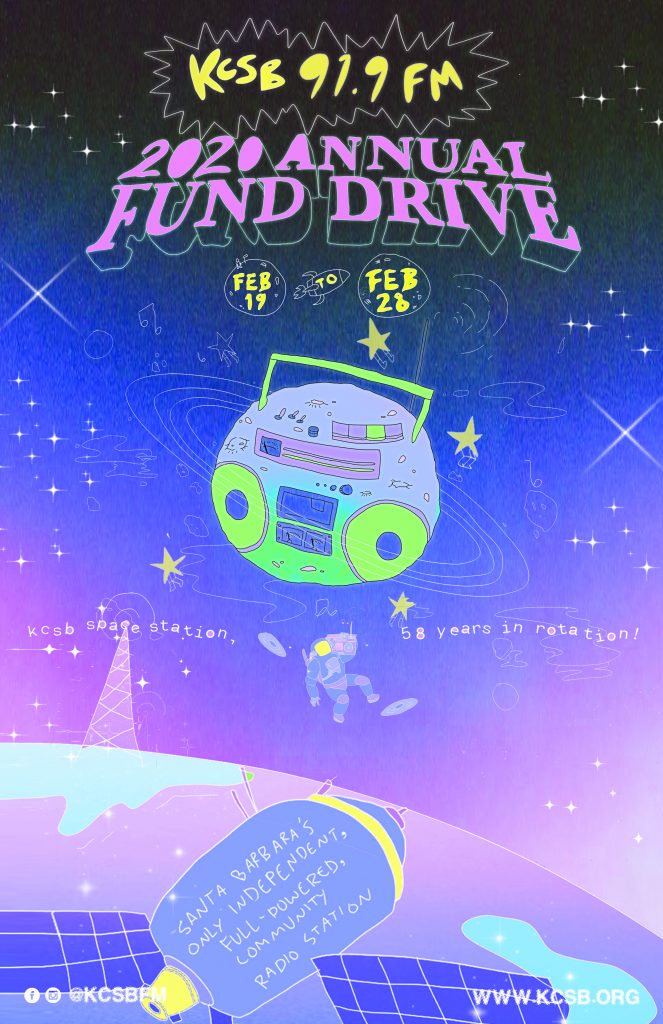 ★·.·´¯`·.·★·.·´¯`·.·★·.·´¯`·.·★·.·´¯`·.·★·.·´¯`·.·★
Greetings, Earthlings!
The KCSB FUND DRIVE makes its annual orbit around Planet Earth on 2/19/2020 at 06:00 hours! It'll be making some noise for a solid 10 days, so don't miss your opportunity to tune in for special signals from the cosmos! Hear it at 91.9 on your terrestrial FM dial, or via Internet at KCSB.ORG. Dial into the Space Station with your voice device at 805-893-2424 and drop some currency to fuel our next trip around the Sun!
---
Our origins…
Since it was first launched in the 1960s, KCSB-FM has been your source for free-form independent programming and community events. UCSB students and other community members are provided an opportunity to learn the fundamentals of radio broadcasting. We have also hosted a multitude of events for Santa Barbara and other listening communities, ranging from music events like Oshun, Eyedress and a techno show featuring student art at the Red Barn.
During the 10 days of KCSB's Fund Drive, our astronauts will be DJing special programs to celebrate you, our listeners, and KCSB's rich history. KCSB receives no state funding, so the generosity of students and the greater community is essential to keeping the station in orbit.
During the drive, you can call (805) 893-2424 from 6am to midnight and donate with the help of our phone operators; or donate securely online at any time by clicking on the following link: http://www.kcsb.org/donate-online/
Keep a look out for a full list of donation gifts we have available this year, ranging from CDs, concert tickets, gift cards, and our ever-popular KCSB T-shirts. You give back and we gift back. Plus, donations of $100 or more will be eligible for entry into our grand prize drawing!
We'll wrap up the Fund Drive with a Special Event on February 29th to thank all of our listeners and supporters. That's Saturday, 2/29/2020 at the Isla Vista Community Center in Isla Vista, Ca. Stay tuned for a special line-up announcement!
KCSB Space Station, 58 years in rotation!