June's Add of the Month: Keyboard Fantasies Reimagined by Beverly Glenn-Copeland
Words by: Yousef Srour, Internal Music Director
Foreword:
I am sad to say that this will be my last Add of the Month. With that came pressure – a pressure to choose the best album, to choose an album that's reflective of my time at KCSB, an album that I can write on and on about because it's impeccable. This album is quite superb, but it does not fit into any of these categories. I'm simply writing about it because I think everyone should listen to it and it is still yet to receive the coverage that it deserves.
I started the Add of the Month series when I was working remotely, beginning my job as the Internal Music Director here at KCSB in 2020. There was no blueprint with how to do my job. There was no strict set of rules that I had to follow when I wanted to transition this role into something more writing-based. So I told the External Music Director at the time, Finnegan, let's do a series where we review our favorite add each month, with the hopes that people will read it. Since then, I've reviewed Manger on McNichols by Boldy James, 4NEM by Chief Keef, Punisher by POLO PERKS <3 <3 <3, and many many more. Few people have read the series, to my knowledge, and that is completely fine by me. I've used this platform to practice writing album reviews; I've used this platform as an internal archive of the best albums that Subsonic and KCSB's physical library has to offer; I've used this platform as a personal reflection on the new releases that have shaped the latter half of my college career.
If this wasn't KCSB – a noncommercial, alternative and educational free-to-form radio station – the Add of the Month for June would have been Kendrick Lamar's Mr. Morale & The Big Steppers. It's hard to not use this platform to write about that album because I've felt such a connection to the project, outlining themes of grief, unhealthy coping mechanisms, and transformation. However, Kendrick Lamar is one of the biggest artists in the world, hence his lack of spins on KCSB. This Add of the Month will be a short retrospective on Beverly Glenn-Copeland's Keyboard Fantasies Reimagined. This is an album about love and light and, just like the Kendrick Lamar project, transformation.
Thank you so much for reading my writing over these past two years. May my successor be diligent in continuing this series. It truly has been my baby and it holds a special place in my heart. I have grieved through the Add of the Month series and I have found self-empowerment through it as well. May future Music Directors find the same. 
– Yousef Srour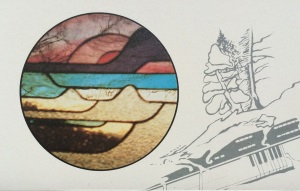 Keyboard Fantasies Reimagined – Beverly Glenn-Copeland
The original Keyboard Fantasies was released by Beverly Genn-Copeland in 1986 on Transgressive Records Ltd. The project is short and quaint, lucious and warm. It was Glenn-Copeland's third album at the time of its release and it illustrated his transition away from poetic jazz-folk to new age pop. The original Keyboard Fantasies is a meditative piece on transformation and growth. Harpsichords and electric pianos lace the project with a youthful beauty, reminiscent of a chicklet hatching from its shell at birth on "Ever New." The album is full of patience, sung through musical lullabies and incandescent warmth.
Keyboard Fantasies Reimagined is the result of Beverly Glenn-Copeland's influence on electronica, ambient music, alternative R&B and everything in-between. Just as the title suggests, the album reimagines the songs of Keyboard Fantasies with the aid of artists such as Blood Orange, Flock of Dimes, Bon Iver, Ana Roxanne, and Arca. None of these artists make music that is objectively similar to that of Glenn-Copeland, where Arca's music is sporadic and a variation of glitchcore, Bon Iver makes forest-influenced music with folk impressions of love, and Ana Roxanne makes ambient gestures that barely fill the silence. There is a reluctant tie to Keyboard Fantasies that exists regardless.
Given the star-studded tracklist, this inspired project surprisingly keeps to its roots; there's a beauty to that. This is one of those few albums that is so transgressive and so genre-bending with its long-form hums and harp strums that the artists can barely rework the songs to sound any differently than the originals do. "Ever New" has three renditions on this new project, once by Bon Iver and Flock of Dimes, once by Kelsey Lu, and once by Joseph Shabason & Thom Gill. Bon Iver and Flock of Dimes play with the song the most, bringing Bon Iver's signature earthy tones with his brass section and microelectronica squeals, breathing hints from his latest project, i,i. Flock of Dimes' voice fits perfectly; it's lighter than Glenn-Copeland's. It grounds the song to nature, unlike the original version of the track that tries to pull you into a dream-like state, floating to the clouds. Kelsey Lu wavers Glenn Copeland's voice, almost wading her voice in water, as if the transportation is similar to a jello jiggle, or that of a tadpole transitioning to a frog and finally having that first breath of fresh air.
Electronica takes form through Arca and Ana Roxanne. Arca is not as bombastic as their songs usually are, here finding repetition through specific chord changes and notes' octave shifts, being as slight as possible to not take away from the relaxation that ensues Glenn-Copeland's music. They add bells for ambience, but it's further proof that only depth can be added to Keyboard Fantasies; nothing needs to be changed on "Let Us Dance." Blood Orange, aka Dev Hynes, makes an appearance on the remix of "Sunset Village," but he barely touches the song. Slightly underwhelming, it feels as if the big name has been brought to the project to give Beverly Glenn-Copeland a new generation's worth of fans; people he has deserved all this time. Dev Hynes has played with bells and indietronica and new age pop on his last few projects, so reworking the mixing on "Sunset Village" makes it ever so warmer.
Keyboard Fantasies Reimagined is not the end-all be-all project that gives a new take on the already near-perfect album from Beverly Glenn-Copeland. Instead, the project serves as an introspection from some of the most talented, independent artists, reliving a project that has inspired so much of their own work with minute changes that give Keyboard Fantasies a layer of depth that was not available at the time of its release. Do not go into this album searching for a better version of Keyboard Fantasies. Come with open ears, ready to understand the project through the eyes of his disciples.