July's Add of the Month: Mach-Hommy's Pray for Haiti
KCSB's music department is sitting down each month to write to you about one album added to our music library that left a strong enough impression on them to be crowned Add of the Month. For July 2021, KCSB's Internal Music Director Yousef Srour goes in depth on Mach-Hommy's Pray for Haiti.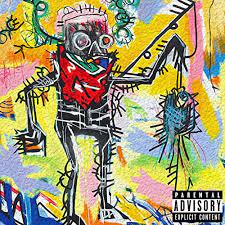 Image courtesy of Mach-Hommy                                     
"Mach-Hommy is an icon, end quote."
What Pray for Paris was for Westside Gunn is what Pray for Haiti has been for Mach-Hommy – a global showcase of the talent that can come from the streets of Newark, New Jersey. Executively produced by the head of Griselda Records, Westside Gunn, the record is a mix of high-class couture and Haitian pride, but note that the two are not mutually exclusive. Mach-Hommy crowns himself with a bandana that masks his face, and for the first time, Ramar Begon unveils a fragrant sound that is uniquely his.
Drawing from Westside Gunn and his deceptively serene, lullaby-esque production, Mach-Hommy reintroduces himself as the hermit – the meditative, soul-searching figure that has withdrawn from society, only to reappear this year in a Python trench coat as every rapper's most feared competition. Mach-Hommy has lived reclusively up until now. The epitome of an independent artist, Mach-Hommy has released Album of the Year contenders in the past such as Mach's Hard Lemonade and the Wap Kong Jòj! EP, pricing his physicals about 10x more than any other artist because he sees value in his work. A Mach-Hommy vinyl can run you back about $444.44 retail because he recognizes that his music is fine art. It should be appreciated over the course of years, coming back to the project over and over again to dissect the endless references that you will never fully understand. Everytime you revisit his projects, its meaning to you will change, so why should he price his work at a traditional price of around $30? You don't need to afford to buy Mach-Hommy's work, because just like the Jean-Michel Baptiste piece, "Fishing," which the cover of Pray for Haiti cover has been based upon by artist Noah Leigh, high art should be free to view. Just as Mach-Hommy reveals on Murder Czn, "We're talking about infinite wealth." He's been in the room with Hov, and now it's time to move differently.
Recorded in Puerto Rico and distinctly written about Haitian culture, using traditional Haitian instrumentation and Haitian Creole, Mach-Hommy creates what seems to be one of the first modern hip-hop records that celebrates one's Haitian roots. Mach-Hommy blends English with Haitian dialect that you can't find online because he and his team have submitted a DMCA takedown request so that the lyrics would not appear on Genius (a website that displays the lyrics of songs, along with explanations of the lines), or anywhere else online for that matter.
To write about the album and discuss each track does not do the project justice because it would inevitably lead to a discussion of the thousands of bars that he spits through his crunchy, Xbox 360-era microphone. Although it sounds raw and lower in quality, the result is a more authentic Mach-Hommy. His voice needs not be crisp, his voice is as grainy as the altered pitch of an anonymous witness that speaks from the shadows on nighttime news. His native tongue drives his flow – the parallels between the cadence of the Haitian language and Mach-Hommy's flow sounds as if he's sprawling rhymes from a methodical notepad that's constantly been scribbled on every hour, every day, for the past year. His singing in Haitian Creole is mesmerizing, pushing you into his own world as you sing along to the beginning of "The Stellar Ray Theory" without understanding a single word.
The lyrics are of MF DOOM caliber, and Mach-Hommy sees himself as the villain that once sold bricks, but instead of the mask, he dons designer clothes and a bandana that will forever conceal his identity. On "Blockchain," he hazily directs you to "Please add the hyphen," in the same way that MF DOOM emphasizes on "All Caps" that you need to "Remember all caps when you spell the man name." It's Mach-Hommy reminiscing about an idol in abstract hip-hop, and even more so, a fallen peer who he has had the pleasure to work with on Your Old Droog's songs "BDE" and "RST."
The production of the project is its strong suit, even though it is more geared towards Westside Gunn's sound than Mach-Hommy. The usual list of suspects are smeared all over the project, most prominently with Conductor Williams, Denny LaFlare, Camouflage Monk, and Nicholas Craven. Missing from the list are Mach-Hommy's typical collaborators such as DJ Muggs (of Cypress Hill), Earl Sweatshirt, and The God Fahim as a producer. Mach-Hommy has officially began his reign as a part of Griselda Records, with bubbly beats that pull from obscure samples, Haitian news clips that highlight the power of language and the brutal poverty and undermarket economy of cocaine that seeps into Haitian culture (and has followed Mach-Hommy as a dealer in NY). The music has a spherical quality, flipping loops that always end and begin at the same spot, from the Haitian trumpets to the stripped-back, slowed-down soul samples to the summertime bells that stimulate your medulla oblongata to bring bright thoughts amongst Mach-Hommy's dark bearings and masked drip.
The project is a masterpiece; so much so that the third to last song is titled, "Au Revoir." Mach-Hommy will say goodbye whenever he pleases, but as a listener, he knows you'll stay to the end. 
***
Review by Yousef Srour.