Interview with Captain Suun with Kiely Ward
Interview by Kiely Ward of Sell the Sizzle (currently on hiatus)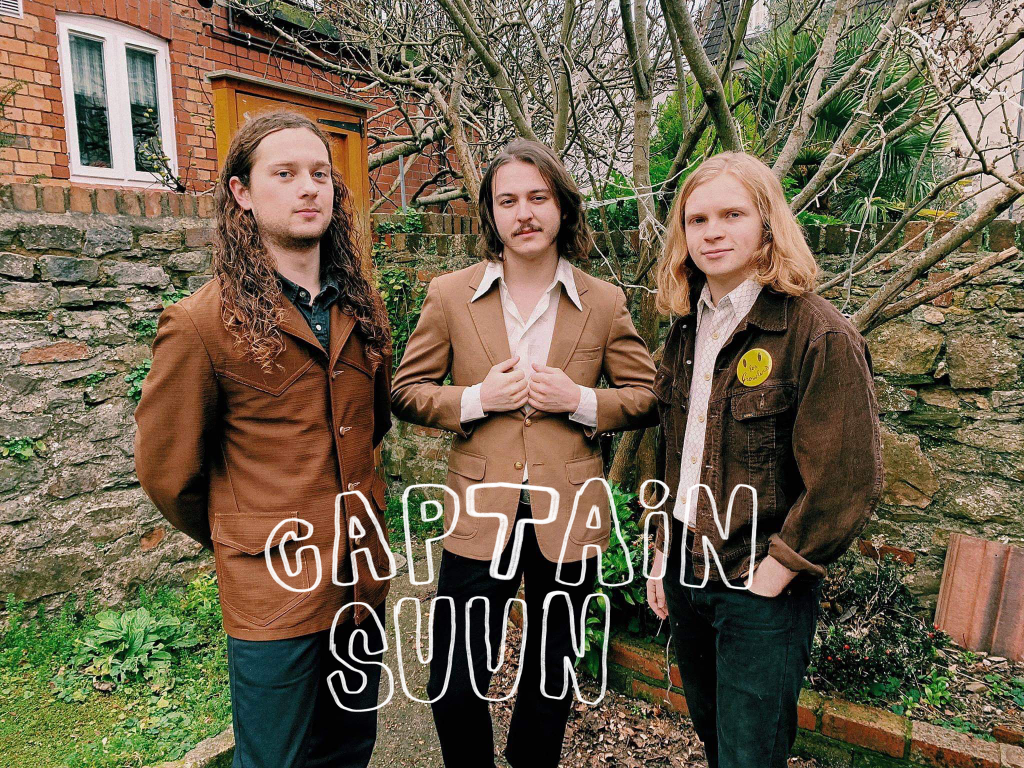 I first heard Captain Suun while standing beneath the shimmering, gold streamers that border the stage and ceiling of Moth Club, a local venue in London's Borough of Hackney. They were opening for Holy Wave, a group out of Texas. Totally mesmerized by their sound, I immediately walked up and introduced myself once their set had finished. Nathan, Harry, Luci and I proceeded to chat and a few weeks later at The Shacklewell Arms. This surf-rock, psych infused band is based out of Bristol, England, but are ready to travel far and wide to spread their innovative and energetic sound.
Nathan McLaren-Stewart: Drummer
Harry Newman: Guitarist
Luciano "Luci" Narcisi: Singer/Guitarist 
Kiely: When/how did you guys meet and start the band?
Nathan: Ah this is a good one! I was on a bus with this dude from my uni, talking about guitars, and then out of nowhere Harry really awkwardly, and uncomfortably, got involved in our conversation as we were trying to get off the bus. Me and Harry became mates and went to uni together (University of the West England). We met our lead singer, Dan, at the venue, Crofters Rights, in Bristol. We had a bass player at the time and then he dropped out, then we met Luci when he was playing guitar for another Bristol band called Insomnichord. Then we went through a lineup change and now it's just me, Harry and Luci.
K: What's the origin of the name Captain Suun?
Nathan: Me and Harry were hanging out and we were drunk as balls listening to Parquet Courts, just trying to work shit out. When we were taking the piss quite a lot we used to be called Pretty Happy Dudes and that came from us discussing what PHD stands for at our local Wetherspoons. 
Harry: There were like a bunch of other variations but let's not get into those.
Nathan: Yeah, let's definitely not get into those. Captain Suuns actually comes from "Captive of the Sun," the Parquet Courts song. Our drunk ass minds managed to somehow make it Captain Suuns.
Harry: I think someone slurred it.
Nathan: Yeah it just kind of stuck, I dig it.
K: So would you say Parquet Courts is a big inspiration for the band?
Nathan: I mean I fucking love Parquet Courts, their surf stuff.
Luci: I like Parquet Courts, their new album is pretty good.
Nathan: I guess subconsciously, it's the same surfey towns. You could probably draw parallels between some of our songs and some Parquet Courts songs, but I wouldn't say they're a direct influence.
K: Who would be a direct influence?
Nathan: The beauty of it is that we all have pretty different influences. I'm a big fan of The Growlers and 13th Floor Elevators, just a lot of shit.
Nathan to Harry: You're into more queens.
Nathan: Anytime we get a riff, it's this guy. He's our riff lord.
Luci: He's the riff master.
Harry: [humbly] I don't know about that.
Luci: I guess I'm more into the psychedelic side rather than the surfy side. Tame impala is what I grew up on really, I'm a big fan of Blur as well.
Nathan: I'll just slip 1971 in there, I'm heavily influenced by the 1971.
Luci: I really like Abba as well.
Nathan: I'll drop Zeppelin in there too. 
K: So, if you're really into psych, were you excited to play with Holy Wave? How was it playing with them?
Luci: I kinda thought they were going to be much younger. When they said they were like 30's I was like…what? I've listened to those guys for like 3 years now, my mate Dom showed me these guys.
Nathan: I'd say as well about Holy Wave that they're on Reverberation Appreciation Society, the record label which is run by Christian Bland and Danny Lee Blackwell, of Night Beats and The Black Angels. So for me it was kinda cool because both Black Angels and Night Beats are two of my favorite bands. It was really cool to be a part of that community and they are just the boys, the best people to tour with.
Luci: Ryan gave me some really good advice at the end, that drunken advice where they put their hand on your shoulder. "Yo your young! You just gotta do everything that you wanna do," he's like, "I'm thirty now, I've done everything." I was like no you haven't, then he said, "You just gotta do everything."
Nathan: Also, Special shout out to Davy, their merch guy. I fucking love that guy.
Luci: Good eyebrows
Nathan: Just a sexy boy. God dammit Davey, I love you. 
K: You guys are all based in Bristol now. How does that influence your music and what you've released?
Nathan: It doesn't.
Luci: Obviously there is Idles and all that, so everyone expects punk to come out of Bristol now.
Nathan: And LICE and Heavy lungs. No diss to those guys, they're all in fucking fantastic bands.
Luci: But it's not in our favorite at the moment.
Nathan; If you're in any other kind of band you kind of get overlooked with this big punk thing that's happening.
Luci: Bristol is a very punk city, you look around and you kinda feel that there is a lot of rebellion.
Nathan: Yeah there is a lot going on that punk can breed from, but were not a political band. Individually, I'm sure we have our political views and that, but it doesn't really translate into our music. The scene that we do have is great. Some really beautiful people support us, people that come to every show we do there and that's cool. But I don't think Bristol really influences us.
K: You guys released your Ep, Beach Burrito, not long ago in May of this year. But that was with Dan, how has the music making process been different without him? Do you have anything coming out soon?
Harry: We've had a lot of fun.
Nathan: We've been working really well together.
Luci: We've got more creative input now.
Nathan: We have a new song that will be out, we're playing it tonight. It's the last song on our set, but it's not recorded or anything. 
K: What's it called?
Nathan: It's not got a name. [Pause] It's called, "The One."
Harry: The One
Nathan: When we finish these dates off, tonight is the last night, we're gunna get that together and record that and release that. After this we drop Beach Burrito and we're going to write a record and come back in the new year with that. 
K: What other bands have you guys toured with?
Nathan: We've done dates, like selected individual dates.
Luci: We did a three day headline tour with Hungry Ghosts, in Birmingham, Bristol, and Brighton. The three B's. It was kinda when Beach Burrito came out. They're from Birmingham. 
Nathan: Kikagaku Moyo, The Witches too. The tour with Holy Wave was our first proper tour and first time overseas.
K: What was it like playing your very first show?
Nathan: It was at the Old England in Bristol and it was for Psych Fest 3.5.
Harry: I remember when we started playing
Nathan: We sucked, we did a thirty minute set in twenty minutes because we we're playing too quick.
Harry: It was very exciting.
Nathan: But then we made friends for life that night, it was the first time we played with the Hungry Ghosts and Dusty Mush as well from Paris. We've just remained really close friends with them. That's how our record label got involved with us from playing that show, Stolen Body Records. It was a pretty successful first show, even though we sucked. 
K: So what are the differences between that show and the shows you play now?
Nathan: Literally everything. We're way more comfortable, we have way more fun, and we don't play so quick. I'd like to think were a bit better 
Luci: I feel like there is a bit more control. Our last song is more communication, so we just give the eyes to each other and I like doing that. I love just nodding.
Nathan: That's the main thing, we've become way better with communicating on stage and it means we can be way more experimental. These past shows have been really fun.
K: This question is for each of you individually: what do you do outside of the band?
Luci: I'm at university, I study music production. At the moment I also work at a hotel being a waiter and at Pie Minister, a pie shop. 
Harry: I work at a pub and that's about it, I do my washing.
Nathan: "A jazz pub?" Arguably one of the most famous jazz pubs.
Harry: Yeah, it's called The Old Juke.
Nathan: I work for the record label we're signed to and help run a festival in Bristol that used to be called the Bristol Psych Fest, it's now called Astral Festival. I also do some photography stuff.
K: Finally, what are your goals for the band?
Luci: I want people to have an emotional attachment, the most memorable bands for me that I love are the ones that I can get an emotional reaction from.
Harry: I want people to have fun.
Nathan: To be happy and not lose anymore money than we have lost. To break even and be happy with it. But really, no point in doing it if you're not having fun. It's such little things, like being in France we just met such amazing people and realized, fuck this is cool.
Harry: It's not about the journey, it's about the destination.
Nathan: I'll drink to that. 
You can find Captain Suun on Spotify, Apple Music, Bandcamp under Stolen Body Records, and Soundcloud. 
Instagram: @captainsuun